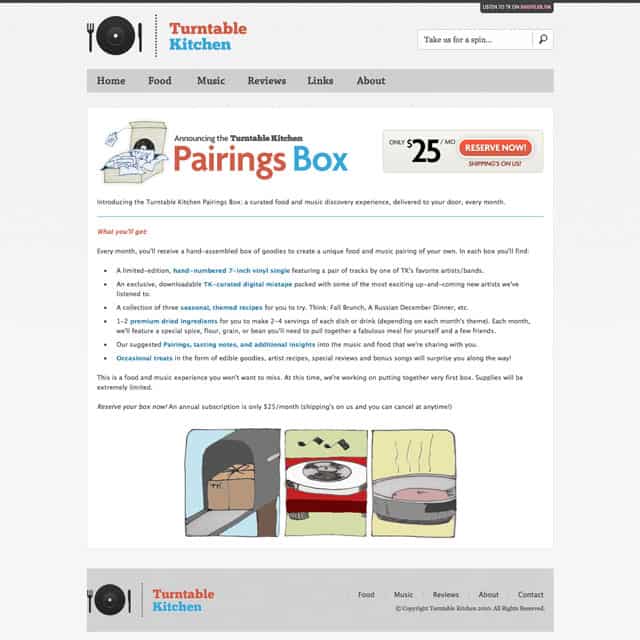 When things seem impossible, there are a few ways to deal with them: give up or carry on. This might be simplifying some, negating to mention the thought process that goes into figuring out just how possible some of this impossible is, but largely speaking, the choices are clear. Sometimes you need a run-on sentence to get the point across.
When Matt and I started thinking about how we could create something tangible out of Turntable Kitchen, we would often have conversations that looked something like this:
Me: I don't think we have time to take any more on with the site.
Him: We can do it.
Me: I can't possibly come up with recipes on a monthly basis beyond what I do on the site.
Him: You can do it.
Me: I don't think anyone will care.
Him: I think people will care.
Me: What if people care and then we actually have to make it happen?
Him: We'll figure it out.
I'm not always against impossible, I just tend to be…for lack of a better word…a pessimist?
Today is the day I take perhaps my biggest leap of faith, ever. Because the Turntable Kitchen Pairings Box isn't a sure thing for me. But is anything? We're launching something that we think is awesome, and we hope you will, too. Some of you have already brought us into your lives: you've made meals from our recipes, you're downloaded songs and albums and mixtapes from our favorite artists, you've learned about new foods and new music. The Pairings Box is a way for us to bring these experiences into your home in a cool new way.  For those of you who are just discovering us, we're excited to bring the world of food and music pairing into your life and your home, beyond the computer screen (though we hope you'll still visit us often!).
You can reserve your spot for our monthly boxes, which you'll get in your mailbox. Don't worry, you can cancel anytime, it's not a huge commitment. The boxes will cost $25/month (we're paying for shipping) and will give you the opportunity to re-create a unique Pairing in your home or a friend's, every month.
You'll find themed recipes that are seasonally appropriate, a limited edition, collectible, 7-inch vinyl single from an artist we love (yup, we're kinda launching a label of sorts…but not like any you're familiar with), a hand-crafted mixtape created by Matt, and 1-2 Premium ingredients you'll need to make the meal. You can read more about it, and reserve your box here.
Here's to impossible!