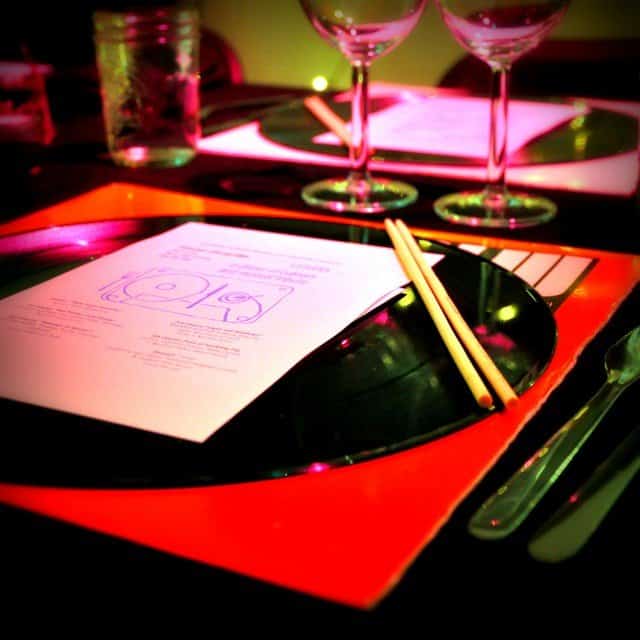 Last week, Matt and I teamed up with the chef at graffEats, a Guerilla Dining Society, to host a special dinner as part of NoisePop Festival's Pop Up Shop: chef Blair Warsham presented diners with a six-course meal of culinary covers: his takes on world-famous chefs' most sought-after dishes. Meanwhile, Matt came up with a playlist (of covers, of course) to correspond with each dish.
Jesse Fox of FoxconSox Consulting hooked us up and did a phenomenal job of taking care of all of the details/logistics surrounding the event and making sure that the atmosphere in the little space we took over (in an art gallery squeezed between Three Twins Ice Cream and Upper Playground) was perfect. The event was BYOB and most diners brought at least one bottle of wine with them (though one couple chose to bring Chimay – yay for beer and food pairing!). Table settings included old rap records, chopsticks and mason jars, as well as CDs of the playlist for diners to take home. Chef Blair and his two sous chefs whipped up dishes like New Style Sashimi (honoring Nobu Matsuhisa) , Hot Potato, Cold Potato (a tribute to Grant Achatz), Ravioli of Beet, Nettles, Pumpkin, Ricotta, Sunchoke, Celeryroot (paying homage to Quince's Michael Tusk), and Pave of Suckling Pig (a nod to Daniel Humm). To finish off the night, Chef Blair served a dish he called "Tengo": a savory/sweet dessert that Pierre Herme would approve of (a sesame pate sucre, topped with a raspberry gelee and filled with Parmesan cream). The kicker was a caramel pepper sauce that was drizzled around the dish.
The first dish (the sashimi) was served on the backside of a CD, but Chef Blair was quick to point out that other dishes would be served on normal plates. While we spent a good portion of the evening serving diners, clearing dishes, introducing songs and making sure the music always fit the mood, we did get to enjoy one full meal, tasting every dish. Words heard around the dining table (yes, all 14 guests sat around one communal dining table and quickly made friends with each other) were 'mouthgasm,' 'delicious,' 'creative,' and just plain 'awesome.'
We were excited to hear about how people heard about the event – many came to us through 7×7, tablehopper, our site and just through word of mouth. We had folks come in from out of town, we had folks bring their kids to one seating (who, to our great disbelief ate every single dish that came out), we had a few folks get boisterous, but overall, we saw a lot of people have a great time.
The events were my first-ever waitressing experience. So if you came, and I shoved my hand in your armpit as I was trying to clear your plate, please excuse me. I have the utmost respect for waiters and waitresses. What you do is an art! The events were exhausting (two seatings, back to back, after working full work days). But more than anything, they were a lot of fun. I kept telling diners that I felt like I was participating in Restaurant Wars on Top Chef. That's pretty much what a Pop Up restaurant feels like – in one night (or two) you have to create an entire atmosphere –not to mention make sure you have everything on hand (wine openers, glasses, silverware, extra napkins, etc.).
We thank everyone who came out –if you were one of our guests, we'd love to know what you thought in the comments section. If you didn't come out, but you're interested in hearing more, would like to see us put on more events like this, etc., also please let us know in the comments section. If you're an underground chef/organization that would like to discuss opportunities with us, please feel free to reach out.
BIG thanks to Jesse and Blair for making this all happen, and really blowing us away. And of course, BIG thanks to NoisePop for letting us be a part of their Pop Up Shop this year!
Check out more photos of the event on our Facebook page, and become a fan to stay updated!
And of course, don't forget to check out the Covers mix that Matt put together for the dinner. Head to the Turntable to read more about the mix and download it.