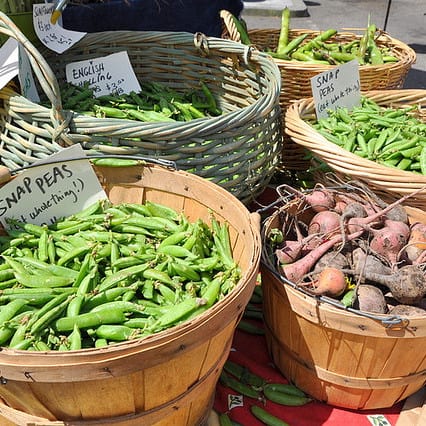 Thank you to all of you who have said such nice things about the site. We had a great launch, and are excited about bringing you more of what you want. QEBCXT797GH6
First, I'd like say, thanks to everyone who shared their inspiring apple dishes! I have a list going of things I'd like to try. After putting all of the eligible names into a hat (well, Matt's cupped hands), we've determined the winner of the cookbook, My Favorite Ingredients. Hats off to Katherine! Katherine, email me your mailing address and I'll get the book off to you.
Second, the folks at Farm Fresh to You, a CSA service formed by Capay Valley Organics, reached out to me to let me know that Turntable Kitchen readers can get 20% off their first delivery by entering the code 482.
I'm a huge proponent of local, fresh and in-season produce and I think CSAs are a brilliant idea–especially for those of us who just don't have the time to shop at the farmer's market every week.  When you sign up, you have an option of choosing what kind of produce you want (mostly fruit, mostly veggies, all fruit, all veggies).
If you're still looking for Thanksgiving inspiration, check out my Thanksgiving-themed post (you know you've always wanted to try savory bread pudding!).
Lastly, don't think the giveaways are over. Today, Matt will be giving away records from his personal collection on Twitter. In order to win, you must follow @ttablekitchen and tune for details.
The celebration has just begun!