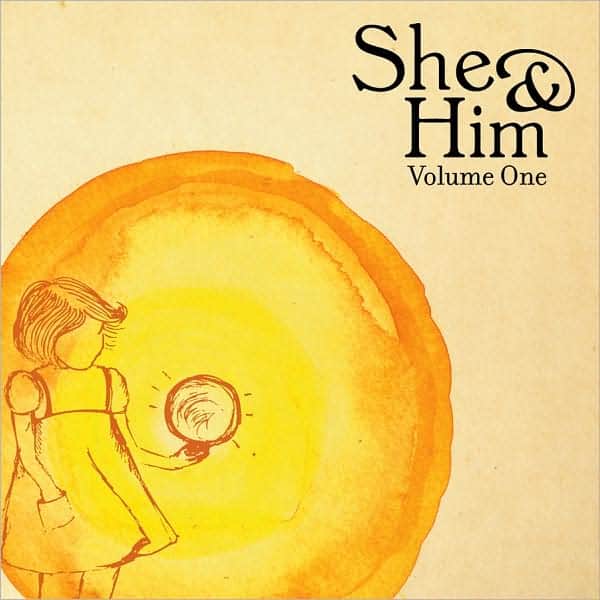 I know we are already into late Fall, but it hasn't felt that way here in San Francisco where, until recently, we had enjoyed an Indian summer of sorts.  And although I had been enjoying the warm weather, I'm nonetheless quite happy to embrace the Fall/Winter weather.  Especially since that means cozy-nights spent staying in, eating Fall foods, and finding new life in some of my favorite Fall albums. On the food side of that equation, Kasey hit the jackpot this past weekend with the pumpkin pancakes she has whipped up in the Kitchen.  They taste exactly like what you'd expect from mixing the flavors and spices of pumpkin pie with fluffy pancakes.   So brew up a pot of coffee and get ready for a breakfast that will help you appreciate the changing seasons.  And while your coffee percolates, I'd recommend She & Him – Volume One on your stereo.
If the name doesn't ring a bell – chances are you may be nonetheless familiar with one of the album's two main conspirators – actress Zooey Deschanel and/or indie folkster M. Ward.  It seems Mrs. Dechanel had harbored somewhat secret aspirations to work as a singer, but was somewhat shy about sharing her songwriting.  That changed when she met Ward while starring in the 2007 film The Go-Getter in which she was asked by the film's director to record a track with Ward for the film.  Clearly the collaboration was a success as it led to the two meeting again in Portland in the Fall/Winter of 2006 and Winter of 2007 to record the songs that make up Volume One.
Inspired by vintage A.M. golden oldies from the 70's, but recorded in the Winter in the Pacific Northwest, the album is unquestionably cozy, yet upbeat.  Indeed, the album manages to nuzzle itself into the sweet spot at the nook between sunny beach pop and loosely strummed folk-country.  Album opener "Sentimental Heart" begins with what may be Deschanel's most inspired and graceful vocal performance on the album.  It is a restrained and lovelorn ballad deftly buttressed by sparse, but soaring strings and beautifully understated harmonies running warmly through the melody as she sings: "Old habits die hard / when you got / when you got / a sentimental heart. / Piece of the puzzle, / I'm your missing part."  The subsequent track, "Why Do You Let Me Stay Here," is purring and coy, featuring light piano, strummy guitar riffs, and sweetly joyous harmonies.  But despite the strength of these two songs, it isn't until the album's third cut, "This Is Not a Test," before the duo begin to truly unload with their catchiest melodies and most energetic choruses.  It is a solid album with no awkward moments or significant blemishes, but a few other notable highlights include the whimsical and cuddly "Sweet Darlin'" and the duo's cover of the Beatles' "I Should Have Known Better."
Ultimately, through the course of the album, Deschanel demonstrates that she is far more than merely a competent vocalist, effectively making the case for her work as a serious musician.  Meanwhile, Ward again demonstrates a steady hand as a talented composer, songwriter and musician.  So in the end it turns out that "she" is the reason for (and the heart of) the album, and that the album wouldn't exist (and certainly wouldn't be what it is) without him, but more importantly, it turns out that together they are an amazing pairing.  That is something I think we at Musical Pairings can definitely appreciate.  Buy it on vinyl from Amazon.
She & Him – Sentimental Heart
She & Him – I Put a Spell On You (Screamin' Jay Hawkins Cover)
Don't forget to "heart" our songs on hypem if you like what you hear!  Then head back to the Kitchen to read Kasey's recipe for pumpkin pancakes to make for the perfect Fall morning.