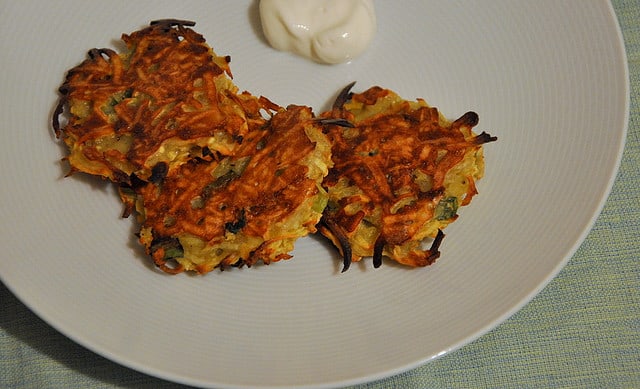 Here's the thing: I didn't own a menorah until around 6 pm last night, when my friend Sarah showed up at my door for our holiday potluck. My mom had bought me one and passed it on to me. I have never personally owned a menorah, and I'm not sure why–being entirely secular–I cared. But I did. And I really wanted one. In fact, I felt so guilty about Hanukkah this year, that I made up for not having a menorah by cooking up a whole feast for Matt and I: matzo ball soup made with homemade chicken stock, cured salmon, and these incredible sweet potato latkes.
Being a carb-lover, but skittish of all things fried, I found this recipe to be particularly inviting as it offered a twist on tradition that I found to be especially interesting. I've been really digging sweet potatoes lately–they're sweeter, more complex and healthier than their regular friends. And I was excited to see that commentators on the recipe suggested that baking these babies worked just as well as frying. To be sure though, I made two batches–one baked, and one fried. Just to compare. I also took another commentator's suggestion for adding some complex flavors with warm spices like cinnamon, nutmeg and ginger, as well as a hint of brown sugar. I upped the ante on the onions and made my latkes slightly bigger–about the size of a large chocolate chip cookie. The results?
Ladies and gentleman, I must say that while the fried latkes did have an added crisp, and an oiliness that latke purists might prefer, the baked version was just to my liking. Tender inside, crispy on the outside, and without that greasy residue. With several large dollops of sour cream, I devoured about 5 of these in one sitting (not counting the 'testers' I ate at the stove, of course). These latkes are not for my grandpa, who would probably not touch anything with so many spices. But for the 'new generation' and anyone looking for a fresh twist on an old classic, I highly recommend trying these. If you've already made your latkes for the week, go ahead and make more. And if you haven't tried, and think they're only for those who celebrate Hannukah, I'll urge you to make a batch of these, serve with sour cream, applesauce, and maybe a few sausages. Perfection.
Baked Sweet Potato Latkes with Sour Cream
adapted from Gourmet, via Epicurious.com
3 large sweet potatoes, peeled and coarsely grated in a food processor
4 green onions, chopped
1/3 cup of all-purpose flour
2 eggs, lightly beaten with a fork
1 teaspoon of salt
1/2 teaspoon of black pepper
pinch of ground nutmeg
1/4 teaspoon of cinnamon
pinch of ground ginger
1 teaspoon of brown sugar
1/4 teaspoon of ground cumin
sour cream, to serve
vegetable oil (optional, for frying)
1. Pre-heat the oven to 425 degrees F and line a baking sheet with a silpat, or an oiled piece of foil.
2. Combine the ground up potatoes, green onion, flour, eggs, and spices in a medium sized bowl.
3. Form dough into balls (roughly 1/4 cup of dough per latke), and flatten then onto the baking sheet.
4. Bake on one side for about 15 minutes, then flip and bake for another 10, allowing both sides of the latkes to get slightly crispy and golden brown.
5. Serve warm, with sour cream.
6. You can also go the traditional route, and fry these for a several minutes on each side in a cast iron skillet. Place on a paper towel to absorb the oil.
Musical Pairings: Morningbell: Sincerely, Severely + Baked Sweet Potato Latkes
The baked sweet potato latke recipe featured on eating/sf today is an intriguing, original twist on a popular food that seems to have roots in a ridiculously large number of cultures. According to Wikipedia, latkes, or other direct cultural equivalents, (a.k.a. potato pancakes; a.k.a. boxty; a.k.a. rarakor; a.k.a. draniki) are common to Irish, Polish, Ukranian, Russian, Yiddish, Austrian, German, Czech, Korean, Russian, Indian, Swedish, and Hungarian cuisines. In my mind, that makes 'latke' almost synonymous with 'diversity.' Accordingly, today's pairing is an album by a band that draws from a range of traditions nearly as diverse: Sincerely, Severely by Gainsville, Florida's Morningbell. Indeed, it is hard to decide if Sincerely, Severely is most astonishing because of the breadth of its range or because of the success Morningbell achieves in tackling so many diverse influences/components: Tom Waits, Al Green-esque R&B, Curtis Mayfield-esque soul, Jane's Addiction, Radiohead, African drum rhythms, Brazillian folk, and even hints of Cajun brass bands. This is an album that has to be heard to be believed. Head over to Musical Pairings' home to read the rest of the review for the album. –Matthew