A good bowl of noodles is hard to beat. They're so versatile, so adaptable. There's spaghetti, whole wheat fettuccine, udon, buckwheat soba… Each noodle is a blank canvas for a luxurious sauce. I've been hearing a lot about all kinds of butters lately, giving me all sorts of recipe ideas–pumpkin butter, apple butter, and almond butter.
While I've only recently started to (kind of) appreciate peanut butter (largely in sauces), I couldn't fathom not loving almond butter. After all, I love everything almond–from macaroons to marzipan. So, on a recent stop at my neighborhood cheese shop, I picked up some locally-produced almond butter to try. I've been trying to find creative ways to put it to use and thought–why not try to swap it in for a recipe that would traditionally call for peanut butter?
Soba noodles are pantry staple of mine–I love them cold with just a little soy sauce, green onion, garlic, and toasted sesame eats. They're great with a little poke. And they're good for you! I did a little research for recipes and stumbled across a simple almond butter sauce tossed with soba noodles and edamame. I had different ideas, though. With carrots, a red bell pepper, sugar snap peas and cilantro, I was going to go in another direction–a more colorful, lively noodle bowl that was spicier and more complex. I added in some lime juice and hot sauce (in addition to the red pepper flakes) to kick things up a notch. This dish is really made to taste, so don't hesitate to decrease or increase the amount of hot components.
You can surely toss in some toasted almonds, some edamame, and/or broccoli. The bottom line: it's a win-win situation. And don't we all love those?


Spicy Almond-Butter Noodles
*serves 2
inspired by this recipe in the Washington Post
1 bundle of dried soba noodles
2 tablespoons of good quality almond butter
3 teaspoons of rice vinegar
2 cloves of garlic, minced
1/2 teaspoon of crushed red pepper flakes
3-4 teaspoons of hot water
Sea salt, to taste
1 carrot, cut into very thin matchsticks (or shredded in a food processor)
handful of sugar snap peas
1/2 large red bell pepper, cut into thin matchsticks
few dashes of hot sauce
squeeze of lime juice
chopped cilantro, to taste
1. Boil water in a medium pot and salt lightly. Cook the soba noodles according to package instructions (about 5 minutes), and then drain in a colander.
2. Make the dressing by combining the almond butter, rice vinegar, garlic, red pepper flakes, lime juice, hot sauce and hot water. Whisk and add more water, until you reach a desired consistency. Salt, to taste, and add more lime juice, hot sauce, and red pepper flakes, as desired.
3. Transfer the soba noodles to a large bowl. Add chopped carrots, red bell pepper, snap peas, and cilantro. Pour in the sauce, tossing to combine.
4. Serve warm, or at room temperature.
Musical Pairings: The Cure – Japanese Whispers + Spicy Almond-Butter Noodles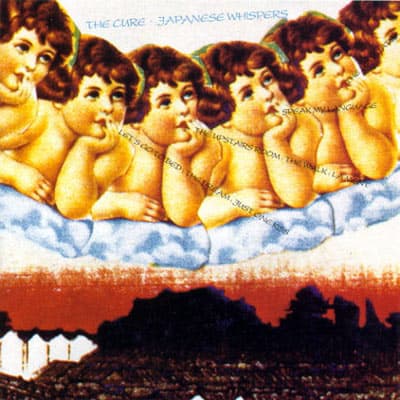 This almond-butter noodle recipe is fun, and easy. It's great for a night when you want a slightly spicy, flavorful dish to lift your spirits, but don't want to put in a lot of work. And, it is a colorful eye-catching dish with the carrots, red pepper and snap peas. Something about the color scheme seems very 80s to me. So for these reason, I dug into the greatest albums of the 80's section of my iTunes and pulled out the Cure's fantastic album, Japanese Whispers. To read more about this album, head over to Musical Pairings. –Matthew