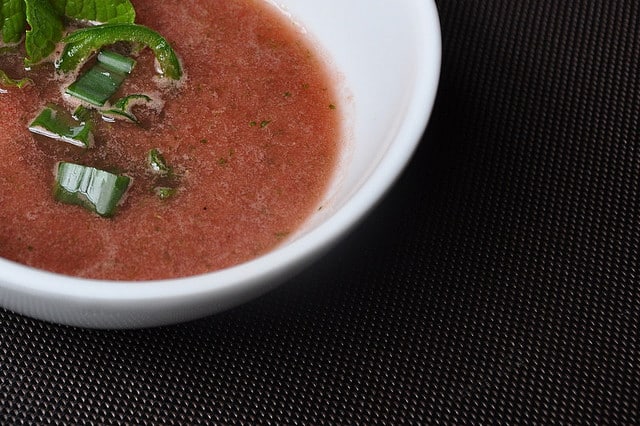 I have been waiting patiently, very patiently, to tell you about this chilled watermelon soup that left me ooo'ing and ahh'ing. I know we started with dessert, but this (hopefully) will get you equally excited. Despite foggy, cold and quite frankly, icky, weather we've been having, I've been craving some serious summer produce. And nothing says summer like watermelon. I don't know about you, but I could eat a small watermelon all by myself. I will methodically eat every last bit or juicy red flesh.
I've always associated watermelon with dessert and picnics, so was quite intrigued to find a recipe for a chilled watermelon soup with a kick of jalapeno and lime. The combination seemed a bit odd, but I wasn't turned off. I envisioned the taste of a sweet tomato gazpacho–my favorite chilled soup–and thought to myself, "why not?"
This watermelon soup came together not unlike a fruit smoothie. Mix everything together and throw it all into a blender. Refrigerate. Boom. Done. It's the perfect starter to a fresh summery meal–preferably oriented around a fish main (and that crunchy/creamy/juicy dessert we featured on Monday). The best way that I could describe this soup is to say that it's very much like a bowl of more traditional tomato/cucumber gazpacho. The watermelon pairs perfectly with the spicy kick of the jalapeno and the tartness of the lime. The mint and green onion provide a refreshing finish and any additional garnishes are welcome is small or large amounts. The bottom line with this soup is that you just can't go wrong.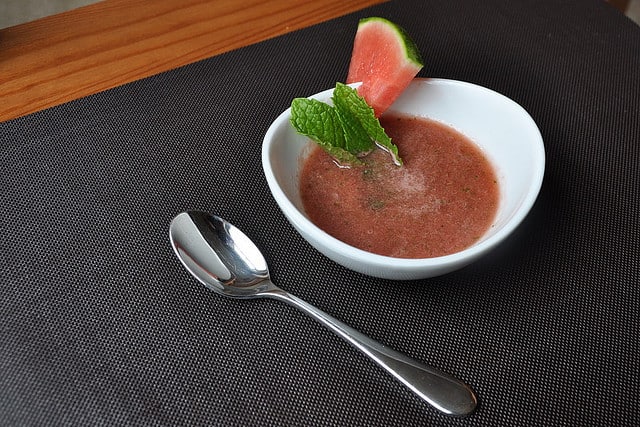 Watermelon Gazpacho
adapted from Cooking For Friends
* makes about 4 servings, more or less depending on whether you serve this as a light appetizer or first course.
1 small seedless watermelon, cut up into chunks
1 jalapeno pepper
2-3 stalks of green onion, sliced thinly
1 lime
1/4 cup of mint leaves
1 tablespoon of rice vinegar
sea salt and pepper, to taste
1. Put the watermelon chunks into a large bowl (you should use approximately 3 cups worth). Reserve a few chunks for garnish.
2. Zest the lime over the watermelon and squeeze the lime juice into the bowl.
3. Cut a few thin slices of the jalapeno pepper and set aside for garnish. Finely dice the rest of the jalapeno (make sure to remove the seeds) and add to the bowl.
4. Add in the green onions (reserve some for garnish), rice vinegar and mint leaves, stirring to combine.
5. Transfer the mixture into a blender, whipping until creamy and smooth.
6. Season with sea salt and pepper, to taste.
7. Chill in the refrigerator until ready to serve. Garnish with watermelon chunks, jalapeno pepper slices, green onion and a few mint leaves.
Musical Pairings: Phoenix – Wolfgang Amadeus Phoenix + Watermelon Gazpacho
This watermelon soup serves as the first course of eating/sf's summer menu. It is a delicious summertime dish that is surprisingly complex. It features an initial sweetness that would be expected from a soup made primarily from watermelon, but as the sweetness subsides, it reveals a little unexpected heat from the jalapeno. It is a great starter that really wakes up your taste buds, and therefore requires an album that will also wake you up and facilitate engaging conversation. I have the perfect album: Phoenix – Wolfgang Amadeus Phoenix. In fact, I've been eager to pair this album with the right recipe for the past couple of months or so, and so I'm happy to have found a great pairing for what is probably one of the top ten best albums to have been released so far this year. Wolfgang Amadeus Phoenix is sweet, light and carefree. It is a perfect album for your small gathering or a dinner for two. Head over to Musical Pairings to read the rest of the story. –Matthew