There are many glorious things about every season, but let's be frank: summer is the kingdom of jewels. Or something like that, at least. All year long, I impatiently wait for the arrival of berries, stone fruits, tomatoes, watermelon, corn and summer squash. I disdain the last apples of the season and take solace in the early arrival of asparagus and strawberries.
This is the first summer of my life that I've spent more time anxiously awaiting its end than enjoying all of its glory. Perhaps that is the downside of planning a September wedding. And yet, as we dive more deeply into the last minute details, outdoor picnics, BBQs, and farmer's markets, I've begun to savor this last stretch of summer.
This post is the first of a three-part dinner series that includes the delicious dessert you're seeing in the picture, an inventive first course, and the main attraction–which you'll have to wait for until Monday. As a true dessert fiend, I thought it would be only appropriate to start your week with one of the most visually stimulating and tastebud-pleasing desserts I've come across in a while. Nestled in the contents section of the July issue of Gourmet, this was a treasure to behold. Light and aromatic ricotta cream, topped with fresh nectarines and accompanied by a special crunchy treat–a simple brittle made with pine nuts.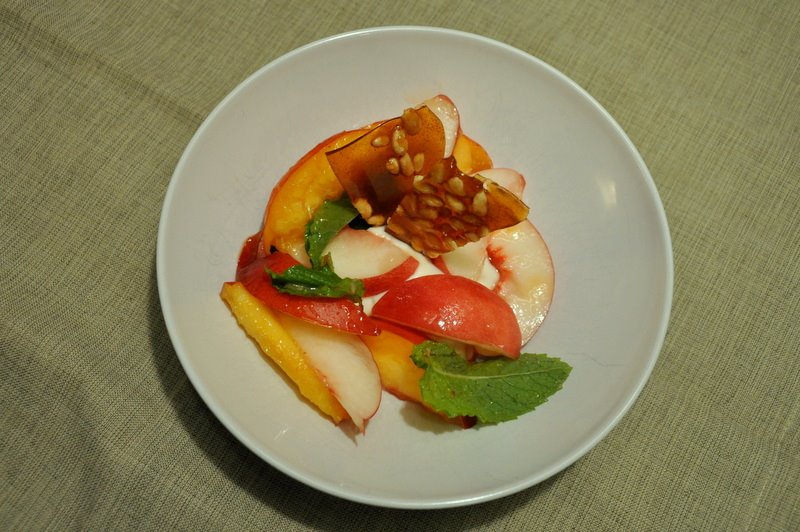 You might look at this dessert and think this is a three part process that is inevitably complicated. Please. Let me prove you wrong. Can you make this tonight, tomorrow, this weekend? When your 'almost' girlfriend comes over to dinner? I think she'll like it. And so will you. And your mom. And probably your dad. And your coworkers. The thing about this dessert is that it pleases everyone's pallet in one plate. Most importantly, it's the perfect way to start a dinner conversation.
Nectarines with Ricotta-Vanilla Cream and Pine Nut Brittle
* serves 2
adapted from a recipe in Gourmet Magazine
2 nectarines, 1 white and 1 yellow, cut into 1/2 inch thick slices
mint leaves
1 teaspoon of fresh lime juice
For the ricotta cream:
1/2 cup of fresh ricotta
1/8th cup of milk
1/2 teaspoon of vanilla extract
1 1/2 tablespoons of sugar
For the pine-nut brittle:
1/4 cup of toasted pine nuts
1/2 cup of sugar
1/4 cup of water
1. Make the brittle: Line a baking sheet with foil. Bring water and sugar to a boil is a small pot. Stir until the sugar has dissolved.
2. Bring the pot to a boil, swirling the mixture (don't stir) every once in a while, until the sugar begins to caramelize and turns into a nice amber color. This will take approximately 10 minutes.
3. Pour in the pine nuts, stir to combine and quickly pour the mixture onto the foil, using a silicone spatula to quickly spread the mixture into a thin disk. Let sit.
4. Combine the nectarine slices with the lime juice and a tablespoon of sugar. Let sit while you make the cream.
5. In a blender or food processor, puree the cream ingredients. Pour into a small bowl and freeze for about 5 minutes. Stir and return to the freezer for another 5-10 (we preferred the cream to be a little on the runnier side.
6. Place the mint leaves into the bowl with the nectarines and stir to combine.
7. Break the brittle into pieces.
8. Divide the cream between the bowls, top with nectarines and a few pieces of brittle for each bowl (you'll have leftover brittle with the recipe, but I don't think you'd mind).
Musical Pairings: Ella Fitzgerland & Louis Armstrong + Nectarines with Ricotta-Vanilla Cream and Pine Nut Brittle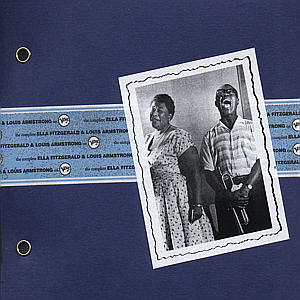 As you can tell from reading Kasey's post, we are trying to do something a little different by suggesting a full menu for an impressive-looking, inventive and seasonally-fitting (perhaps celebratory or romantic?) dinner at home. And although we are starting at the end of your meal, I'm going to try to craft the perfect playlist for your meal. So check back over the next couple days if you'd like to see my suggestions for the pairings to go with your first course and entree. This dessert recipe – nectarines with ricotta-vanilla cream and pine nut brittle – is sweet, cheery and playful. It calls for a warm, intimate and laid back record – something perfect for a romantic evening at home with your special someone or relaxing dinner party. With that in mind, I can think of no better pairing for this recipe than Ella Fitzgerald & Louis Armstrong – The Complete Ella Fitzgerald & Louis Armstrong on Verve. Ok, to be fair, this is a three disc set that collects the 1956 album Ella and Louis, the 1957 Ella and Louis Again, and the 1958 album Porgy and Bess. While my favorite of the three albums is Ella and Louis, all three are fun and relaxing music for a Sunday afternoon cleaning around the house, making the 3 disc collection worth your money. Head over to Musical Pairings' home to read the full review. –Matthew