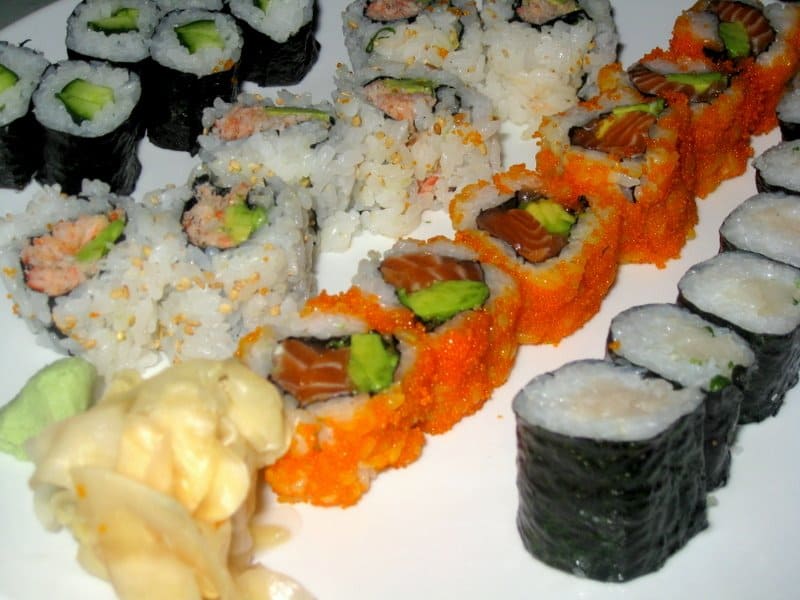 Sometimes, I get stuck on things. The same salad for lunch (spinach, berries, goat cheese, walnuts). The same, super comfortable, worn-in leather flats. The same route to work. And the same sushi restaurant. When it comes to food, I'm generally an adventurer. But when it comes to sushi, I tend to stick to my tried-and-true favorites. Sure, I'll throw in an innovative roll or two. Order some of the nigiri specials. But with so many sushi choices within a .5 mile radius of my home, I tend to opt between two of my favorites.
And so it's no surprise that it has taken me 4 years to venture over to Kazu Sushi, which happens to be located right across the street from my market (the one I visit 2-3 times per week). When my aunt and cousin came to stay with me in San Francisco, I knew that I'd be taking them around to a lot of places I had been to hundreds of times, so I really wanted to experience something new with them. Something that we could discover and share together. And so I took them to Sushi Kazu.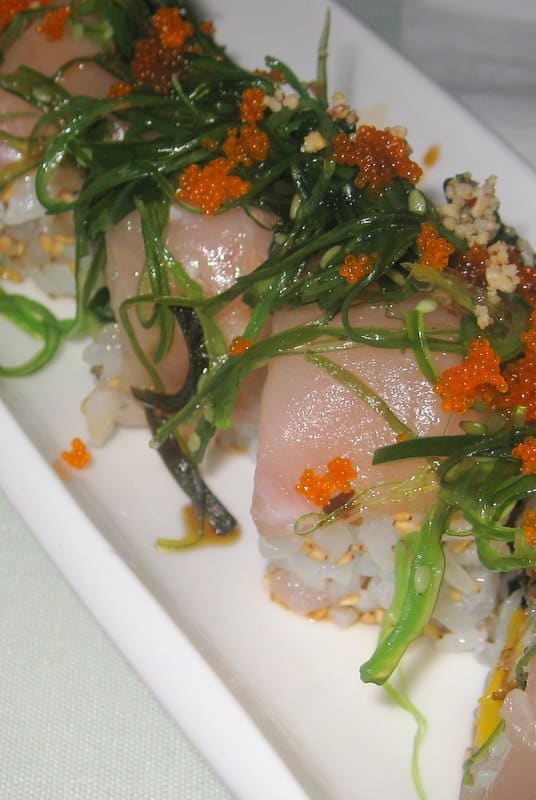 On a cold and incredibly foggy San Francisco summer night, we were greeted with warm, wet towels, hot tea, and a cozy packed dining room (at 9 pm on a Friday night). My little cousin isn't one for sushi, so we ordered her a simple cucumber roll. My aunt, more of an adventurous eater, was open to getting a few different rolls–which she kindly allowed me to choose. We went for an Alaska–salmon and avocado. Yellowtail and green onion. Real crab California. And, one adventurous one–a Hawaiian roll with unagi (eel), mango and tuna. We didn't get any nigiri or sashimi, or any of the delicious-sounding appetizers listed on the menu and the specials board. And yet, everything was just right. Extremely fresh fish. The perfect amount of rice to filling. Great vegetables. More, the rolls were all formed well and didn't fall apart! It's a wonder it has taken me so long to get here. Next time, I'm looking forward to taking Matt.
I must say: trying something new always feels good–even if it's right in your own backyard.
Local Pairings: Casey & Brian – Catbees LP & No Fiction 7″ + Kazu Sushi
San Francisco's Casey & Brian are a hyper-punk duo consisting entirely of shout-out-loud vocals, drums and a keyboard (Casy & Brian share/alternate all three responsibilities). Their music sounds like equal parts Screeching Weasel, Matt & Kim, and Moldy Peaches. The duo's debut album, "Catbees," collects 10 primarily animal-themed danceable electro-punk tracks of relentless drums and booming, incessant keys. Vocals are shouted aloud, with lyrics often tripping on top of other lyrics. Live, the formula is explosive and wide-eyed, and to their extreme credit, the album does an excellent job of capturing that energy. The opening track on the album, "Duex Drumbaclots," serves as Casy & Brian's musical manifesto, as they declare that: "we made the record that we want to hear." And on the track "Animal Calls N' Dancehalls," Casy and Brian demonstrate an obsession with animals that continues on at least 6 of the 18 minute long album's 9 other songs, as they sing/shout the lyrics such as: "certain animals dance after hours at the zoo / if a zebra can get down / so can you" atop stuttering, grimy keys and ratatat drums. The whole album is a sophomoric mess in the best possible way, and makes for irresistible dance-punk fun. Head over to Musical Pairings @ eating/sf to read the rest of the review. –Matthew