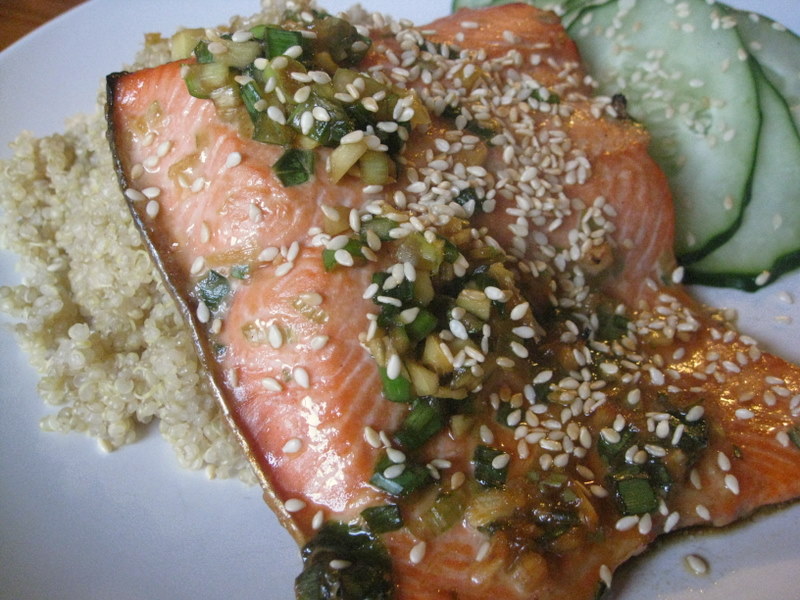 I've written about salmon a few times now–here and here. I'm not usually too particular on buying farm raised or wild salmon, but the last few times I've purchased fresh, wild salmon and cooked it the same day, the results just didn't hold a candle to some of my old, boring salmon routines.
A super fresh piece of fish–no matter what it is–just tastes better, period. For a quick weeknight meal, an Asian-inspired marinade created a sauce for the salmon that also seeped into the quinoa that we prepared to go with it. On the side, a light and refreshing cucumber salad, accessorized with some of the components of the salmon marinade, brought everything together. You don't need a mandoline but it's just so much fun! I love how thinly and uniformally it slices veggies.
One salmon fillet was so large that I could only finish half for dinner. The other made for a great topping for my lunch the next day–a salad that no doubt could have held its ground next to any Whole Foods-prepared, eco-friendly boxed lunch.
Wild salmon is expensive, but your local grocery store will often have a weekend special. These days, when I'm buying salmon, I tend to only buy the wild stuff, and really only when it's on sale. Doing so keeps me from getting bored with it, and also tends to lead to tastier dishes.
I just got back from Denver after a fun weekend with a high school friend, so stay tuned for a Denver review and a Local Pairing! Should be a fun one. I'm sure that there are tons of great places and restaurants I could not have possibly hit, so I'll look forward to hearing what I should check out next time!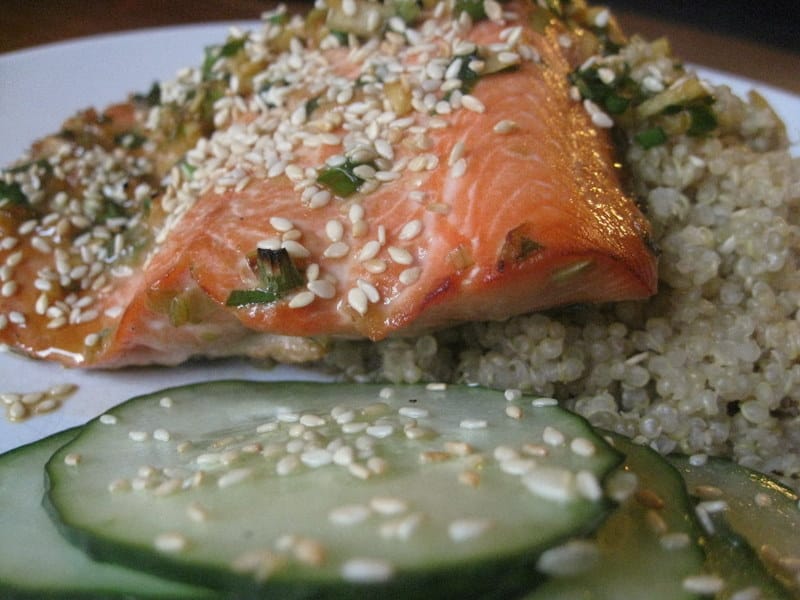 Broiled Wild Salmon in Honey-Sesame Soy Sauce with Sesame Cucumber Salad
adapted from the Food Network
2 fillets of fresh, wild salmon
2 stalks of green onion, diced into fine rings
2 tablespoons of soy sauce
1 tablespoon of rice vinegar
1 tablespoon of honey
1 teaspoon of fresh ginger, minced
1 teaspoon of white sesame seeds, toasted in a dry skillet
1. In medium bowl, combine the green onion, rice vinegar, soy sauce, minced ginger and honey. Whisk everything together until incorporated and the honey has dissolved.
2. Place the salmon fillets into a freezer bag and pour about a 1/4 cup of sauce into the bag. Gently coat the salmon with the sauce, seal the bag and place it into the refrigerator for approximately 10-20 minutes to marinate. Pour the rest of the sauce into a ramekin and set aside.
3. Set your oven temperature to broil and line a baking dish with foil. Brush some olive oil on the foil.
4. Remove the salmon from the fridge and place skin side down onto the baking dish.
5. Broil the fish for 6 minutes before checking for doneness. Depending on the thickness of the fillet, it may take 10-12 minutes to fully cook. The fish should flake when you break into it with a fork.
6. Scoop some cooked quinoa onto a plate and place a fillet of salmon on top of it. Using a teaspoon, pour half of the leftover sauce over the fish and sprinkle with sesame seeds. Serve with a fresh cucumber salad (recipe below).
Sesame Cucumber Salad
1 large English cucumber
1 teaspoon of toasted sesame oil
1 teaspoon of toasted sesame seeds
1. Using a mandoline, thinly slice the cucumber and place into a medium bowl. Add the sesame oil and sprinkle in the sesame seed. Toss to combine. You may also add a dash of salt and pepper, if you like. Taste first!
Musical Pairings: Metric- Fantasties, Paired with Broiled Wild Salmon in Honey-Sesame Soy Sauce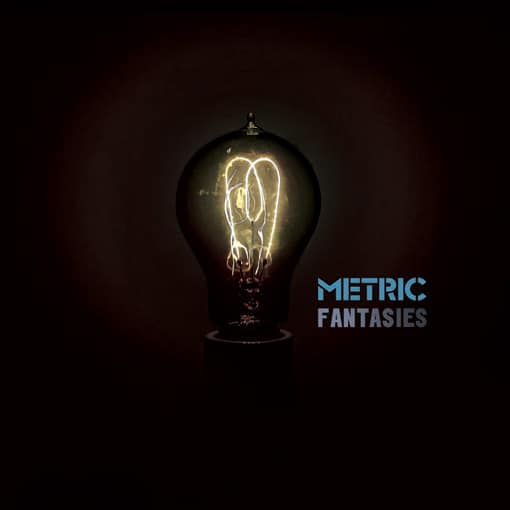 I love Kasey's broiled wild salmon in honey-sesame soy sauce. I'm pretty sure readers who try the recipe will love it too. It is a definite "crowd pleaser." And, unlike some "crowd pleasers," this salmon recipe is well balanced: both healthy and delicious. In that regard, Metric's latest album, Fantasies, is the perfect pairing for this recipe. I first noticed Metric at a gig in Cincinnati opening for Hot Hot Heat back in 2003. The band has just released their debut album (technically, it wasn't their first record – but Old World Underground is nonetheless Metric's debut album in my mind). It was definitely one of those occasions where the opening band – a complete unknown – owns the gig. Metric just blew Hot Hot Heat out of the water. Since 2003, Metric has evolved considerably. Whether this change is for the better or worse probably depends on personal preference. Regardless, though, with this latest at-bat, Emily Haines and Co. are clearly swinging for the bleachers. And although there are a few wild swings on Fantasies, Metric have definitely put up a few points on the board. The best tracks on Fantasies are also the catchiest and most radio-friendly tracks the band has recorded to date. And, unlike most radio-friendly pop (but much like Kasey's salmon salmon) Fantasies is as good for you as it is delicious. Head over to the Musical Pairings home for the full review + tracks. –Matthew.