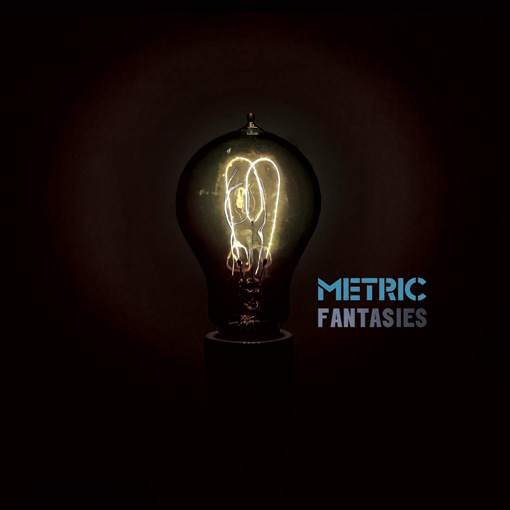 I love Kasey's broiled wild salmon in honey-sesame soy sauce. I'm pretty sure readers who try the recipe will love it too. It is a definite "crowd pleaser." And, unlike some "crowd pleasers," this salmon recipe is well balanced: both healthy and delicious. In that regard, Metric's latest album, Fantasies, is the perfect pairing for this recipe. I first noticed Metric at a gig in Cincinnati opening for Hot Hot Heat back in 2003. The band has just released their debut album (technically, it wasn't their first record – but Old World Underground is nonetheless Metric's debut album in my mind). It was definitely one of those occasions where the opening band – a complete unknown – owns the gig. Metric just blew Hot Hot Heat out of the water. Since 2003, Metric has evolved considerably. Whether this change is for the better or worse probably depends on personal preference. Regardless, though, with this latest at-bat, Emily Haines and Co. are clearly swinging for the bleachers. And although there are a few wild swings on Fantasies, Metric have definitely put up a few points on the board. The best tracks on Fantasies are also the catchiest and most radio-friendly tracks the band has recorded to date. And, unlike most radio-friendly pop (but much like Kasey's salmon salmon) Fantasies is as good for you as it is delicious.
I read an interview with Emily Haines where she mentioned being influenced by M.I.A. when writing the tracks for Fantasies. By this, Haines meant that she was inspired by M.I.A. to attempt to be simultaneously sexy, feminine and political. Honestly, this is not the revelation that defines Metric's new album. Haines has always managed to be sexy, feminine and political (see previous tracks "Succexy" and "Poster of a Girl"). And, in case you were wondering, Fantasies pretty much sounds nothing like anything recorded by M.I.A. Though, the first 15 seconds of opening track "Help, I'm Alive" does arguably bare a slight resemblance to M.I.A., but the remaining 4 minutes and 30 seconds of the track sound more like a cross between the best tracks by Blondie, Green Day and the Yeah Yeah Yeahs. Fantasies' first single, the catchy "Gimme Sympathy," pretty much spells out Metric's most important new influence: The Rolling Stones. Emily Haines sings, "Who'd you rather be, the Beatles or the Rolling Stones," and by titling the track "Gimme Sympathy" (clearly an amalgamation of the Rolling Stones' cuts "Gimme Shelter" and "Sympathy for the Devil") it is clear that Metric has opted for the latter.
The third track, Satellite Mind (easily my favorite track on Fantasies), is Metric at the top of their game. Numerous lyrics from the track get stuck in my head for hours at a time: "coming home because I want to hang out with a starlet," and "I send vibrations in your direction through the satellite mind." This is a band that knows how to record a hit. Ultimately, Metric aim for the sweet spot between their particular form of new wave pop and straight forward rock and roll, and they make contact more often than they swing and miss.
Fantasies is scheduled for a May 22, 2009 release. You can pre-order the album in any of four different packages (digital download, CD, vinyl + CD, and deluxe edition of merch awesomeness) from the band's website.
Don't forget to head back to our homepage to read Kasey's Broiled Wild Salmon in Honey-Sesame Soy Sauce.