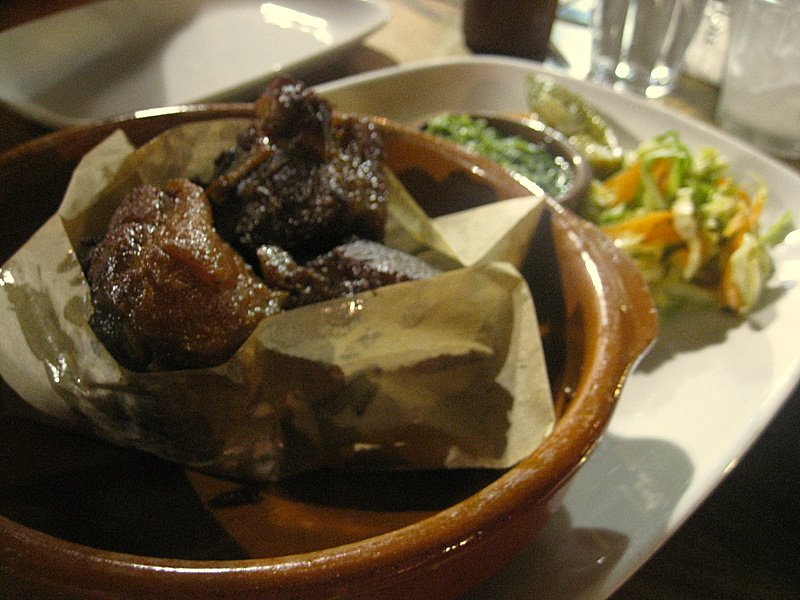 Sometimes a restaurant is so hyped up, that I begin to question just how good it could be. Such was the case with Nopalito, a long-anticipated newcomer from the owners of one my favorite San Francisco restaurants, NOPA. DailyCandy alerted newsletter subscribers to its arrival. Michael Bauer raved about them. And San Francisco 'foodies' were (and are) willing to wait for a long time for…Mexican food. I know I reference my time in San Diego a lot, but in this case, it's particularly relevant. Never, have I ever waited for a taco. Five minutes? Maybe.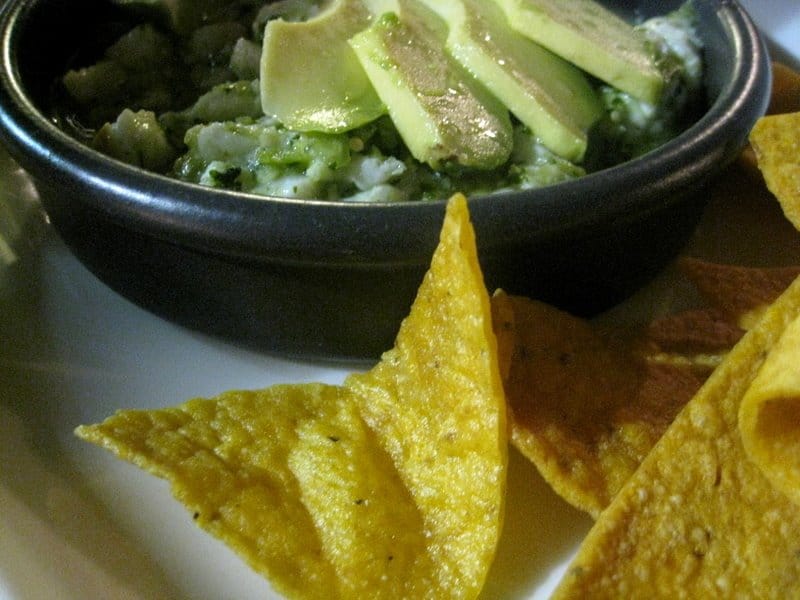 A lot of things jumped out at me from the Nopalito menu: the fish tacos, of course. The blue corn quesadilla with oyster mushrooms and 'corn truffles.' The goat stew. And, as I kept hearing–their house fried spicy chickpeas (a little nibble brought to every table at the start of every meal). I was willing to wait not only because I love NOPA, but also because I was curious. A Mexican restaurant that wasn't serving 'upscale' Mexican food, per se, but simultaneously advertises that their fare is organic and "chorizo, queso fresco, tortillas, and bread are made on the premises"–this was interesting.
From its decor, you'd hardly think you were at a taqueria. We sat on the covered patio area, surrounded by huge windows. Our wine came served in a rustic ceramic cup that reminded me of craftsmen in Balboa Park. The little chickpeas arrived and I kept popping them in my mouth with no control (despite calling ahead and putting our names on the list, we still had a hefty hour and twenty minute wait for dinner).
Being a group of four, we had the benefit of being able to try a lot of dishes. Our plan of attack? A lot of appetizers and a few entrees, family-style. We started with the ceviche, which was served with tortilla chips and paved the way for heavier dishes: the seared sturgeon taco was delicate and spicy, served with orange slices that created a delicious spicy/sweet balance. The corn tortilla was the ideal envelope (I am a firm believer in soft tacos). The blue corn quesadilla was easily split into bite size pieces and was full of queso fresco and Jack that melded together in a perfect union.

Next, came the mains, which we also divided amongst the table. The carnitas were a big hit–wrapped in parchment paper, tucked into a rustic ceramic bowl, they came served with a pickled salad and fresh, warm tortillas for the table. The meat literally melted off of our forks. The goat, which was essentially a thick stew of tomatoes, meat, and beans was also fantastic scooped into warm tortillas, and topped with beans and a 'salsa de arbol.' I could have (and probably did) eaten in with a spoon.
The last player in the show? The chicken mole–a classic. Funny story about chicken mole: the first time I thought I was going to try it was at a friend's dinner, in the Mission. I hadn't even studied the menu when the waitress informed me that they were out. Imagine the disappointment. So much anticipation! Chicken, in chocolate sauce. Of course, mole is actually a sauce that is the sum of many, many ingredients, but at Nopalito, it really was chocolate-y. So chocolate-y, in fact, that I found myself soaking tortillas and rice in it, just to clear the plate.
At the end of our evening, the consensus of the table was pretty clear: Nopalito is good. It manages to straddle a delicate line: being a hip city spot, and delivering solid Mexican food with a very simple presentation but big flavors. Would I wait an hour for Nopalito again? You know what? I think I would. But not just for the fish taco–I'm coming for another feast. For folks not willing to put up with the wait, Nopalito offers to go service.
***
Lastly, I'm off to Denver for a long weekend with an old friend and will be celebrating a belated Mother's Day with my mom when I come back, but wanted to send a little shout out to her. Not only does she always encourage me to reach for the stars, but she's actually a superstar herself: she designed the icons for my blog, my personal business cards, and has spent many a night coaching me through HTML. She's also got great style, a trunk load of incredible recipes up her sleeve (which I try to replicate every once in a while), and a lot of patience. So Mom, happy Mother's Day, I love you!
Local Pairings: Birds & Batteries
San Francisco's Birds & Batteries are a prime example of the Bay Area's seething, ambitious creativity. Their latest album, I'll Never Sleep Again, opens with their reworking of Neil Young's classic cut, "Heart of Gold." Their version begins with enigmatic, slow, stuttering chimes, which abruptly give way to lead singer Michael Sempert's twangy vocals and waves of pedal steel guitar. Less than a minute later, cold synths are followed by trembling, sonically-rich percussion. In my mind, the result is the musical equivalent of a sci-fi drilling machine (like the one in Total Recall) tearing its way up from the ground and demolishing a small, sad house on a vast, empty prairie in slow motion. It is a little unorthodox to open an album with a cover, but there is nothing orthodox about Birds & Batteries' marriage of alt-country and electronica. Birds & Batteries frequently pull off both to excellent results. Head over to the Musical Pairings home for a full review and tracks. –Matthew