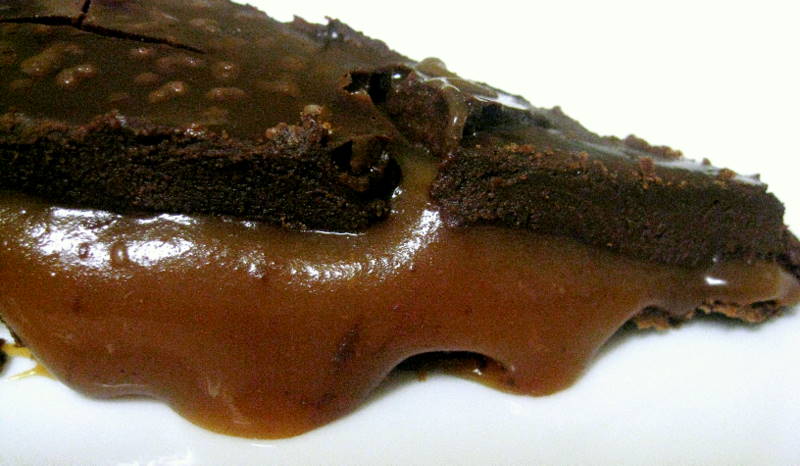 Tomorrow is my birthday so it seems fitting to share with you a recipe for a chocolate caramel tart (with sea salt, no less). It's really decadent, luxurious, and sweet–with a nice little salty kick at the end. This cake was a long time coming–a few months, at least. Ever since I received my April issue of Saveur magazine, with a slice of this cake on the cover, smeared caramel all over the white plate and crumbles of chocolate crust–I knew this cake was it. I made it for a dinner party and I have to tell you–it was a project. I purchased a candy thermometer. I conquered my fears of making caramel. I persevered over not having a tart pan and made it in a Le Creuset pie dish.
With my first bite, the only thing I could think of was that the cake tasted just like the picture. The gooey caramel was so sweet and rich, the chocolate crust was the texture of a crumbly dark chocolate cookie and the ganache was nicely bittersweet. The kicker, though? The sea salt which you must not omit. The recipe suggested sprinkling the sea salt on the cake right before serving, which no doubt created a nice visual effect. But, after a few hours in the fridge, my sea salt sunk into the ganache, making that surprising salty finish ever more subtle and surprisingly refreshing.
This cake goes just as well with coffee as it does with tea, whiskey, or a nice, deep red wine. The caramel, which turned out without hitch, lasts for ages in the fridge, so don't worry if you have a little extra after you pour it into the crust–it'll go well with an ice cream sundae later this summer.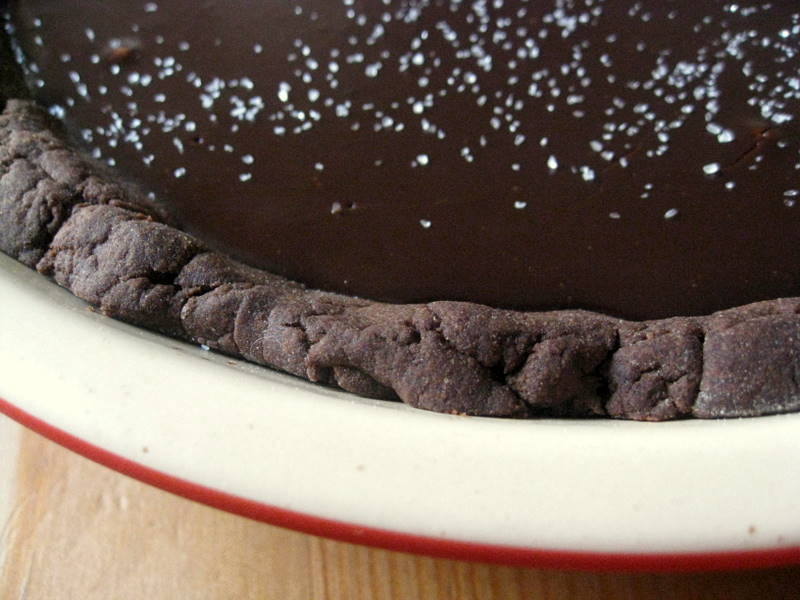 If you're going to a dinner party, I'd highly recommend breaking this recipe up into steps over the course of a few days as each part requires refrigeration for several hours. I made the caramel a day in advance and brought it back to room temperature on the morning that I made the cake. I also refrigerated the tart dough before bringing it back to room temperature, rolling it out and fitting it into the pan. The ganache is the simplest part of this recipe, so you don't need more than five minutes to make it (though it, too, requires a long time to set in the fridge). After hunting around the blogosphere, I discovered that the Saveur recipe wasn't quite perfect, so I deferred to Tim's recipe on Lottie + Doof, though, I did bounce back to Saveur when it came time to bake the crust. The end results, I think, were well-worth the effort. And if I hadn't made this tart so recently, I might just be making it as a little birthday present to myself tonight.
Chocolate Caramel Tart
c/o Saveur and Lottie+Doof, adapted by me
For the chocolate tart crust
1 stick of unsalted butter brought to room temp.
1/2 cup and 1 tablespoon of powdered sugar
1 yolk from a large egg
1 teaspoon of good-quality vanilla extract
1 and 1/4 cup of flour
1/4 cup of Dutch-process cocoa powder (unsweetened)
For the caramel
1/2 cup of water
2 cups of white sugar
1/4 cup of light corn syrup, with real vanilla extract
1/2 cup of heavy cream
1 stick of unsalted butter
2 tablespoons of crème fraîche
For the ganache
1/2 cup of heavy cream
3 and a half ounces of bittersweet chocolate, chopped into fine slivers/chunks (I used the big Trader Joe's block)
1. The day before your event, make the caramel: Pour the water into a medium sized pot and add in the sugar and corn syrup.
2. Place a candy thermometer into the mixture and bring it to medium-high heat, swirling it around until the temperature reads about 365 degrees, or is a deep amber color.
3. Take the pot off the heat. Stand back a little. Pour in the heavy cream (it will bubble a lot). Next, add in the butter and crème fraîche. Stir until all of the ingredients are combined and the mixture is smooth and creamy. Pour it into a heatproof container and refrigerate.
4. Now, make the tart dough: Using a hand or stand mixer, cream together the butter and powdered sugar until creamy and combined.
5. Add in egg yolk and vanilla extract, beating until incorporated.
6. Sift in the flour and cocoa powder, beating until the ingredients are just combined (keep it mind, it will be very thick, so if you're using a hand mixer, you might have to take a break and mix by hand a little). There should be no lumps or butter chunks.
7. Form the dough into a ball and then flatten down into a disk. Wrap in plastic wrap and refrigerate.
8. Morning of the event: take the caramel and the dough out of the fridge in the morning, and bring to room temperature.
9. Preheat your oven to 350 degrees F.
10. Roll out the crust dough on a lightly floured surface and transfer it into your tart pan (or in my case, pie dish). Don't worry: it'll fall apart into pieces. You can meld it together and mold it into the crevices with your fingers.
11. Refrigerate for about 15 minutes (since my dough came from the fridge, I didn't wait 30 minutes, as Saveur recommended). Prick the shell with a fork all over the base and bake for about 20 minutes (if you're using a pie pan like me, your shell will be thicker, and you should thus allow around 30- 35 minutes for the crust to bake). Take it out of the oven and let cool.
12. Pour in the caramel filling and refrigerate until it's set–about 4-5 hours.
13. About 5 hours before your event, make the ganache: In a small pot, bring the cream to a boil. Pour over the chopped chocolate and let it sit for a minute. Stir the mixture with a rubber spatula until it's smooth.
14. Pour the ganache over the tart and refrigerate until it's set–about 4-5 hours. Sprinkle with sea salt and serve.
Cooks note: alternatively, you cook prepare and cook the tart crust, prepare the caramel and pour it into the shell and then follow the steps for refrigeration, ganache-making and setting.
Musical Pairings: Wilco – Summerteeth (and Chocolate Caramel Tart)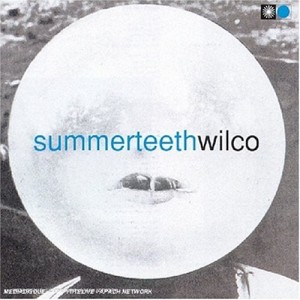 Chocolate. Caramel. Sea Salt. This recipe is amazing. Kasey's Chocolate Caramel Tart is unbelievably smokey, decadent and lush. And the sea salt just adds the perfect bit of edginess to the recipe. When you cut a slice, the warm, gooey caramel just melts onto the plate. Kasey spent a lot of time preparing this one, and it was definitely worth it (in my opinion). This recipe is surprisingly complex, but I can't recommend it enough.
I researched caramel for this pairing, and discovered that it was invented in Turin, Italy in the 18th century. Despite learning this, for some reason, caramel seems like a very Midwestern type of food to me. I feel like this is the type of dish you'd find on the dessert menu at a gourmet restaurant that describes their food as "American" cuisine. And if you are looking for traditional Midwestern, American-style pop/rock n' roll with only a touch of salty/edginess – you need look no further than Wilco. Despite their pretty amazing ca
talog, Summerteeth is probably still my favorite Wilco album. Head over to eating/sf's Musical Pairings home for the complete review. –Matthew