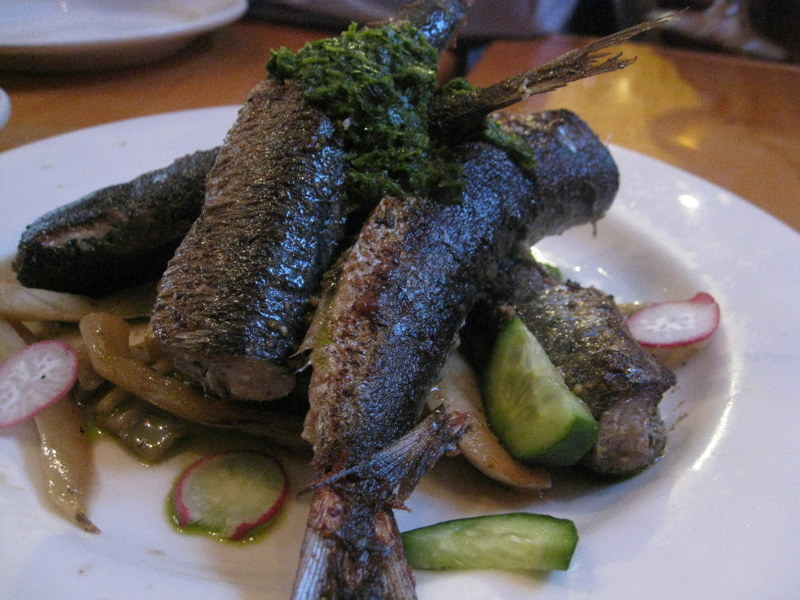 Oh, the power of Twitter. A few weeks ago, as I was getting ready to head down to Berkeley for a ballet, I asked the Twittersphere if anyone had any good restaurant recommendations. @ciderandrye came back with an impressive list–one spot that she noted was Venus, right on the main drag of Shattuck Avenue. With a promise to deliver 'seasonal, organic, sustainable, and unique' cuisine, Venus seemed like a great place to bring Matt and my parents for a little pre-show meal.
The Venus dining room is cozy, casual, and pretty relaxed. Everything looked homegrown in the best possible way. The small kitchen was nearly completely exposed to diners and the counter was constantly the setting for rotating dishes, including succulent looking ribs, pork chops, fish and appetizers. Venus's menu changes according to seasonality, so it's no surprise that their dinner offerings are already reflective of a late Spring's bounty.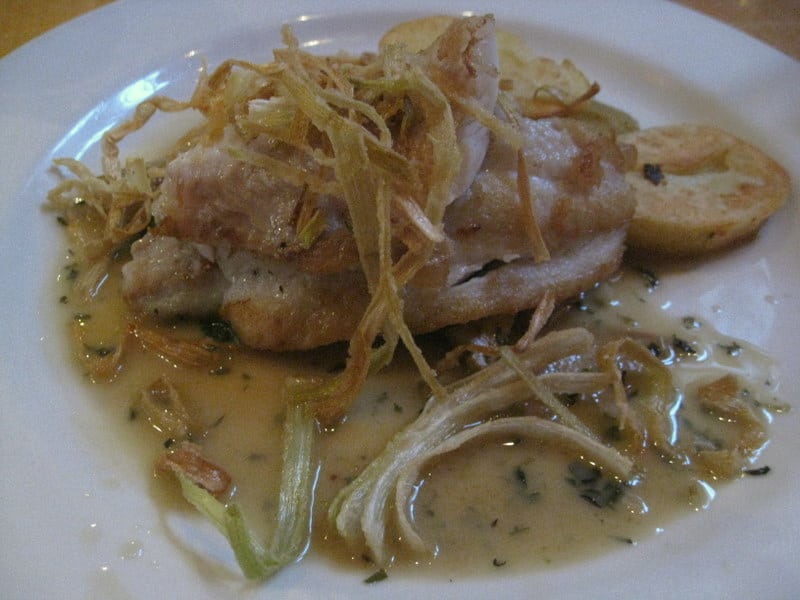 When we had dinner here, we started with the house special–grilled local sardines, which were just perfect. Plump and topped with an beautifully green salsa verde, they were a pretty hearty starter. The crostini topped with mascarpone, wild mushrooms and green onions were good, but sort of forgettable at our table. Unlike the traditional crostini that I associate with small, crunchy pieces of baguette, these were large hunks of bread that were still slightly chewy inside. Good, but just not what I'd call 'crostini.'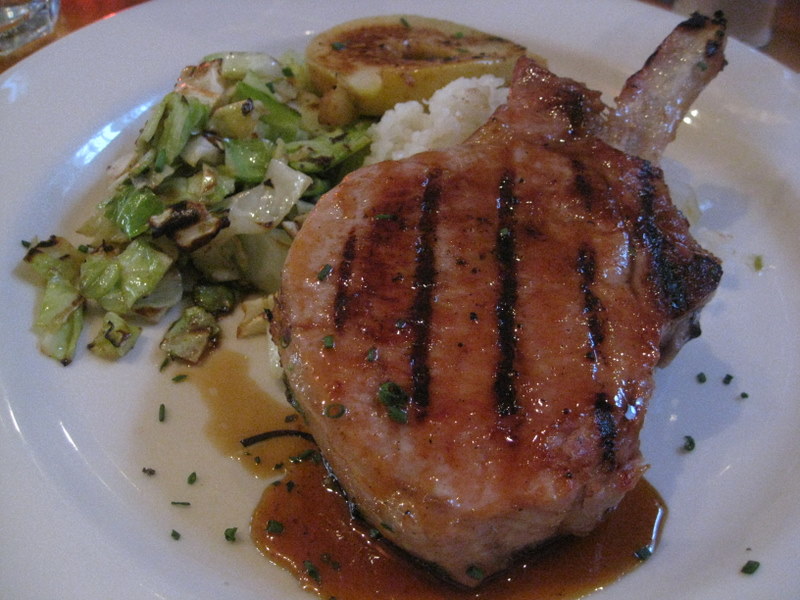 Beyond the sardines, the highlights of our meal were definitely the main courses. My mom and I both ordered the tender white fish topped with crispy fennel and accompanied by deliciously sweet carrots. My dad and Matt both raved about the pork chop, served with a little salad and a grilled apple slice. The entrees were huge, but manageable–and extremely fresh and flavorful. The sweet bite at the end? A perfectly rich chocolate budino, accompanied by freshly whipped cream, almonds and raspberries. You can't get much better than that. Not to mention, our entire meal was pleasantly kicked off by a fantastic bottle of Malbec (we probably could have drank two).
What I really appreciated about this restaurant was that it was clear that things were made with care and attention. The people behind the kitchen counter had a very relaxed way about mixing whipped cream in reusable plastic containers, and carefully arranging fresh raspberries on the plate. There was no stuffiness associated with dishes that could easily hold their own in a stuffy restaurant. Perhaps it's no surprise that the famous Chez Panisse is only a few blocks away–it seems that Venus upholds Alice Waters' simple, sustainable food philosophy to a tee.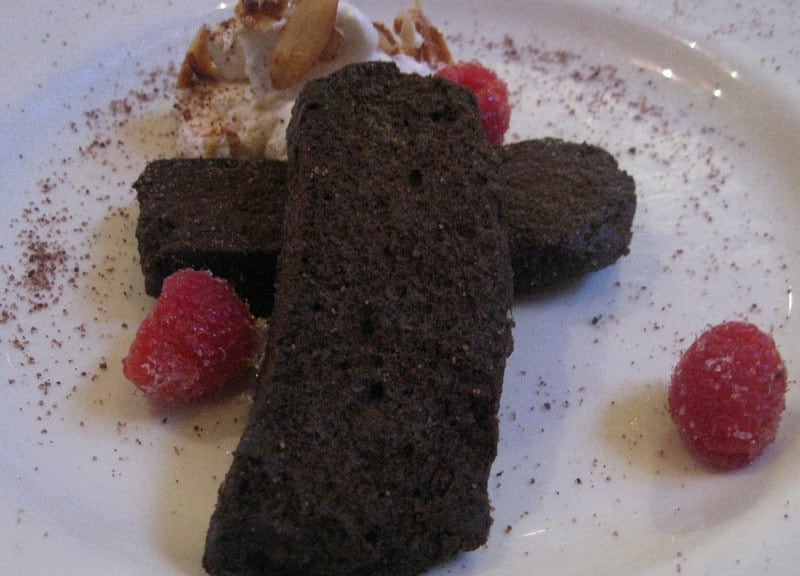 Local Pairings: The Pack – Skateboards 2 Scrapers (Venus Restaurant, Berkeley, CA)
The idea behind Local Pairings, as opposed to our usual Musical Pairings, is to pair a local band with a restaurant from that area, but not to suggest they taste alike. So far, Local Pairings have focused primarily on the Bay Area's indie rock scene. The sole representative of the diverse Bay Area hip hop scene has been Controller 7's Left Handed Straw. And I acknowledge that the lack of local hip hop is a pretty egregious omission: hip hop is a huge part of the Bay Area music scene, especially hyphy. I'm excited to be doing a Berkeley pairing because it gives me an opportunity to pair one of my favorite Bay Area hip hop groups: The Pack (short for the Wolfpack). The Pack is a Berkeley, California based hip hop group consisting of Young L, Stunnaman, Uno and Lil B. Their 2006 EP, Skateboards 2 Scrapers, found a place on many 2006 year end lists based in part on the strength of the EP's first single "Vans." And while the group hasn't demonstrated the steadiness in their songwriting that comes with experience like other Bay Area rappers such as Keak Da Sneak and E-40, there is no question that the Pack can't record hits. For the full review, head over to eating/sf's Musical Pairings home. –Matthew