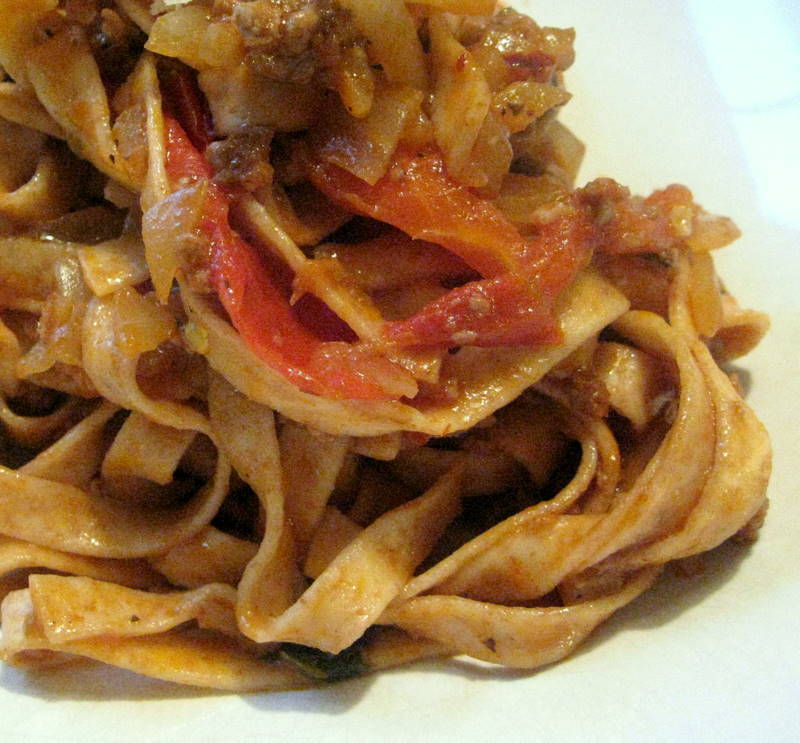 Bolognese is a traditional Italian meat sauce for pasta. It's awesome with linguine and papardelle–wide, long and sticky noodles that absorb the flavor of the sauce and trap bits of chunk amongst their layers. The traditional bolognese–according to my Silver Spoon cookbook, at least–does not contain any tomatoes (only tomato paste), but does include celery and carrots. When it comes to pasta sauces, I'm not one to stick to the recipe, and I tend to pledge my allegiance to tomatoes, especially in a hearty, beefy concoction.
A few weeks ago, the lovely folks at Al Dente Pasta in Michigan sent Matt and I some of their fettuccine pasta in flavors such as Wild Mushroom, Squid Ink, and Straw and Hay to try. All of the pastas cook in 3-4 minutes flat–imagine that!
One thing I managed to bring back with me from Denver was a cold, so on a particularly lazy evening, wrapped in a quasi-Snuggie, we decided to whip up a quasi-bolognese with some whole wheat fettuccine from Al Dente. The meal came together quickly–and in 1 skillet and a pot, no less. Suddenly, my kitchen table felt like a little corner in a Tuscan trattoria. I've only tried Al Dente's whole wheat flavor, but now I can't wait to give the others a go–especially the squid ink (I'm already dreaming up recipes). My bowl of pasta tasted like it had been hand-made by an Italian grandmother in my kitchen. You could use any brand of medium-wide pasta for this dish, but I especially enjoyed the nuttiness of the whole wheat against the beef.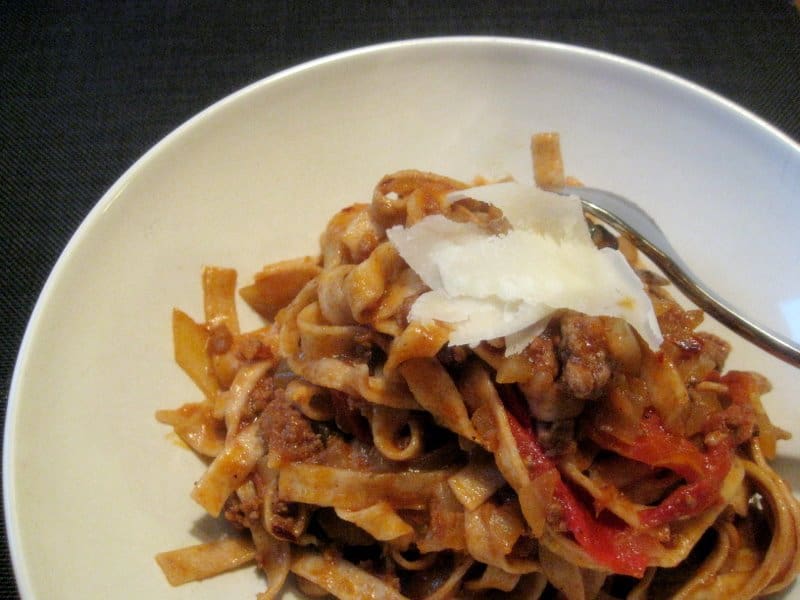 As with any dish that has few ingredients, it's important to use really good ones. Good ground beef is important–not too lean, but not too fatty. I also really like the flavor of fresh tomatoes–I often swap canned, diced tomatoes for fresh ones in soups, stews and sauces. Lastly, I wasn't about to go in search for fresh thyme and oregano on this night, but if you have fresh herbs definitely use them! The chili flakes are totally optional, but I love the heat that they give (an added bonus when you can barely breathe through your nose and need to really taste something!). The pasta is obviously important, too–choose either fresh noodles, or quality dried ones.
If this pasta doesn't make you feel better (whether you're down with a cold, or down on a long day of work), I'm not sure what will!

Quasi-Bolognose with Tomatoes
* serves 2, with leftovers
2 tablespoons of olive oil
2 cloves of garlic
2 rounded teaspoons of tomato paste
1 onion, diced
4-5 campari tomatoes, quartered
pinch or two of dried oregano
pinch or two of dried thyme
pinch or two of red chili flakes
A few leaves of fresh basil leaves, torn
1/2 pound of good quality ground beef
salt and pepper to taste
8-10 ounces of whole wheat fettuccine or pappardelle (we used Al Dente brand)
Parmesan, to serve
1. Heat the olive oil in a cast iron skillet. Start by sauteing the onion with the beef and garlic over medium-low heat. Season with salt and pepper. About a minute in, add the tomato paste and continue to saute. Lower the heat as the beef starts to brown.
2. Throw in a few pinches of thyme, oregano and chili flakes (this is really to taste).
3. Continue to saute for a few minutes. Next, add the tomatoes and toss around with a wooden spoon.
4. Let the tomatoes cook down, but not until they are completely part of the sauce. Toss in some torn fresh basil leaves.
5. In the meantime, boil the pasta for about 4 minutes.
6. Drain (don't rinse), toss into the still warm cooking sauce. Toss to combine pasta with the sauce.
7. Sprinkle with Parmesan to serve. When I say sprinkle, I usually mean dump about a 1/4 cup of grated cheese over each bowl.
Musical Pairings: Raphael Saadiq – The Way I See It and Quasi-Bolognese
It is fun to recreate an old favorite. Pasta bolognese is a fun dish to make because you can play pretty fast and loose with the ingredients and although your version may be un-traditional as a result, you still come up with a pretty familiar recipe. Nonetheless, some bolognese recipes are better than others. In my opinion, the difference is normally in the ingredients you use. With something this simple, don't skimp on the details. The same is true for music. Raphael Saadiq's fantastic solo album, The Way I See It, sounds like a blast from the past: it's familiar and fun, and succeeds largely due to excellent song-writing and an attention to detail.
The Way I See It sounds like a traditional 60's-70's era soul record. In other words, think of 60's R&B artists like The Four Tops, The Temptations, and The Delfonics, and you'll get a pretty good idea of what this record sounds like. While listening to the record, you don't need a very active imagination to picture Saadiq performing in a smokey club in the 60's when he sings, "I told the bartender to pour me a double fast and light me a smoke so I can sing some jazz." For the full review, head on over to our music home, Musical Pairings @eating/sf. –Matthew