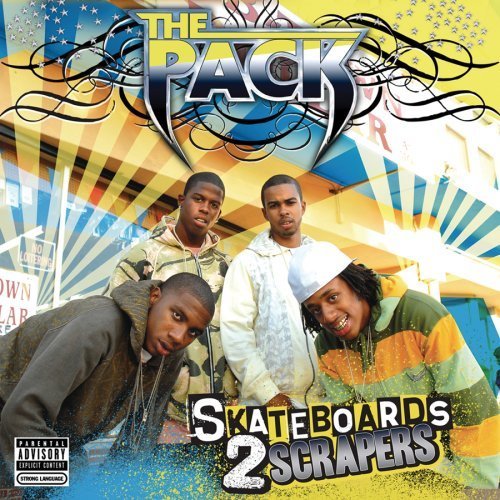 The idea behind Local Pairings, as opposed to our usual Musical Pairings, is to pair a local band with a restaurant from that area, but not to suggest that they taste alike. So far, Local Pairings have focused primarily on the Bay Area's indie rock scene. The sole representative of the diverse Bay Area hip hop scene has been Controller 7's Left Handed Straw. And I acknowledge that the lack of local hip hop is a pretty egregious omission: hip hop is a huge part of the Bay Area music scene, especially hyphy. I'm excited to be doing a Berkeley pairing because it gives me an opportunity to pair one of my favorite Bay Area hip hop groups: The Pack (short for the Wolfpack). The Pack is a Berkeley, California based hip hop group consisting of Young L, Stunnaman, Uno and Lil B. Their 2006 EP, Skateboards 2 Scrapers, found a place on many 2006 year end lists based in part on the strength of the EP's first single "Vans." And while the group hasn't demonstrated the steadiness in their songwriting that comes with experience like other Bay Area rappers such as Keak Da Sneak and E-40, there is no question that the Pack can't record hits.
Sparse tones bob hypnotically across the track while the group rolls out lines explaining their love for their favorite brand of shoes on "Vans": "If u wanna get right, stop buyin' those Nikes. Get some new Vans and you'll bet you look icey." The next track, "I'm Shinin," opens with resonating, booming base that floods the sonic landscape of the track as the group drops line after line of pure bravado. On "Candy," the group gets somewhat raunchy laying out explicit rhymes that fall somewhere between Spank Rock and 2 Live Crew (or any sample used by DJ Funk). Ultimately, Skateboards 2 Scrapers is an excellent introduction to the talent this group brings to the Bay Area music scene, and deservedly received plenty of attention from the music industry including Rolling Stone, who listed "Vans" at No. 5 on their "Best Songs of 2006" list, and Chicago's The Hood Internet, who released a mixtape of tracks featuring the Pack mashed-up with various indie rock groups including the Dandy Warhols, Of Montreal, Hot Chip and Caribou.
The group's official debut, Based Boys, received mixed reviews and was decidedly less successful than the Skateboards 2 Scrapers EP. Nonetheless, the Pack just released a new mixtape on iTunes that demonstrates a return to the elements that brought them attention in the first place, and fans can expect 2009 to be a good year for the Pack. They've also just released a stream of the first song off their new album (due out this year) on their Myspace page, and it sounds good.
To read Kasey's review of Venus Restaurant in Berkeley, head on over to eating/sf's homepage.
Download:

The Pack – Vans
The Pack vs The Dandy Warhols – Oh Go Get High (The Hood Internet Mash Up)
The Pack vs Caribou – Dumb Irene (The Hood Internet Mash Up)
Bonus:
Dead Prez vs Grizzly Bear – Two Weeks of Hip Hop (The Hood Internet Mash Up)