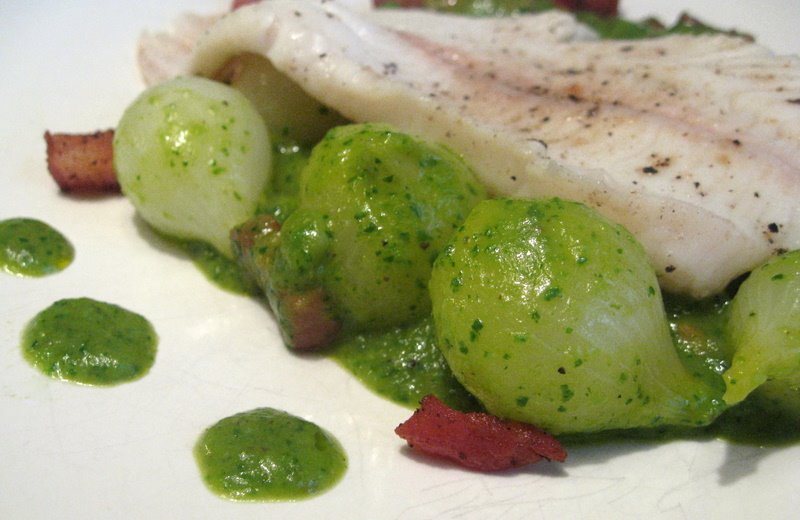 After tasting pure heaven in the form of Striped Bass with Sage & Red Wine Butter, I knew I had to come back for more. I wasn't going back to Chanterelle restaurant in NYC, though. I was going back to the Chanterelle cookbook, and dressing my own dining room table with a bottle of wine and a couple of candles.
On weekends, I must admit, we often go out to dinner. There is something celebratory about sitting in a new dining room, surrounded by the people that live in our city, and experiencing cuisine that we often don't prepare at home. Generally speaking, the food that I'll order at a restaurant involves ingredients or preparation methods that I don't typically go near at home. There are so many steps involved, so many trips to various different shops (the fish market, the farmer's market, the cheese shop..). Recently, though, Matt and I decided that every once in a while (and more often than on special occasions), we'd pick a recipe from a fancy shmancy cookbook and make it our mission on a particular evening.
We wouldn't shy away from three page long instructions, or produce names that are unfamiliar to us. And so, this past weekend, we tabbed five different recipes in Chanterelle, and we settled on a grilled fish with a very spring accompaniment: a fresh pea sauce with pearl onions and pancetta. The original recipe called for a fish I had never heard of (turbot), but suggested that dover sole (another fish I've never before prepared) could easily be substituted. And so, we took off. As luck would have it, dover sole was on sale at the market, and the Ferry Building Farmer's market was exploding with Spring peas. We were pleasantly surprised by how seamlessly we worked on this dish, and how few (if any) mistakes were made in the kitchen. I'm always a little hesitant about sauces, so naturally, I stuck a finger in the pot as the fish was just about done. I had just stirred in the pea puree and I wasn't sure what to expect. As I took a first lick, I couldn't help but think of that feeling you get with a first lick of soft ice cream–velvet. The tender taste of fresh peas was ever-present, but the other ingredients weren't lost on me: the pancetta's saltiness and texture gave the delicate sauce a bit more command.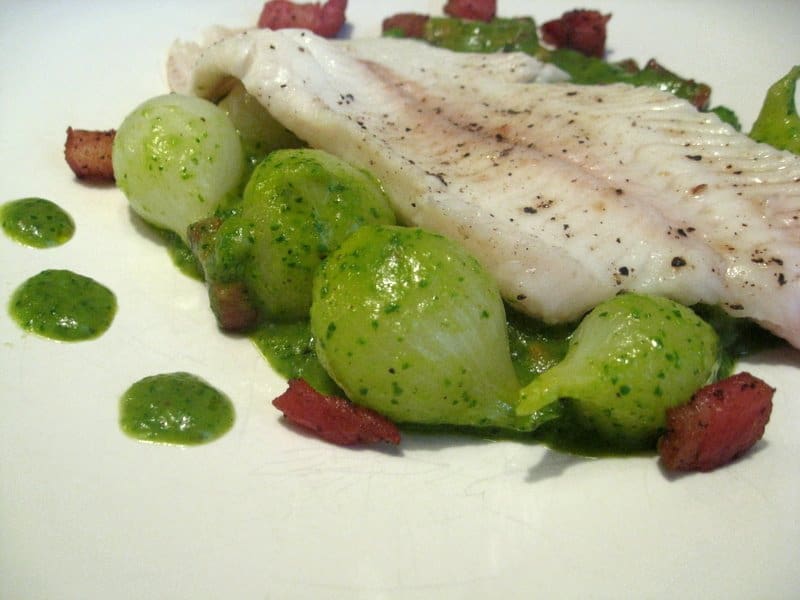 When we sat down to our hard-earned meal, we both admired how pretty our plates looked and wondered what that first, complete bite would taste like. I ate a pearl onion first: slightly tender, sweet and a bit salty. Braised in the delicate sauce, it was a nice first bite. Next came a piece of sole, which nearly slid off my fork and picked up just enough sauce. Let me tell you: it didn't just melt in my mouth, it set off an explosion of taste and textures. The fish was like butter and all of the different sauce components were the perfect contrasts to each other.
By the time we finished ooh'ing and ahh'ing, our crips were ready to come out of the oven. I have to admit to being a newbie to rhubarb–that tangy, crispy root that is so often paired with strawberry. I cautiously tasted a piece (after it had sat in sugar for about an hour, no less), and I knew it was gonna be good. The pieces of fruit were still intact in the crisp, but so tender, they melted together in perfect harmony. Their juices formed an almost jammy sauce that bubbled over the crispy topping and gave off a hint of orange and nutmeg. Quite frankly, I'm never going back to another crisp again.
By the time we finished a bottle of white New Zealand wine, we had both concurred that our fancy stay-at-home meal could easily stand its ground against many of our restaurant outings.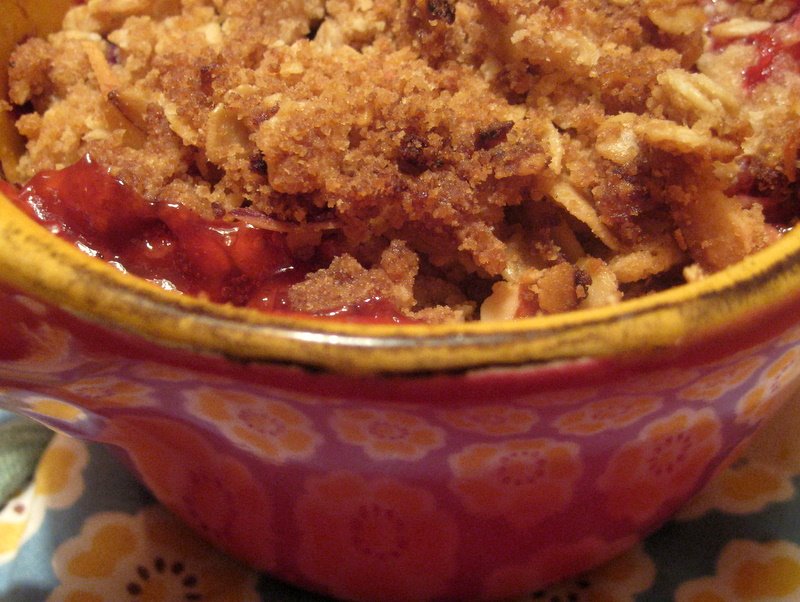 If you want to make the crisp as we did, make the crumbly topping and fruit filling and place both in the fridge while you work on dinner. Assemble shortly before sitting down to dinner and pop it in the oven about 15-20 minutes after you sit down (the crisps will take about 45 minutes to bake).
Grilled Dover Sole with Peas, Pearl Onions and Pancetta
*adapted from the Chanterelle cookbook
* serves 2
3/4 of a pound of dover sole fillets (about 4 fillets–they're very thin)
1 cup of freshly shelled peas (fresh, not frozen)
1/2 cup of spinach (fresh, not frozen)
1 1/2 cups of chicken stock (we used broth)
10 peeled white pearl onions (make sure to leave the pointy root)
kosher salt and fresh pepper
1/2 teaspoon of fresh lemon juice
1 1/2 tablespoons of butter, at room temperature
1/2 a tablespoon of flour
5 ounces of pancetta, diced into 1/2 inch cubes
one pinch of white sugar
1. Start by making the sauce: pour water into a saucepan, salt and bring to a boil. Meanwhile, prepare an ice bath by pouring cold water and throwing some ice into a medium bowl. Once the water in the pot boils, blanch the peas for about five minutes (they should still be a bright green).
2. Throw in the spinanch until it just begins to wilt (a few seconds). Next, strain the peas and spinach and transfer them into the ice water.
3. Let sit for a minute or two, then drain and transfer to a blender to puree. Add about a teaspoon or two of cold water to help make a more consistent puree. It will be a vibrant green color (thanks, in part, to the spinach).
4. Now, pour your stock or broth into a medium saucepan and bring it to a simmer. Once it's simmering, add the onions, lemon juice and just a pinch of salt. Cook the onions for ten minutes–they should start to get tender.
5. Take the onions out of the broth with a slotted spoon and let them cool. Keep the stock at a simmer.
6. In a small bowl, combine the flour and half a tablespoon of butter to make a paste. Whisk it into the stock. Keep whisking until the sauce is thickened (this should take about 10 minutes). Once it is thick, strain it over another saucepan.
7. Cook the pancetta: saute the cubes on a skillet over low heat for about fifteen minutes to cook out as much fat as possible (dip the skillet over a container to drain any fat). Once it's done, remove the pancetta and place it on a plate covered in paper towels.
8. Grill your fish. We used a Foreman Grill, which was easy peasy. If you're using a stove top grill, you'll want to oil it to keep the fish from sticking.
9. While the grill is heating, bring the strained stock back to a simmer and add in the onions, pancetta (reserve about 2 teaspoons worth for plate decor) and stir in a tablespoon of butter.
10. To grill the fish: season on both sides with salt and pepper. Grill for a few minutes on one side, then flip and grill for about another minute or so. You may need to flip it briefly again, depending on your grill. The fish should be white and slightly flaky, but still very tender.
11. Stir the pea/spinach puree in the simmering stock as a last step.
12. Scoop the sauce onto each plate, top with the two fillets of fish and sprinkle a few pieces of reserved pancetta around the plate.
Strawberry Rhubarb Crisp with Cardamom and Nutmeg
*adapted from Bon Appetit
*makes 3 individual cri
sps (why? because we knew we'd have more room for dessert!)
For the topping
1/4 cup of rolled oats
1/4 cup of flour
1/4 cup of brown sugar
1/6 cup of almonds, chopped into slivers
pinch of nutmeg
pinch of salt
3 tablespoons of chilled butter, diced into cubes
For the filling
2 cups of rhubarb, sliced into 1/2 inch pieces (we used 3 stalks)
1 cup of sliced strawberries
1/2 cup of sugar
a little under 1/3 cup orange juice
1 tablespoon of flour
1 teaspoon of grated orange peel
1/4 teaspoon of ground cardamom
pinch of ground nutmeg
1. Make the topping by mixing the topping ingredients in a bowl using your hands. Continue to use your fingers to rub the butter with the dry ingredients to make a crumbly mix.
2. Combine the diced fruit, zest, orange juice, spices, sugar and flour in a bowl. Mix to combine and set it in the fridge.
3. When you're ready to make the desserts, pre-heat the oven to 375 degrees F and butter three ramekins. Scoop in the fruit mixture. Top with the crispy topping.

4. Bake for approximately 45 minutes on the middle rack, until you see the fruit juices begin to bubble and burst at the seams and the topping is golden brown in color.

Musical Pairings: Bon Iver – For Emma, Forever Ago (Paired w/ Grilled Dover Sole with Peas, Pearl Onions & Pancetta)
We decided that instead of going out for dinner this weekend, we'd stay home and prepare a romantic, home-cooked meal attempting to rival anything we could order at even one of the nicest restaurants in San Francisco. Instinctively, I knew that this would also mean creating the perfect atmosphere to enjoy our meal: dim lighting, candles and (unsurprisingly) soft, intimate music. Enter (stage right): Wisconsin's Justin Vernon, also known as Bon Iver.
Following a breakup with his girlfriend and while recuperating from a bout of mononucleosis, Vernon isolated himself in his father's cabin in Wisconsin, where he ultimately began work on the songs that compose For Emma, Forever Ago. During this time, he adopted the Bon Iver moniker while watching an episode of the television show Northern Exposure. Read the full review at the Musical Pairings home.