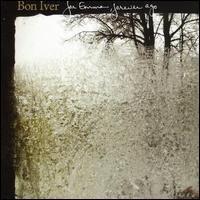 We decided that instead of going out for dinner this weekend, we'd stay home and prepare a romantic, home-cooked meal attempting to rival anything we could order at even one of the nicest restaurants in San Francisco. Instinctively, I knew that this would also mean creating the perfect atmosphere to enjoy our meal: dim lighting, candles and (unsurprisingly) soft, intimate music. Enter (stage right): Wisconsin's Justin Vernon, also known as Bon Iver.
Following a breakup with his girlfriend, and while recuperating from a bout of mononucleosis, Vernon isolated himself in his father's cabin in Wisconsin where he ultimately began work on the songs that compose
For Emma, Forever Ago
. During this time, he adopted the Bon Iver moniker while watching an episode of the television show Northern Exposure. According to Wikipedia, in one episode, "a group of citizens in Alaska . . . [emerge] from their homes into the first snowfall of the winter and [wish] one another a "bon hiver" (French for "good winter"). Originally self-released in 2007
, For Emma, Forever Ago
effortlessly captures the enchantment and majestic beauty of a first snowfall and the chilling wonder of emerging from isolation. It is an intimate, heartbreaking album, and therefore was also the perfect paring for our romantic, candle-lit dinner for two.
The opening track, "Flume," sounds like it was recorded in an empty, haunted room. It quickly introduces listeners to Bon Iver's breathy, tender falsetto as he sings "I am my mother's only one / it is enough." His vocals are accompanied by a lovely acoustic guitar melody, frequently accented by a loose, vibrating guitar string placed high in the mix and closely mic'ed. The heartbreakingly sincere song, "Skinny Love," is instantly endearing, and is a clear standout on an album filled with beautiful tracks. Here, Vernon's fantastic, emotional falsetto explores further range as he sings: "I tell my love to wreck it all / cut out all the ropes and let me fall / my, my, my – my, my, my / right in the moment, this order's tall." On the track "re: Stacks," Vernon sings "[t]his is not the sound of a new man or crispy realization / its the sound of the unlocking and lifting away." He is at least partially right. Although For Emma, Forever Ago is definitely not the sound of a "new man" (and thus free from a past of heartbreak), for the listener at least, the album feels like a crisp realization.
Download the hauntingly gorgeous Bon Iver – Skinny Love. Also, Bon Iver followed For Emma, Forever Ago with the excellent Blood Bank E.P. You can download the track Bon Iver – Blood Bank courtesy of Jagjaguwar (his label). I've also uploaded a copy of Bon Iver – The Park (Feist Cover) on Sendspace for you to download. I recommend buying the album at Insound (and I'd recommend buying it on vinyl). Finally, don't forget to head back to our home page to check out our amazing dover soul with english peas, pearl onions and pancetta recipe (and a delectable strawberry rhubarb crisp).