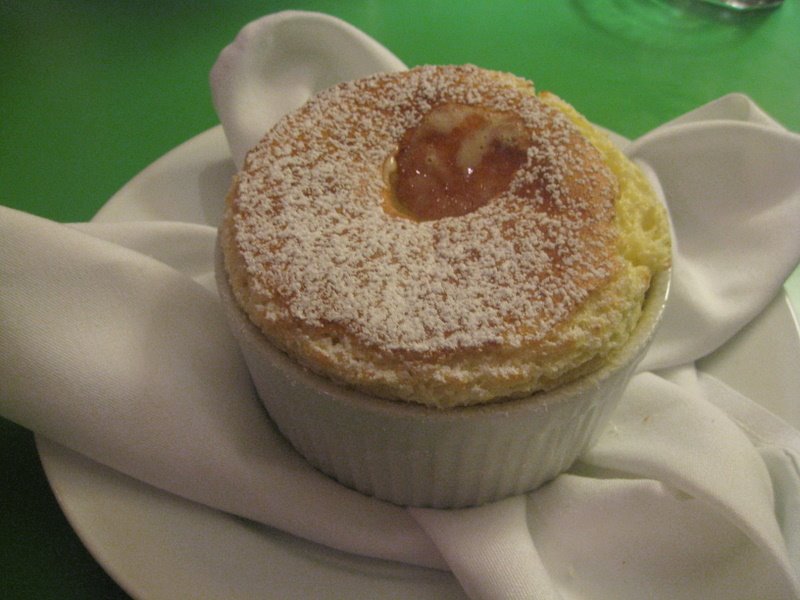 Before I tell you about Canteen, I'll give you a little preview of what we had our sights on. You see, Downtown San Francisco, food snob capital of the West Coast, is home to a bevy of lunch posts, but none with as die-hard a following as The Sentinel. Churning out sandwiches, coffee cake, muffins, soups and drinks from a tiny former cigar shop, it's run by a man named Dennis Leary, who, seemingly, doesn't sleep. Dennis opened shop and the Financial District fell in love. Bankers to lawyers, PR folks and architects stand in line every day for his no-substitutions offerings and Dennis hangs behind the counter in the same way he does at his flagship restaurant, Canteen.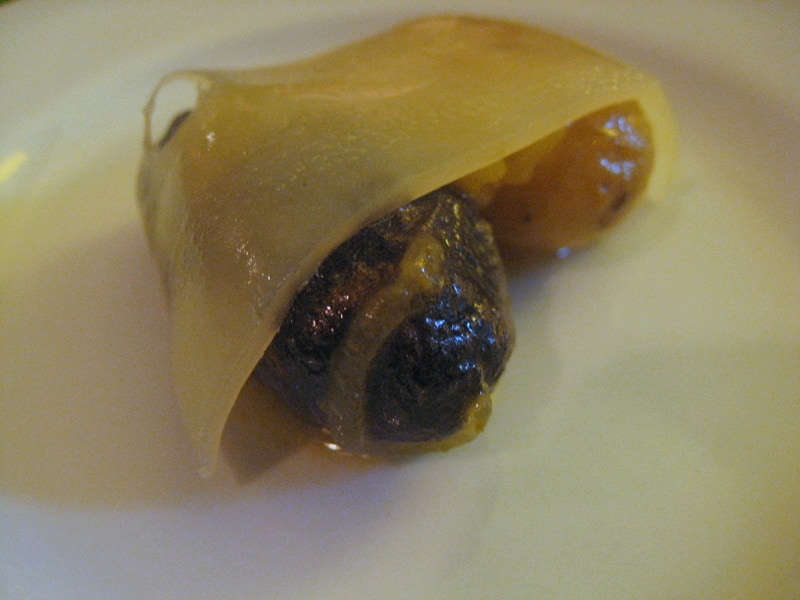 Situated in San Francisco's Nob Hill restaurant, Canteen is very much easily missed. The restaurant is composed of one long, green counter that wraps around the bar/kitchen, and about 4 to 5 tables along the walls that made me think of a modern European coffeehouse (stacked with books, no less). There isn't much space, and there isn't much in the way of pretentiousness. For the passerby, Canteen is nothing special. But this place has a serious pedigree in Leary, and you'll have a while to wait if you don't have a reservation. The place is a well-known brunch destination, but seeing that brunch and I don't mix as well as a late dinner and a bottle of wine, we decided to check it out in the evening.
Even with a reservation, we were seated at the counter–our friendly hostess was accommodating, but I felt strange sitting down to a 'nice' meal at essentially someone's kitchen counter. That said, the menu was delectable. The first thing I saw was a couple next to me splitting a strawberry pavlova that looked like it was out of a picture book (mental note: dessert was already on the list). Before our porcini soup arrived, we were presented with an amuse bouche (a lovely surprise)–two tiny potatoes topped with a melted slice of Gruyere cheese. It's wasn't so much one bite (more like two), but it was delicious. The soup, when it came out, was earthy and creamy, and the sweet onion puree it came topped with? Absolutely divine. Next came the entrees…sort of. As the dining room got packed, our little corner of the counter was somewhat forgotten for a good twenty minutes. When we finally got someone's attention to request another beer, it seemed like we were remembered again. The thing is, the guys behind the counter were working hard..non-stop. For a restaurant this small, they sure packed a good amount of people, and Dennis and his crew didn't stop for a second. Vanilla souffles were coming out of the oven, soup pots were being stirred, wine bottles were restocked…Oh, and those brioche biscuits? Yea, they make those from scratch and cover them with a towel so that their intoxicating smell doesn't make you request a third or a fourth.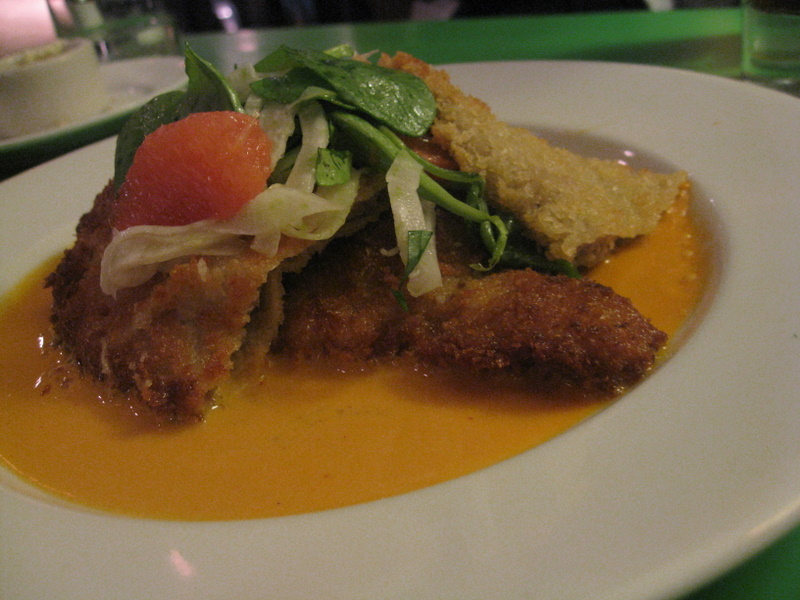 Our meals arrived and they were different as can be: I ordered yellowtail poached in olive oil with artichokes while Matt opted for veal scallopini. The sauces on each of our plates were both unique and fitting for each particular dish. We could tell that just like he does at the Sentinel, Leary thinks about every element in a dish, like an interior designer that is keen on every texture and doorknob.
I've saved the best for last (I promised). If there is one dish I had heard about before I'd ever even been near Canteen–it's their vanilla souffle. You've got to order it before dinner and you've got to be prepared to be wowed. When it's brought out (straight from the oven), its top is cracked by the server and in flows a steady stream of syrup/cream/who knows! The point is, it's airy and fluffy, without being too sweet and gives off the perfect aroma of vanilla. I'll let you in on a little secret: I almost didn't order it. We initially split a chocolate pot de creme–rich and glorious, topped with salted almonds. Thing is, I'm not so good at splitting–particularly when it comes to desserts. And as more and more desserts were served around me, I gave Matt a look that he knows well (it's one of the many reasons I am marrying him). He waved our waitress/hostess over and told her: "We're having the souffle."
Canteen was as good as it promised to be, but I have to admit that next time I go back, I think I'd prefer to sit at one of the tables, where the hustle and bustle is a little less noticeable. The dishes were solid, the prices were steep for the casual atmosphere, but if I could eat one thing over and over again for the next few weeks, it would absolutely be that vanilla souffle (perhaps with a brioche biscuit on the side).
Local Pairings: John Vanderslice
John Vanderslice may be the hardest working man on the San Francisco music scene. His San Francisco-based recording studio, Tiny Telephone, has recorded albums for Spoon, Death Cab for Cutie, Deerhoof and former Local Pairing Cousin Chris. Meanwhile, he also managed to release numerous great full length albums and four remix albums (the remix albums can be downloaded for free from his site). Earlier this year, he released a limited-edition, vinyl-only album with the Mountain Goats entitled Moon Colony Bloodbath (which is phenomenal). His latest album, Romanian Names, is scheduled for release on May 19, 2009 and may prove to be his best to date. Clearly, this man is on fire.
John Vanderslice is clearly an audiophile. If running a recording studio isn't evidence enough to convince you, the complexity, subtleties and high-quality of his recordings would constitute the smoking gun. All of John Vanderslice's records are what I'd refer to as "headphone" albums. For example, although Romanian Names would make great background music for a dinner party or get together with friends, I am able to appreciate it the most when I'm riding on public transit on my way to or from work with my earbuds streaming his crisp recordings directly into the auditory cortex of my brain. For listening at home, I'd highly recommend picking up a vinyl copy of this record (I can't wait to get my copy in the mail). Visit the Musical Pairings home for the full review.
**Don't forget, you have until MIDNIGHT PT to leave a comment on any Musical Pairings post to be eligible to win a limited edition Iron and Wine CD from Record Store Day.