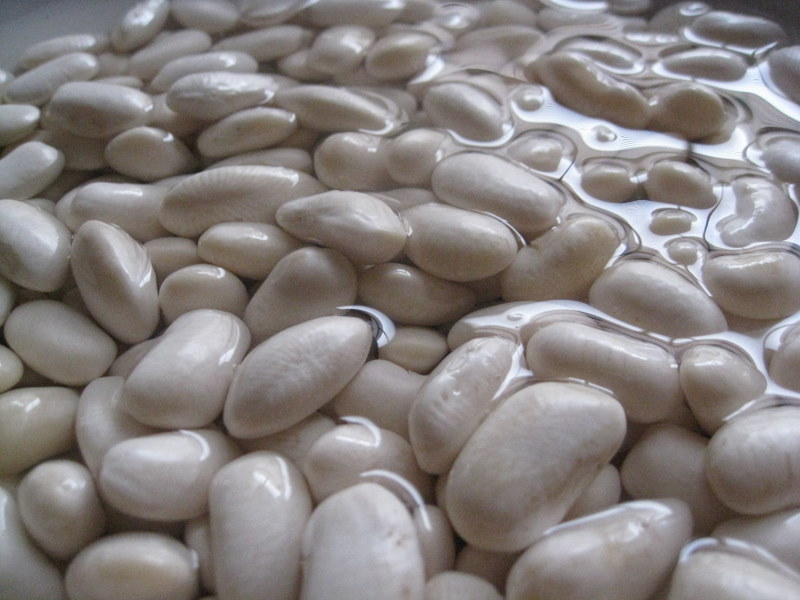 I learned about the beauty of dried beans only recently, and thankfully for all of us, Heidi Swanson of 101Cookbooks, offers quite a comprehensive guide to them on her blog and in her cookbook, which has notably introduced me to "Giant Crusty and Creamy White Beans." Dried beans are extremely approachable–the secret to cooking with them is to have a little bit of a plan and remember to soak them ahead. I usually soak white beans in a big bowl filled with water overnight. After soaking, they only take about 30 – 45 minutes to fully cook, at which point they become extremely fragrant and tender.
Since I've started cooking with dried white beans, I just can't bring myself to go back to canned. The aroma isn't the same, the texture doesn't add up, and even the color of canned white beans is slightly dull and unexciting. The last recipe I featured on eating/sf using white beans was a simple combination of herbs tossed with beans. In her book, Heidi suggests that this next recipe is one of her most requested. After whipping this up, I couldn't agree more.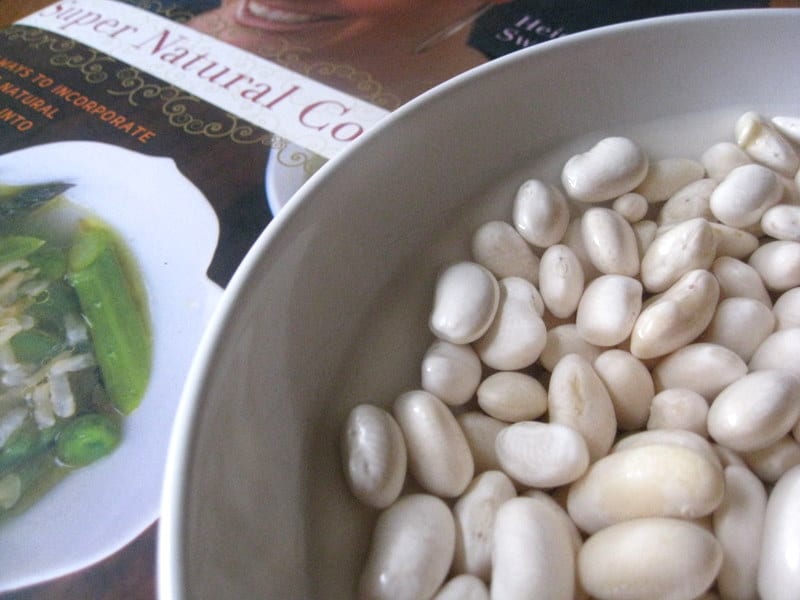 Digging into the still-warm beans, flecked with mildly sweet cooked onions, earthy chard and salty Parmesan, I was reminded of rustic trattoria dinners in Italy, where side dishes were often composed of few ingredients–but the right ingredients. To me, this recipe has no seasonality–it is as warm and comforting on a winter eve as it is refreshing and light for a spring meal, accompanied by a simple roasted chicken. There are so many variations on this dish–Heidi suggests serving the beans on top of country bread for a take on bruschetta. I thought of (as usual), throwing in some smoked paprika, and to that point–diced chorizo, for a Spanish twist. Something else I'd like to try is cooking the beans with wild mushrooms and truffle oil. While it's important not to overcook the beans too much, I had no problem with the fact that some of my beans were a bit crushed in the process. If anything, the bean hash, of sorts, had an even more pronounced bronzed outside and creamy inside.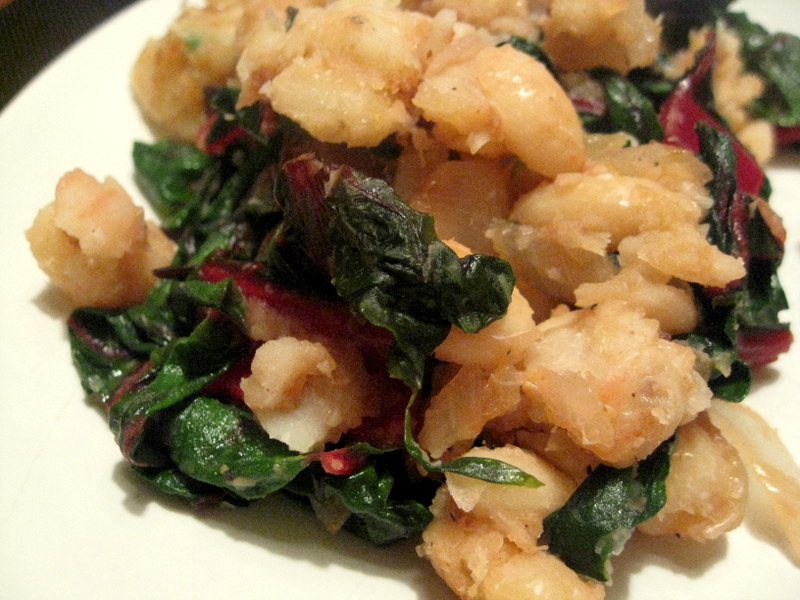 Creamy Bronzed White Beans with Chard
*adapted from a recipe by Heidi Swanson of 101cookbooks
* serves 3-4
1 cup of dried white beans, soaked overnight
2-3 tablespoons of extra virgin olive oil
sea salt and pepper, to taste
1/2 yellow onion, chopped
3-4 cloves of garlic, chopped (depending on how much you love garlic)
5-6 leaves of red chard, cut into ribbons + chopped stems
1/4 cup of grated Parmesan cheese
1. Cook your beans (pour the beans, along with the water they've been soaking in) plus a cup or two of water into a small saucepan. Bring to a boil, then dial down the heat and simmer for about 30-45 minutes, until beans are tender and can easily be pierced with a fork. Strain and set aside.
2. Heat olive oil in a large skillet and pour in the beans, sauteing in one layer. Let the beans cook for about 4 minutes before flipping them and cooking for another 4 minutes on the other side. They should just start to get golden, but not burned. Add a drizzle of olive oil, if needed.
3. Add salt and then throw in the onion and garlic, continuing to saute for a few more minutes (until the onion softens, but doesn't change color).
4. Next, add in the chard, stirring to combine with the beans. It should wilt in a few minutes, at which point, take the skillet off the heat.
5. Sprinkle with salt and pepper.
6. Transfer to a serving bowl, add about 1/4 cup of Parmesan cheese, drizzle with a bit more oil, toss and serve.
Musical Pairings: Iron & Wine and Creamy Bronzed White Beans with Chard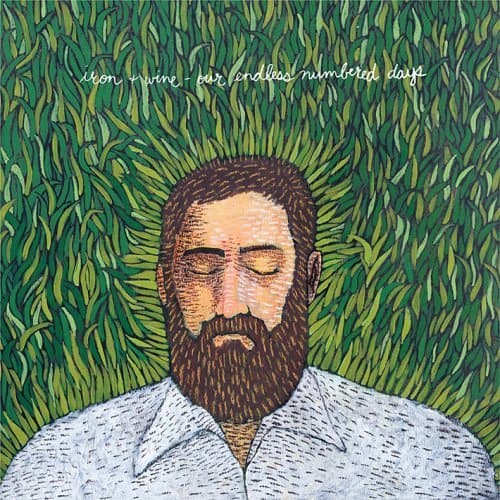 Because the creamy, bronzed white beans with chard recipe is rustic, homey and filling, Iron & Wine's sophomore album, Our Endless Numbered Days, is a perfect pairing. Iron & Wine is the alias of Sam Beam, and even if you aren't already familiar with him or his band name, you've probably heard his music in a movie or TV show. I wouldn't be the least bit surprised if the number of Iron & Wine fans doubled as a result of his cover of Postal Service's "Such Great Heights" on the Garden State soundtrack. However, if that is all you've heard by Iron & Wine, you're seriously missing out.
Iron & Wine's Our Endless Numbered Days is without question one of the most beautiful, intimate and rewarding albums I've ever heard. Both the production and recording on the album are great, but they merely accent the naturally intimate quality of Beam's voice. Indeed, the intimacy of Beam's singing on songs such as "Each Coming Night" is so precious, it will break your heart: "Will you say to them when I'm gone / 'I loved your son for his sturdy arms / We both learned to cradle then live without." But the album is more than just a collection of beautiful acoustic, love songs: the folksy/bluesy "Free Until They Cut Me Down" is a guaranteed toe tapper; the chanting following the musical still-life "Cinder and Smoke" will get caught in your head for days; and the subtle, perfect guitar plucking on album opener "On Your Wings" is beautifully accented by all manner or creaks, chirps and bells (a la Califone) making a sonically-rich recording.
You can download Iron & Wine – Smokestack Lightening (Howlin' Wolf Cover) here. Also, head over to the Music Slut to grab the beautiful single, "Naked As We Came" from Our Endless Number Days. Finally, Iron & Wine is currently offering 8 free alternate versions of tracks from his most recent album on his new website.