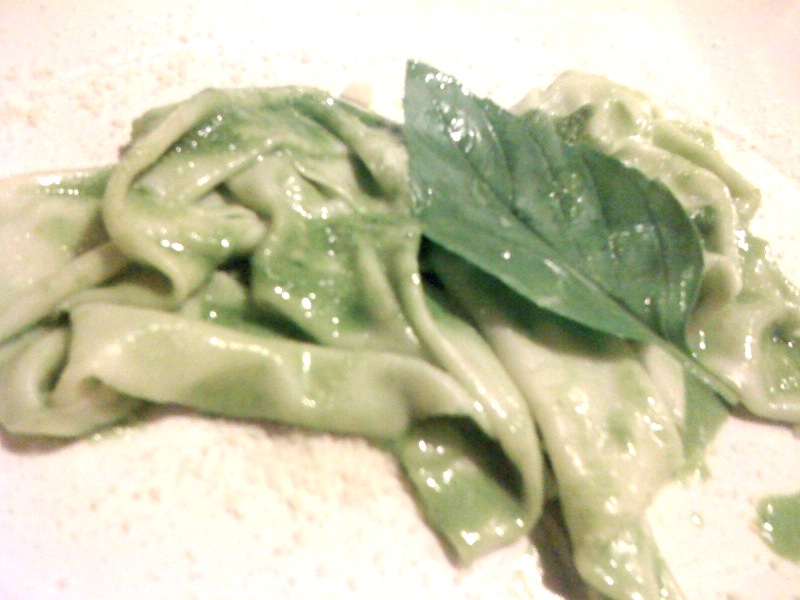 I've walked past the street-side tables and bright red sign of Farina in the Mission many a time. Over-hyped, over-priced and too hipster are all words that I've heard associated with this Italian restaurant that sits in a very popular corner of the Mission, but I was still curious about their handmade pasta and 'world famous' pesto. Last weekend was the perfect opportunity: a college friend from Orange County was in town, we'd all had a few drinks and were ready for a late dinner that involved a lot of carbohydrates.
Farina's menu is split between appetizers, focacce, an assortment of handmade pastas and entrees like Pansotti Al Sugo Di Noci (handmade dumpling-like pasta filled with ricotta and chard and drizzled with a walnut pesto sauce and a hearty sprinkling of Parmesan). For our entrees, my one friend and I split the Pansotti and the highly-recommended filet mignon, which came with a side of lentils and asparagus. The meat (as promised by our friendly waiter), literally melted in your mouth. And the pasta? It definitely tasted like it was just rolled by someone's grandmother.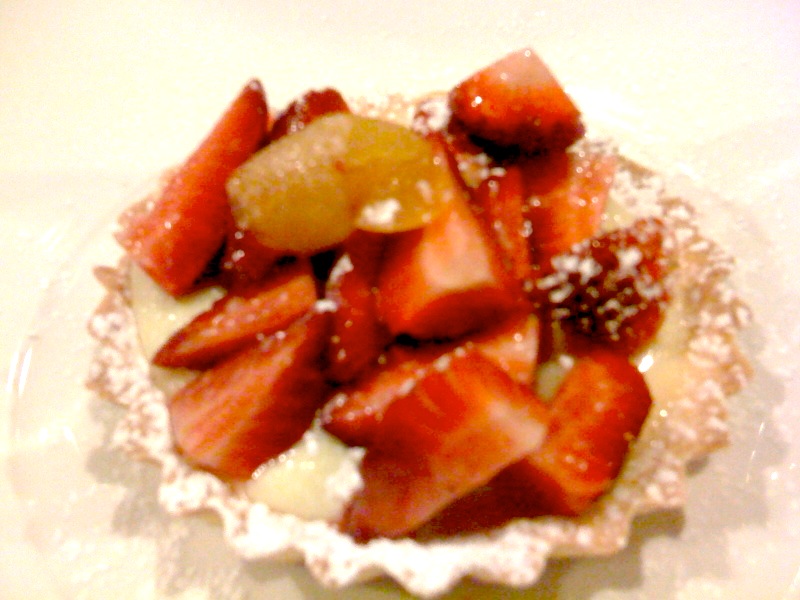 The prices for the place, I'd agree, are exorbitant. I mean, $20 for a tiny, tiny portion of handkerchief pasta doused in homemade genovese peso? Sure, it looks beautiful and tastes divine, but for a guy with a big appetite, the portion would definitely not be filling.
I really enjoyed the tenderness of my pasta and the creamy sauce. Also (and this is a big thumbs up for customer service), when our waiter accidentally put our order on hold, he apologized with three free glasses of wine. Despite the smaller portions, I still felt full–in a good way. Normally, when I eat pasta, I need to be rolled out of my chair. This time, we happily split a fresh strawberry tart with meyer lemon custard for dessert. Divine!
Musical Pairings: Taste of Local Pairings
As you may have noticed, Kasey usually posts her restaurant reviews on Fridays, and her recipes on Mondays and Wednesdays. Because you can't choose what you listen to at a restaurant, we decided that the "Musical Pairings" concept wasn't appropriate for the Friday restaurant reviews. However, starting today, I will be including "local pairings" with restaurant reviews featuring a band that originates in the same city or geographic area as the restaurant Kasey reviews.
For our first "local pairing" I chose San Francisco's Cousin Chris. Cousin Chris' stunning debut album, Moon Paper, is simultaneously evocative of Elliott Smith and early Modest Mouse records (or at least a stripped down version of MM's This Is a Long Drive), both of whom are cited as notable influences for Cousin Chris in addition to bands like Do Make Say Think, Leonard Cohen, and the Black Keys. Similar to the way Elliott Smith recorded many of his albums, Moon Paper is the product of the sole efforts of Chris Schreiber who sings and plays all instruments on the album. Follow this link to the newly-minted Musical Pairings page for the full review.