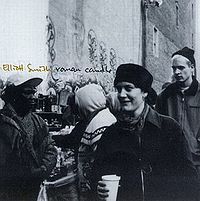 Elliott Smith's self-recorded debut album, Roman Candle, is raw and emotional: seared and cooked only on the outside, but warm and meltingly tender on the inside. People often refer to Elliott Smith's music as sad, and downbeat, but I've always found that listening to it can make me feel happy, and upbeat. Suffice to say, I agree with this quote attributed to Elliott Smith: "You can take a picture of New York and one person looking at it will think it looks really depressing, frightening; and someone else will look at it and think of all the fun things you can do in New York. I think songs are kinda like that."
Roman Candle is definitely not Elliott Smith's most upbeat album, but it is undeniably stunning. Despite the tension, alienation and restlessness of the lyrics on many of the album's best tracks ("Roman Candle," "Last Call," and "Condor Avenue"), many of these same songs are complimented by light, happy melodies that call to mind Nick Drake, Simon & Garfunkle and James Taylor. It is probably for this reason that Elliott Smith constituted nearly half of the songs on the Good Will Hunting soundtrack including the song "No Name #3" from Roman Candle.
If you are already a fan, and want to delve deeper into Elliott Smith's catalogue, I'd recommend stopping by Sweet Adeline where you can pick up unreleased live tracks, live covers, demos and more. I particularly recommend his cover of John Lennon's Jealous Guy.
–Matthew