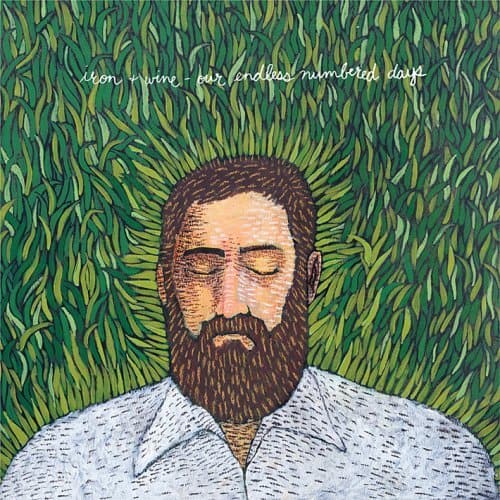 Because the creamy, bronzed white beans with chard recipe is rustic, homey and filling, Iron & Wine's sophomore album, Our Endless Numbered Days, is a perfect pairing. Iron & Wine is the alias of Sam Beam, and even if you aren't already familiar with him or his band name, you've probably heard his music in a movie or TV show. I wouldn't be the least bit surprised if the number of Iron & Wine fans doubled as a result of his cover of Postal Service's "Such Great Heights" on the Garden State soundtrack. However, if that is all you've heard by Iron & Wine, you're seriously missing out.
Iron & Wine's Our Endless Numbered Days is without question one of the most beautiful, intimate and rewarding albums I've ever heard. Both the production and recording on the album are great, but they merely accent the naturally intimate quality of Beam's voice. Indeed, the intimacy of Beam's singing on songs such as "Each Coming Night" is so precious, it will break your heart: "Will you say to them when I'm gone / 'I loved your son for his sturdy arms / We both learned to cradle then live without." But the album is more than just a collection of beautiful acoustic, love songs: the folksy/bluesy "Free Until They Cut Me Down" is a guaranteed toe tapper; the chanting following the musical still-life "Cinder and Smoke" will get caught in your head for days; and the subtle, perfect guitar plucking on album opener "On Your Wings" is beautifully accented by all manner or creaks, chirps and bells (a la Califone) making a sonically-rich recording.
You can download Iron & Wine – Smokestack Lightening (Howlin' Wolf Cover) here. Also, head over to the Music Slut to grab the beautiful single, "Naked As We Came" from Our Endless Number Days. Iron & Wine is currently offering 8 free alternate versions of tracks from his most recent album on his new website. Finally, feel free to stop by YouTube to see this video I recorded of Iron & Wine live at SF's Bluegrass Festival last year.