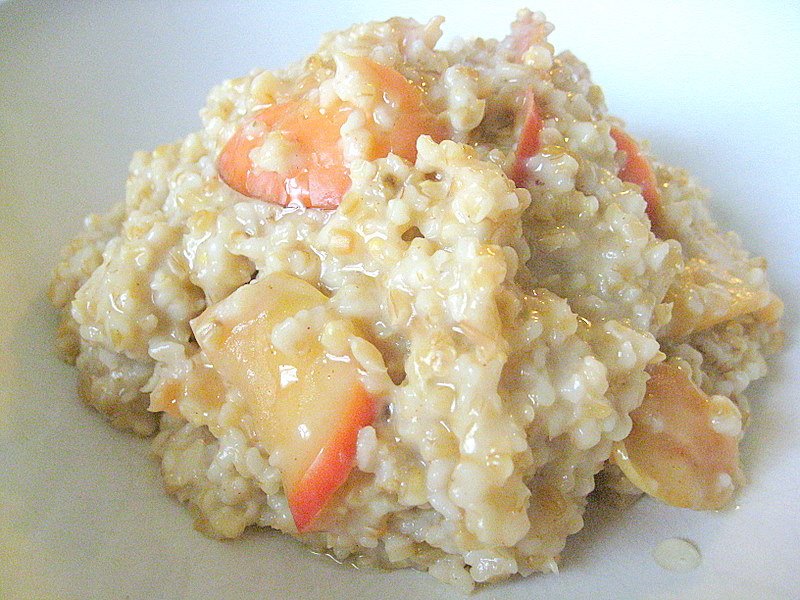 I'm pretty sure I've mentioned just how much I love breakfast in numerous posts. Oatmeal has been a recent love for me. Scarred by childhood memories of hot porridge-like breakfasts, I swore off oatmeal in lieu of blueberry Eggo Waffles, fruit yogurts and cereal for many years. What had I been missing all of these years? My entryway was single serving packets of Kashi oatmeal with crunchy bits, which I ate with soy milk. I was pretty happy with it. Then, I started making instant oatmeal with milk, raisins, cinnamon and brown sugar. And then I met Matt.
Not one to have much patience for time-consuming breakfasts I, at first, didn't appreciate the beauty of steel cut oatmeal. Thirty minutes to make oatmeal–come on! But, listen, it's SO good. It's nothing like the instant oatmeal you're used to. Irish steel cut oatmeal is chewy in a very fun and satisfying way. It's sort of my breakfast version of Israeli couscous (which also has that desirable chewy bite).
If you look around the blogosphere, you'll find that oatmeal is pretty beloved by a lot of folks. Heidi Swanson has a whole TWO pages in her cookbook devoted to various ways of cooking and eating steel cut oatmeal. Yes, it takes about 30 minutes to stir and fully cook, but it's so versatile and so satisfying (not to mention, healthy) that you'll want to make it on a Sunday morning (maybe even after a long night out).
I'm still excitedly finding new uses for our mandoline, and take every opportunity to slice things thin. I thought we'd try a new twist on our oats by sauteing some pink lady apples with some raisins, lemon juice, butter and cinnamon. I wasn't sure how it would all come out–it sure looked prettier than my usual bowl of oatmeal. The apples themselves could be eaten alone as a yummy treat. Folded into the oatmeal, though, they really added some jazz. Without further ado…Oh, and don't forget to drizzle some honey over the whole shebang!
Irish Steel Cut Oatmeal with Sauteed Apples and Raisins
* serves two
1. Follow the instructions on the oatmeal package for cooking: measure out your oats and water, bring to a boil, lower heat and then simmer for about 30 minutes, stirring occasionally until done.
In the meantime, prepare the sauteed apples.
1. Core and (depending on your preference–I didn't do this) peel 1 pink lady apple. Slice into thin slices using a mandoline or a very sharp paring knife.
2. On medium heat, melt about a tablespoon of butter in a saute pan. Add the apple slices, a handful of raisins, 1-2 teaspoons of cinnamon, and about 2 teaspoons of lemon juice. Saute for about 10 minutes, until the apples are soft and fragrant.
Fold the apples into the oatmeal and add a bit of milk, stirring it all around.
Serve with additional milk, honey and cinnamon.
Musical Pairings : Oatmeal and Field Music
Oatmeal is such a wonderful breakfast food. A warm bowl of oatmeal with some fresh fruit can really get you going in the morning. Likewise, the right musical pairing in the morning with breakfast can fill you with energy and optimism. For this reason, Field Music's album Tones of Town is a great album for the morning. Part Beach Boys and part New Pornographers, this is effortlessly catchy, upbeat indie-pop genius. If the idea of listening to a collection of easily accessible, multi-layered pop songs sounds like something you'd be interested in – this album is for you. Best yet, unlike a lot of disposable pop music, Field Music's melodic complexity still manages to find room to grow on you with repeated listens.
Check out Closer at Hand from Tones of Town and You're So Pretty… from their (also excellent) self-titled debut album. – Matthew