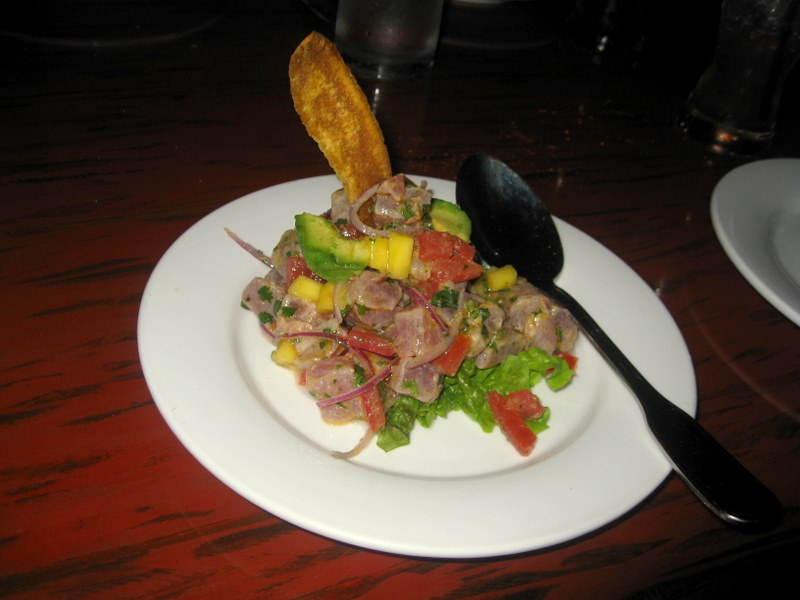 When you go to a small plates-type place, you pretty much have to go big or go home. Why? Well, while most restaurant menus offer a handful of entrees and appetizers that are each supposed to stand on their own, small plates restaurants give you the opportunity to dabble in many more dishes, and therefore experience some serious wows and, of course, a couple of lows. My first visit to Destino, a 'neuvo Latin' restaurant in Hayes Valley, was a pretty good one. I loved the vibe of the restaurant–the rich colors, the mirrors on the walls, the elaborate bar, and the cozy, elongated dining room. As dishes were brought out by the waiters, I kept making mental notes of things I needed to try on my next visit.
The thing I love about Peruvian and Latin American food is that it draws from so many different elements: fresh seafood, vibrant vegetables, exotic fruits, pop-in-your-mouth spices. There is something layered and complex about some dishes, and simple and clean about others. It all just works together.
About a year after my first experience, I headed back to this restaurant in a group of four that was prepared to enjoy some drinks and sample a lot of food. Destino features a pretty great prix fixe, allowing you to select from some of their best small plates, entrees, and desserts. What's great about it is that one person in the group can get this (so you already know you've got a dessert to split) and then order a few additional items on top of it.
Chicken Empanada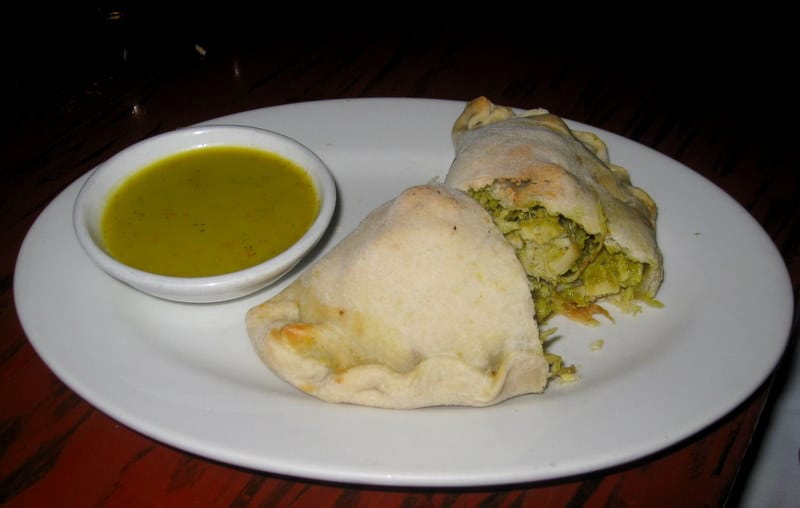 We started off with a ceviche. Our friends got the sea bass, while we got the tuna. The serving was HUGE and the fish was perfectly fresh, seasoned well and a most refreshing start to the meal (after the fried plantains that are brought to each table in lieu of bread). After adequately tasting the ceviche and diving into our drinks (the menu includes a broad selection of wines and fun twists like Pomegranate Mojitos), we went for our second small plate selection. The duck, I was told, was spectacular. Meanwhile, our chicken empanada (large enough to split), came with a spicy sauce that was just finger licking good (I might have to opt for the empanada sample next time). Unlike other restaurants where I've recently ordered empanadas, this one had dough that was so fluffy and stuffing so fresh, it carried a flavor and texture, rather than feeling like a greasy fried dumpling.
For our main courses, we had the sea bass and steak–both of which were good, but neither of which really stood out among our fabulous selection of small plates. What I really wanted was another empanada, or some cornmeal biscuits.
Our chosen dessert was guanabana ice cream (I had NO idea what I was eating) and chocolate empanadas. In a word: wow. The hot, liquidy chocolate oozed out of the slightly crisp shell. And the ice cream tasted like a mix of mango and papaya–very refreshing, and not too sweet, making for a nice balance to the richness of the empanada. By the time we were done, we were all pretty pleased and full beyond belief. Had I not visited next-door Pisco Lounge (quasi-recently opened by the owners of Destino), we probably would have mosied over through the corridor for drinks there. Instead, we checked out the inventive drinks at the Orbit Room. I'm really starting to believe that this little stretch of Market Street just above the Safeway is truly a treasure to behold!
While reservations were not hard to make, I'm quite frankly surprised! The restaurant was fully packed, and the entire experience was cohesive and impressive. The prices for the portions are extremely reasonable (that huge empanada was only $4.50). It's a great place for a group of girls, a group of friends, a group of couples, or just a couple. Seriously, you can't go wrong–unless you under order. And by under order, I mean don't sample all of the deliciousness their menu has to offer!
So what really makes a great restaurant? Obviously one where you keep wanting to come back for more–and I've definitely got a list of things I want to try next time around.
Chocolate Empanada with Guanabana Ice Cream