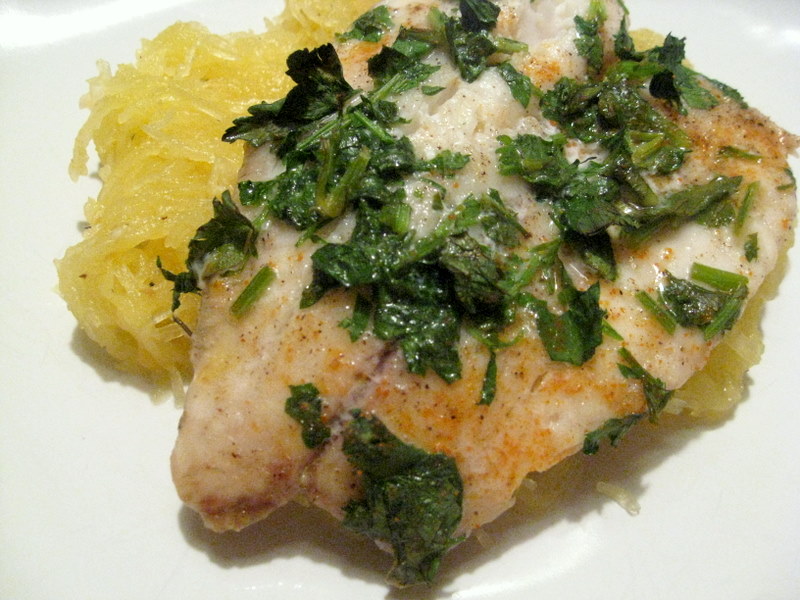 As kids, no matter where we come from, we tend to be pretty finicky. As a child, I had a very particular palate. I was averse to anything 'strange' or 'disgusting.' These things included (and are not limited to this list): sushi, olives, mushrooms, cauliflower, cow tongue (still strange), anything not made by my mom or grandma. I had periods, of sort. My yogurt period, when I only ate Dannon fruit yogurts for breakfast. My Lunchables period, when I thought fake sliced 'pepperoni' pizzas with tubes of fake tomato sauce in a plastic box were the best thing next to a box of Ferrero Rochers. And, I vaguely remember a fish stick period. I mean, who didn't like fish sticks? Breaded and fried, with tender white fish in the middle, they were quite a delicious little treat.
As my tastes became more sophisticated, I stayed away from the fish sticks, but I still loved flaky white fish. Tilapia is one of the cheapest and easy to find fish out there. As such, it often seems pretty pedestrian. Methods of preparation always seem to be boring. But, for me, it's all about the sides. Tilapia is such a great canvass for a variety of flavors. You can make it mild, make it spicy, flour it, bread it, fry it, bake it. And, you can make enough to feed an army.
For a weeknight dinner, try the following recipe. It's quick to the table and involves little other than a little lemon juice, parsley, salt, pepper, and a dash or two of cayenne pepper for a little heat. We paired it with spaghetti squash, a highly nutritious squash that is often underrated. Not only is it fun to eat, it's actually pretty filling and is a surprisingly great base for a fish. I tossed it with some butter and a lot of Parmesan cheese to make it extra good, of course.

Baked, Herbed Tilapia and Cheesy Spaghetti Squash
*serves two
2 tilapia fillets
1 small spaghetti squash
1 tablespoon of olive oil
1 tablespoon of chopped flat leaf parsley
few pinches of cayenne pepper
salt and pepper, to taste
1 tablespoon of butter
1 tablespoon of fresh squeezed lemon juice
1/3 to 1/2 cups of Parmesan cheese (depending on how cheesy you like your squash)
For the squash:
1. Cut one small or medium sized spaghetti squash lengthwise in half. Roast in a 375 degree F oven for about 30- 40 minutes, until you can easily pierce the skin with a fork.
2. Remove from the oven and use a fork to scoop out the stringy insides in to a medium sized bowl.
3. Add about 1/3 to 1/2 cup of freshly grated Parmesan cheese.
4. Add about a tablespoon of butter.
5. Sprinkle with salt and pepper to taste and mix until combined.
For the fish:
1. Pre-heat oven to 350 degrees F.
2. Brush fillets with olive oil, season with salt and pepper. Drizzle fresh lemon juice and sprinkle finely chopped parsley. Shake a few dashes of cayenne pepper over each fillet.
3. Cook for about 12-15 minutes, until the fillets are white, and pieces fall away easily, when you fork them.
To serve:
Lay down a few large spoon fulls of spaghetti squash on a plate. Top each plate with a fish fillet. This recipe could easily be doubled or tripled for a larger group.
Musical Pairings: Tilapia & Spaghetti Squash & A.C. Newman
Some of my favorite recipes are quite simple, and require a surprisingly small amount of preparation. This spaghetti squash with tilapia recipe fits into this category. Similarly, while some of the best albums of all time are "growers" (meaning, of course, that they grow on you over time with repeated listens), other albums get straight to the point and require little or no time to appreciate. A.C. Newman's engaging, catchy solo debut, The Slow Wonder, fits into the latter category. Newman is probably best known for his work with The New Pornographers, but on The Slow Wonder he manages to instill the witty, intimate, and soulful songwriting qualities (and warm power pop hooks) that the New Pornographers are known for into this collection of fantastic solo singles. Follow this link over to Stereogum to download the excellent tracks Miracle Drug and Drink to me Babe Then from The Slow Wonder. If you like what you hear – I can promise you'll love the rest of the album too. -Matthew