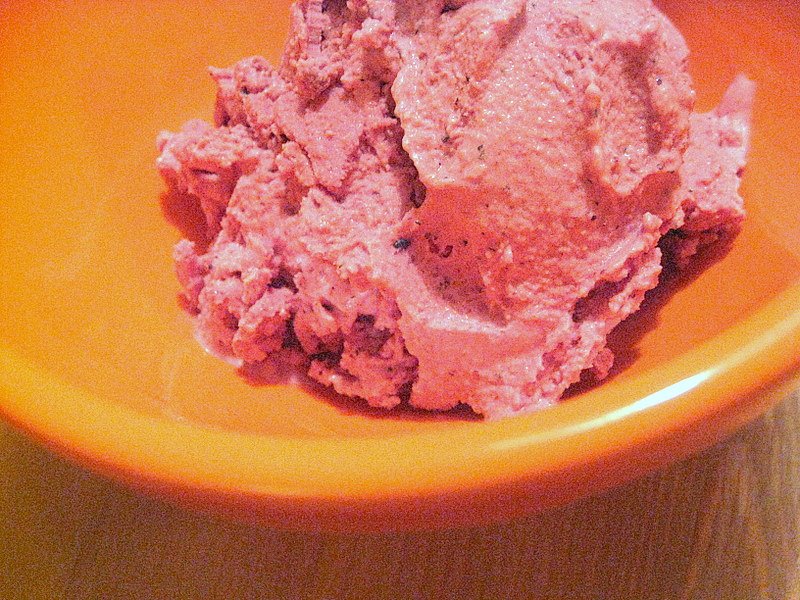 Above: Pre-Freeze
I've had my ice cream maker now for approximately two and a half months. My first ice cream attempt was (surprise, surprise), a chocolate almond ice cream recipe that came straight from the Cuisinart recipe booklet. Being a sucker for chocolate and nuts + chocolate, I was blown away by how creamy and rich it came out. I've heard people say that homemade ice cream is just THAT good, and I must agree with these people wholeheartedly. My second attempt at homemade ice cream was a honey and cardamom custardy concoction that was surprising and just luxurious as Mercedes described it on her blog, Desert Candy.
And then I realized, I cannot make ice cream every day. I simply can't. The temptation is just too high and the consequences dangerous, especially considering I've got a wedding dress to fit into seven months from now! So, I put my ice cream bowl in the freezer and told myself that I will use it judiciously, and select recipes that greatly excite me.
As someone who eats plain yogurt with berries and granola nearly every morning, I truly appreciate a tart yogurt. The Pinkberries of the world certainly do right by me. And so, my next attempt at ice cream was going to be a frozen yogurt–but one that reflected all of the elements that I love about frozen yogurt without the elements I don't. First, my base was most certainly going to be plain yogurt. I prefer to measure out my own sugar and vanilla flavoring. Second, I was going to make it a little bit less 'healthy' with the addition of heavy cream–something that was going to make this frozen yogurt have the consistency of a really luxurious gelato, but with milder flavoring. Lastly, I absolutely refuse to strain seeds from pureed berries. I hate when recipes call for straining of raspberry seeds, or the blending of beans. I like texture and I like chunk. And in my ice cream, yes, I like seeds. Strain if you must, but trust me, it'll take away the 'homemade aspect' here.
Below: Post- Freeze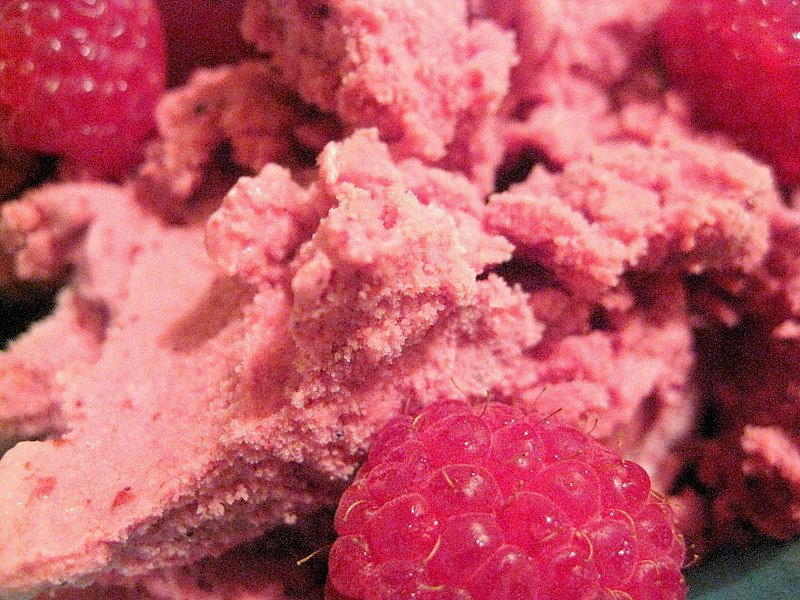 I looked around the blogosphere quite a bit for a variety of ideas. The Erin Cooks blog had a great recipe for a blackberry yogurt with white chocolate. Chocolate and Zucchini also inspired me to use cream in my yogurt.
My creation? Quite frankly, ridiculously pleasing. I thought I'd capture the yogurt in its just made form, as well as after a day in the freezer. The texture will definitely change a bit–as with any ice cream. It'll get a little bit harder and a little bit more dense. I'm sure there is a solution for this (eat the whole quart immediately after it comes out of the ice cream maker?). Let me tell you–it ain't hard!
Mixed Berry Frozen Yogurt
*Makes 1 quart in a standard sized ice cream maker
2 cups of plain yogurt (low fat or full fat)
1/2 cup of heavy cream
1/4 cup of sugar
1 teaspoon of vanilla extract
12 ounces of frozen berries, defrosted and pureed in a blender or food processor.
Prep: make sure to freeze the ice cream bowl overnight–preferably, for 24 hours.
1. In a large bowl, mix the yogurt, cream, sugar and vanilla extract with a hand mixer. Mix for about two minutes.
2. Pour in the berry puree, mixing at low speed until fully incorporated.
3. Take your ice cream bowl out of the freezer and put on the machine. Turn the machine on and pour the mixture into the spout, allowing the mixture to churn for 25-30 minutes.
4. Eat. Freeze the rest.
Cook's Note
* This might be truly decadent drizzled with some chocolate sauce.
* Consider throwing in some fresh berries into your bowl.
Musical Pairings: Top Ranking & Berry Frozen Yogurt
What's cooler than being cool? Ice cold. And with that in mind, Diplo and Santigold's (formerly known as Santogold) collaboration – Top Ranking – is easily as "ice cold" as a cup (or a bowl) of Kasey's mixed berry frozen yogurt straight from the freezer. With tracks featuring Aretha Franklin, Devo, B-52s, Three Six Mafia, the Clash, Mark Ronson, Gerri & the Holograms (!!!), M.I.A. and (of course) lots of Santigold – Top Ranking manages to span a lot of musical genres (including hip hop, indie rock, classic rock, dub, new wave, and reggaeton), and still sounds effortlessly cohesive. You can visit I Guess I'm Floating to sample a few tracks from the album including the highly recommended track Get It Up (which features Gorilla Zoe, M.I.A., and Santigold). -Matthew