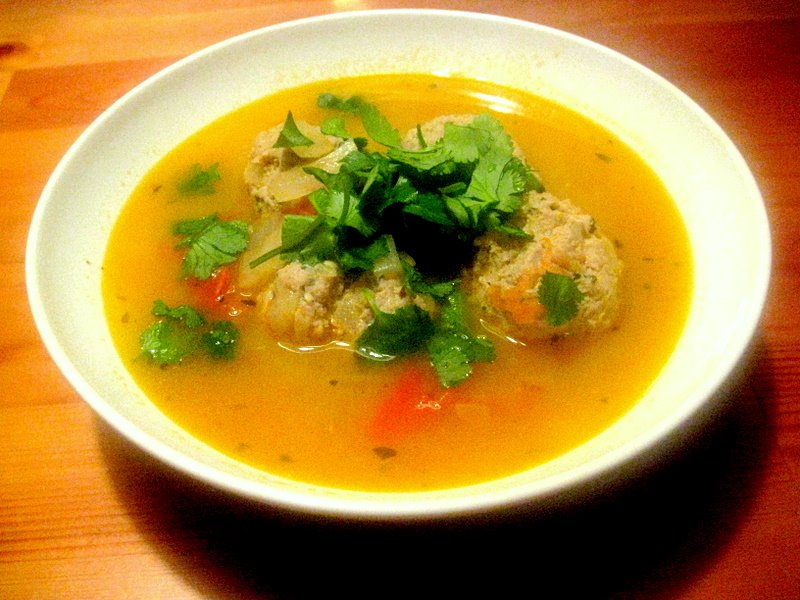 Comfort comes in many forms. It is a warming cup of tea on a rainy Sunday morning. A tight hug at the end of a long day from someone you love. Your favorite neighborhood bar, where you know exactly how strong your drink will be made. A stuffed animal with a tattered tail and a slightly worn in smell.
It's no wonder that 'comfort food' comes in many forms, for different people. I've never been a mac and cheese girl. Nor do I particularly like Ben & Jerry's. Chicken noodle soup has only been as appealing to me as the noodles, minus the broth. My comfort foods are typically carb-centric: big bowls of pasta, brimming with Parmesan cheese. Fresh-baked breads and pastries. Russian rye bread topped with caviar. My mom's fish cakes and her apple cake. Baked potatoes loaded with butter. And, from now on: a variation on this soup.
I give credit where credit is due, and in this case, it seems that Matt Armendaris's grandmother is the genius behind this bare bones simple meatball soup. I'm a big fan of swapping turkey for beef where I can, and figured that while I might sway away from tradition, I was ready to make my own. I make turkey meatballs rather frequently, but I've never been brave enough to throw them into a soup. My fear, of course, being that they would disintegrate into mush and I'd have on my hands a broth with little bits of turkey swimming around.
In fact, this soup beyond exceeded my expectations, to the point where every time I have a slightly difficult day, I am ready to whip out my ground turkey and a carton of chicken stock. I think this is the epitome of comfort: utter simplicity of flavors, warmth and sustenance. Ultimately, comfort foods are the traditions that we hold on to–our baby blankets, of sorts. But, at some point, we all start our own traditions that come to define our homes. When I look through my recipes list, I am amazed that I am starting to pick out the flavors and smells that define my home. I'm excited to add this one to the list.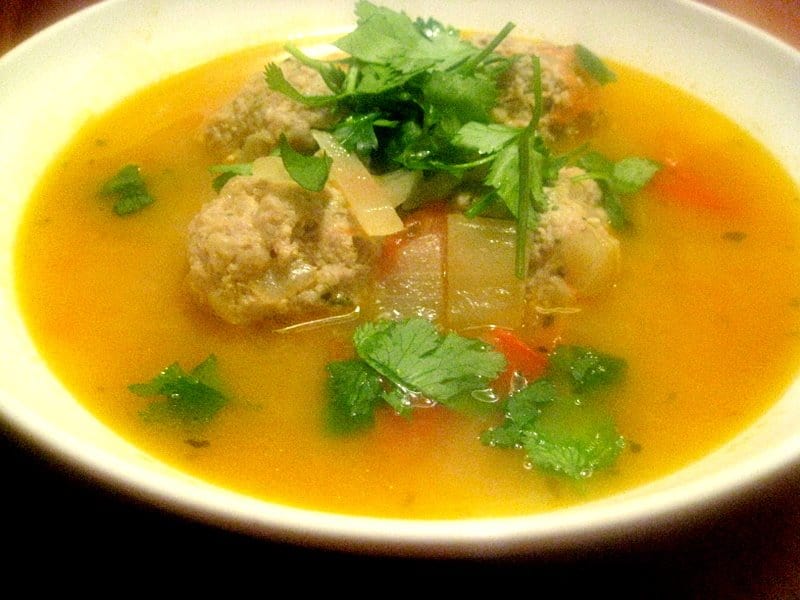 Turkey Meatball Comfort Soup
* serves 4-6
For the turkey meatballs
1 lb ground turkey
1 small onion, diced
3 garlic cloves, minced
1/2 teaspoon of ground cumin
1/2 teaspoon of dried oregano
1 tablespoon of olive oil
2 tablespoons of finely minced parsley & cilantro (feel free to use more or less, according to your preference)
salt & pepper
1 egg
1/3 cup of fresh breadcrumbs (I used sourdough bread that was a few days old)
1. Pour olive oil into a medium-hot skillet. Saute the diced onions and garlic along with the cumin and oregano over a medium-hot skillet. Cook for about 5 minutes, until soft.
2. In a bowl, combine the meat with the egg, cooked onions/garlic, fresh herbs, bread crumbs and salt and pepper. Form the mixture into meatballs and place on a cutting board or cookie sheet for now.
For the soup stock
6 cups of chicken stock–not broth (homemade or from a store)
1 whole tomato
1 garlic clove, minced
1 small onion, diced
1/2 teaspoon of cumin
1/2 teaspoon of dried oregano
1 tablespoon of olive oil
salt and pepper, to taste
1. Place a large pot onto a skillet. Pour in olive oil and heat to medium-hot. Add the onion, garlic, cumin, oregano and tomato. Cook, stirring, until the tomato begins to fall apart. This should take about 5 minutes. Feel free to smash it a bit with a wooden spatula.
2. Pour in the chicken stock and bring the mixture to a boil.
3. Lower to a simmer and put in your meatballs, one at a time. Be careful when lowering them into the hot broth.
4. Season the soup with salt and pepper and cook over medium heat (without a cover) for about 25 minutes, until the meatballs are cooked through.
5. To serve, sprinkle some additional fresh cilantro over the soup, and have some hearty bread on hand for dipping.
Musical Pairings: Turkey Meatball Soup – the National
Wikipedia describes 'comfort foods' as those foods we want following "high stress situations;" and wich provide "a sense of continuity." In other words, these are meals that help us relax and feel comfortable; tastes we crave when we come home from a long, stressful day at work or school. In this regard, Kasey's turkey meatball soup has earned a special place on my short list of comfort foods. Thus, the National, who make my personal comfort music, are my perfect musical pairing for this meal.
The National's music can be best described as the white-collar version of Bruce Springsteen or the musical equivalent of a Raymond Carver novel. Their third full length, Alligator, is the perfect soundtrack for being introspective while you savor that slight, contented buzz you feel following an after work drink (or two), and a belly of warm soup. It is intensely personal and comforting. It's as though lead singer Matt Berninger is whispering in your ear, telling you that it is OK, you aren't alone: other people share your same insecurities, your same fears. Since this is my favorite band, I'll allow myself to indulge in a moment of hyperbole: imagine reaching into your chest, your fingers melt through your sternum, and grabbing hold, painlessly pulling open your rib cage like a trap door to expose your soul to a person who you know will accept you for who you are. To me, that is true comfort. I'd recommend downloading the track "Secret Meeting" from Alligator. -Matthew