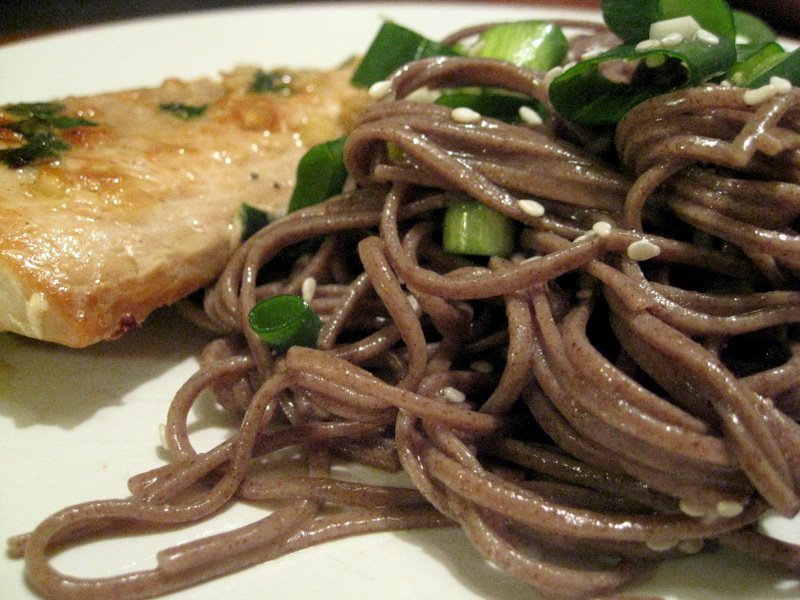 And I'm back with lots of inspiration. Tonight, I visited my market and ideas were flying (I think this is a sign of recovery?) As a writer, I'm all too familiar with writer's block. As a cook, I find that sometimes you get hit with a similar affliction: cooking block? But, I am happy to report that my blockage has passed. Excuse me, that sounded inappropriate.
Anyway, you may recall my recent obsession of cooking seafood with honey. Do not fear, it hasn't passed. I created a similar marinade to this one for some mahi mahi. In a Ziploc bag, I added a teaspoon each of honey, soy sauce, toasted sesame oil, some salt and pepper, minced garlic and chopped green onion. I threw the concoction into the fridge to marinade. After about thirty minutes, I took to making the real star of the night: my Asian-inspired noodles. After having to knock on the door of an already-closed Asian market in my neighborhood, I was warmly greeted with, "of course, we have soba noodles!" Success.
As I often do, I bought a bunch of 'stuff to try' on a recent visit to Trader Joes–one of which being toasted sesame oil. I envision making Asian Napa Cabbage, snow peas tossed with sesame oil and sesame seeds…Ohh, the possibilities. But tonight, I wanted noodles. I've glanced over recipes many times, but went ahead and improvised for this one and whaddaya know? It was pretty tasty! And so was the fish! Together, they were a perfect match. I ended up throwing in minced garlic into the noodles, though I would recommend cooking it up first, if you're going to do this. I love garlic, so I'm happy to eat it raw, but it didn't add much to the dish. I also sprinkled the noodles with sesame seeds, which you can certainly toast briefly in a skillet to bring out the flavor. A mixture of black and white sesame seeds might be fun.
Before I share this recipe, let me share a story. A little over three years ago, two of my good friends were visiting (both of whom grew up eating home-cooked Asian meals). At the time, I was still learning to cook and I wanted to impress them by preparing some sort of stir fry dish that involved brown rice. Let me just say: it was a complete disaster. Undercooked rice, underseasoned. Tom over at Top Chef would have died. Since I really love Asian food–and particularly Japanese, Thai and Vietnamese cuisines, I really want to step up my game. Ok, step one.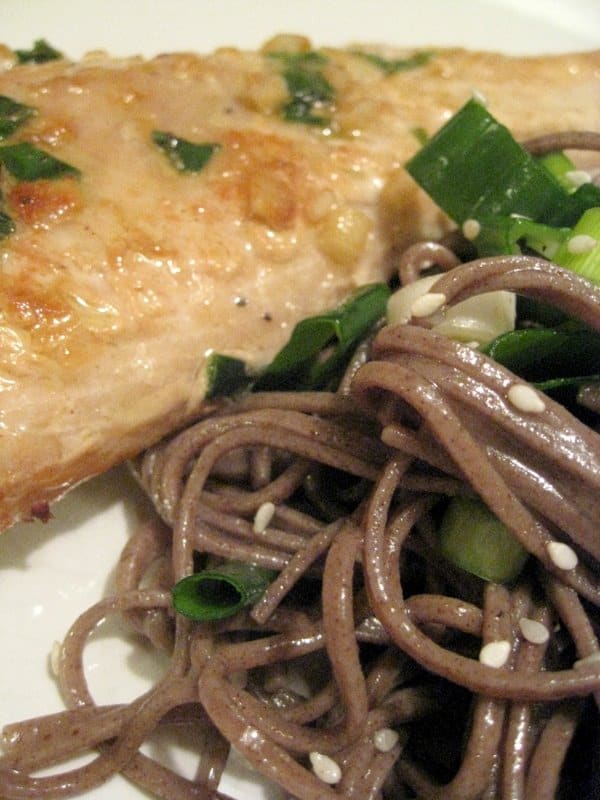 Asian Soba Noodles with Toasted Sesame Oil
1 bundle of soba noodles (buckwheat noodles–found in Asian markets)
2 teaspoons of soy sauce
2 teaspoons of toasted sesame oil
1 teaspoon of rice vinegar (typically used in sushi rice–also found in Asian markets)
1/3 cup of chopped green onion
salt and pepper to taste
1 teaspoon of sesame seeds (toasted, if you want)
1. Bring a small pot of water to a boil. Salt lightly and cook the soba noodles for 4-5 minutes (do not overcook).
2. Drain the noodles and rinse with cold water several times.
3. Toss the noodles with all of the liquid ingredients, sprinkle in the sesame seeds and add the chopped green onion. Throw in a few pinches of salt and pepper.
*Serve the noodles cold, as a side dish for an Asian inspired fish dish (as described above). You can also make this a vegetarian meal by marinading tofu with similar ingredients and pan frying it, or taking a cue from Simply Recipes and baking it. 101 Cookbooks also has a fantastic recipe for Otsu I can't wait to try.