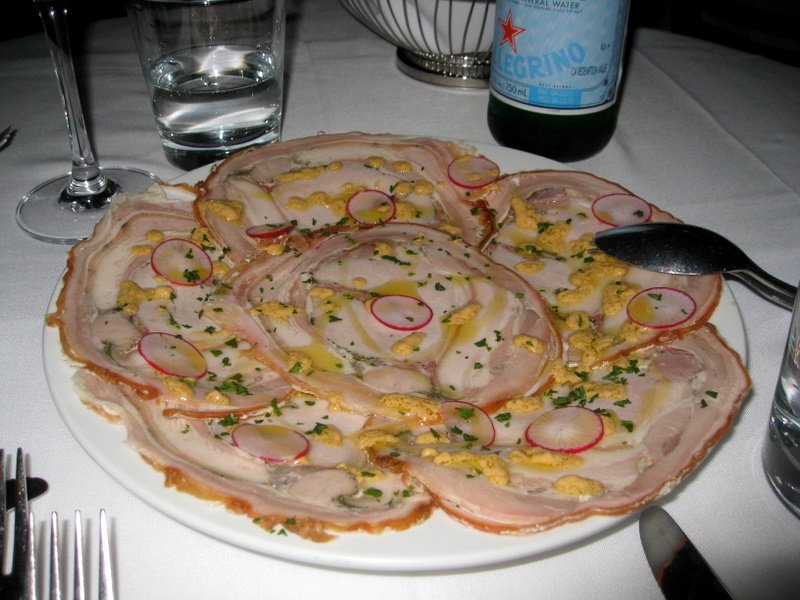 My 2009 has gotten to a slow start. I lost my voice on New Years Eve–and no, not because I drank too much. I've been struck by the bug going around. The one that keeps you up all night, hacking a cough. Yes, times are unfortunate. I must come home straight from work, forgoing the gym (I love having an excuse!). You'd think with all of this time, I'd be cooking up a storm. Well, I am. Sort of. I find that when I'm sick, my preferred meals tend to be things that rarely look pretty: big bowls of grains topped with hearty vegetables and Parmesan cheese. I did make a great chicken recipe from one of my new cookbooks. It was made with a delicious mustard sauce. As delicious as it was, though, it made me come to a conclusion I've been sort of trying to deny: I am pretty sure I am slightly allergic to mustard. My lips itch for hours after having anything mustard-y pass through them.
I have put my new ice cream maker to use, creating concoctions such as honey cardamom and almond chocolate ice cream. It tastes good, but it looks like..ice cream. So, you'll have to bear with me for some more reviews. You like reviews, too, right? I've been dining and wining a lot this past month, so I've accumulated somewhat of a rolodex. Don't worry, I'll be bringing more recipes soon, too. But I recommend you take a night off. The holidays are stressful. Grab a meal!
And, without further ado: La Ciccia. The first time I went to this quaint little Sardinian-Italian restaurant in Noe Valley was probably about a year ago, for a glorious reunion with my best friend. We ordered seafood and pasta dishes and got two desserts (after devouring one, we realized we had made a mistake not ordering two and upped our order).
For New Year's Eve, I didn't feel like going somewhere swanky, so Matt and I decided that before we had company over, we'd grab our meal here. We were seated at the very back of the restaurant, which I must admit, was disappointing. It was freezing back there and I felt slightly detached from the dining room. The restaurant had prepared a special menu for the evening–a selection of traditional dishes from the island of Sardinia. For an appetizer, we got the Porchetta a sa Sadra (Suckling Pig Porchetta Sardinian Style). Now, I generally don't eat pork, lest it be a paper thin slice of prosciutto or an oven roasted suckling pig in Porto, Portugal. But, it was New Year's and I was going to let Matt have his pork. The dish came out cold and tasted like a tender cold cut. It was good, but not really what I had in mind. Later in the meal, I regretted not splitting a pasta dish.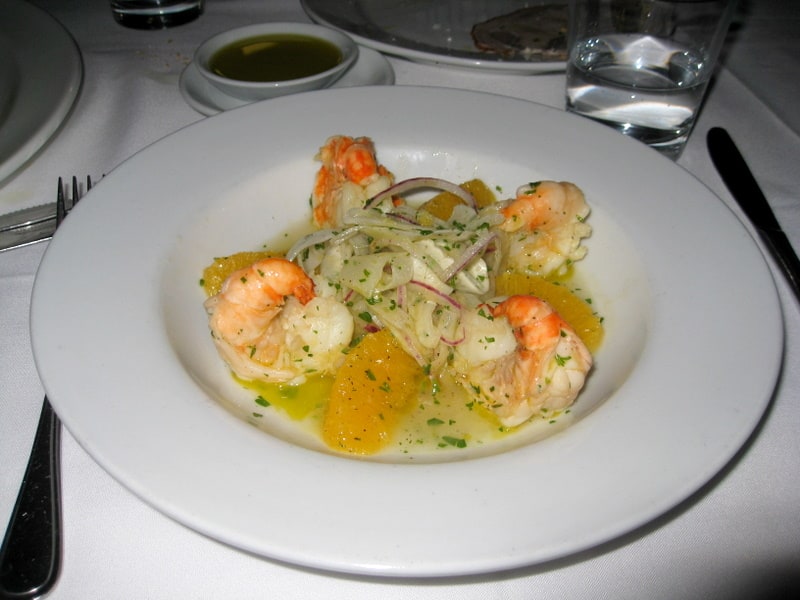 For my entree, I got the saffron poached prawns with a fennel and orange salad, while Matt opted for the veal with wild mushrooms. My prawns were phenomenal. So tender, plump and delicately scented of saffron. More, I'm not a huge fennel fan, but in this preparation, it was just right. Matt raved about his perfectly cooked veal as well.
It came time for dessert and we ordered the house special: Trigu de su Candeberi (Poached Farro Marinated with Saba and Spices). If ever there was a perfect dessert, this, ladies and gentlemen, was it. I adore farro–an ancient Italian grain typically associated with savory dishes. This was beyond words. The owner of the restaurant, a lovely woman whose husband is the chef, came over to our table to tell us that the dish is served to children on New Year's day as a treat and is also symbolic: farro is a grain that stands for good fortune. A dessert that's to die for and also a bearer of good luck? I was sold. The taste is hard to explain. I was told that saba is a reduction of grapes. The aroma of the dish was a mix of spices and grapes. The farro was hearty and chilled and the whole thing was topped with a scoop of ice cream that blended perfectly into the juices and the farro. Should we have ordered two? Perhaps. Because then I may have just remembered to take a picture before sailing off to the seas of Sardinia.
If you're looking for American-Italian fare, La Ciccia is not the place for you. But if you're looking for a real, authentic experience that spans beyond the mainland (both of Italy and America), I'd encourage you to give this husband-and-wife-owned restaurant a shot.