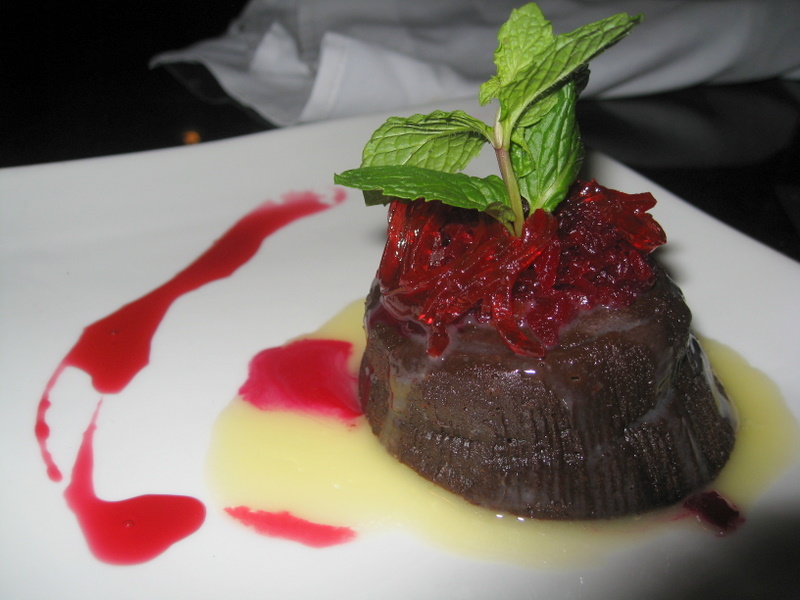 As I mentioned in my last post, I spent a week in Ohio, where I got to enjoy a lot of meat. I'm not being sarcastic–they like meat in the Midwest! The good news, though, is there is actually great food–especially if you know where to look (or have an iPhone with a Yelp application). I was beyond amazed at the selection of apples at the local grocery story–from pink ladies to ambrosias and honey crisps. Not to mention, a range of pears. But another nice little surprise were a few restaurants that Matt and I ate at while exploring Cincinnati.
Avocado Bliss and Hungarian Lentil Soup at Melt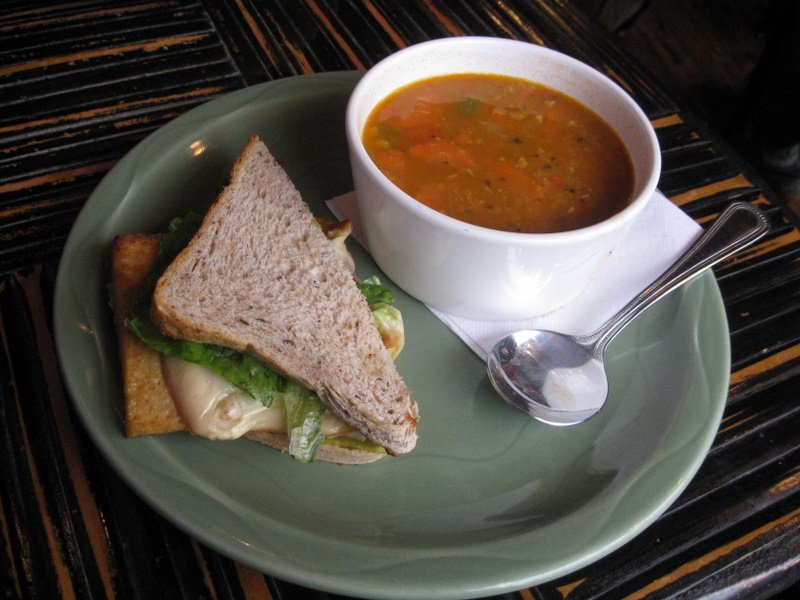 For lunch, we chose a cozy little spot called Melt, which said it specialized in fresh, local food, with a lot of vegetarian options and 'melts.' The place was adorable and reminded me of some of my favorite little lunch and brunch spots in San Francisco. The girl who took our order was one of the friendliest people I have ever encountered in a restaurant/cafe. And my soup and sandwich? Well, I think the photo speaks for itself. I was looking forward to trying their Hungarian lentil soup and a half of a garlic avocado, tofu and smoked mozzarella sandwich (the avocado bliss). Both delivered. The sandwich was super flavorful and the generous serving of smoked cheese was perfectly melted over my tofu, which all went very well with my rye bread. I was quite smitten, actually.
After checking out the Cincinnati Art Museum and a few other little neighborhoods, we crossed the state line into Kentucky. I was told that crossing the state line doesn't really change the scenery and for the most part, that proved to be true. We made a stop in Newport, KY, where Matt showed me one of his favorite music venues. We strolled along a strip of shops and restaurants (4/5ths were chili diners established in the early 1900s). I also noted 2 or 3 pawn shops and a bakery established in 1923.
For dinner, we decided we wanted something a little nicer, which is when the trusty iPhone came out! Two restaurants struck our fancy–the Greenup Cafe and the next door Chalk Food + Wine, both located in nearby Covington, KY. Interestingly, they're both owned by the same person. While the Greenup got amazing reviews, it felt a bit more like a brunch place, so we ended up going with Chalk. The ambiance was great and our waitress came prepared with wine and beer recommendations. Matt's Kentucky brew was some of the best beer I've tasted and I loved my wine–an interesting mix of red and white grapes that I had never heard of.
My salmon dish at Chalk Food + Wine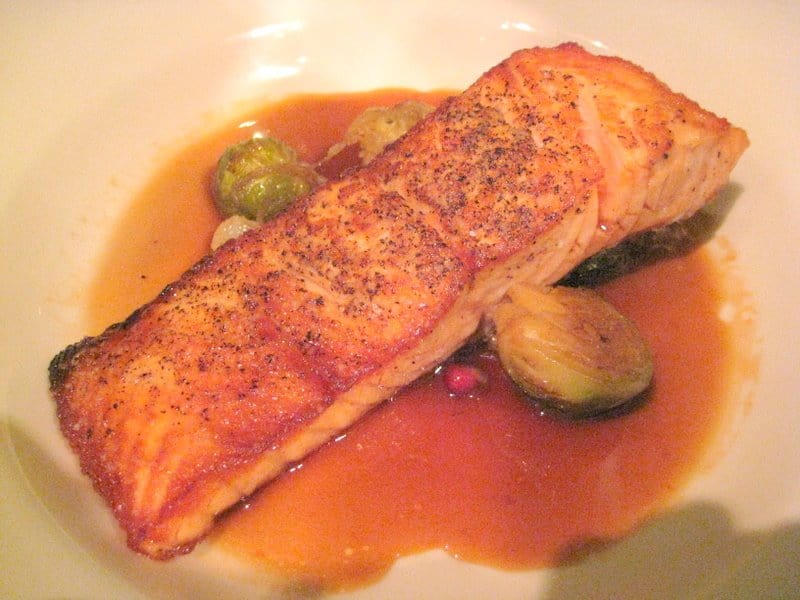 For dinner, Matt had the duck, while I chose the salmon with spaghetti squash, brussels sprouts and pomegranate seeds. We also got a side of 'greens and roots'–lightly cooked carrots, parsnips and spinach. Everything was absolutely delicious, perfectly cooked, fresh and flavorful. For dessert, Matt opted for fig creme brulee, while I, of course, went with a flourless chocolate cake with candied beets. The cake was pretty good. Nothing to write home about, but it had a good texture and wasn't too sweet. The beets, while lovely to look at, didn't have much flavor. I think that the presentation in this case was maybe nicer than the actual dish. Regardless, I really enjoyed my entire meal.
I've had a few other great meals recently–I know I promised a review for Bar Tartine, too. It's been a good year, food wise (and otherwise). I hope that everyone had a fun and safe New Year's Eve. Here's to another great year of food.
Matt's duck at Chalk Food + Wine