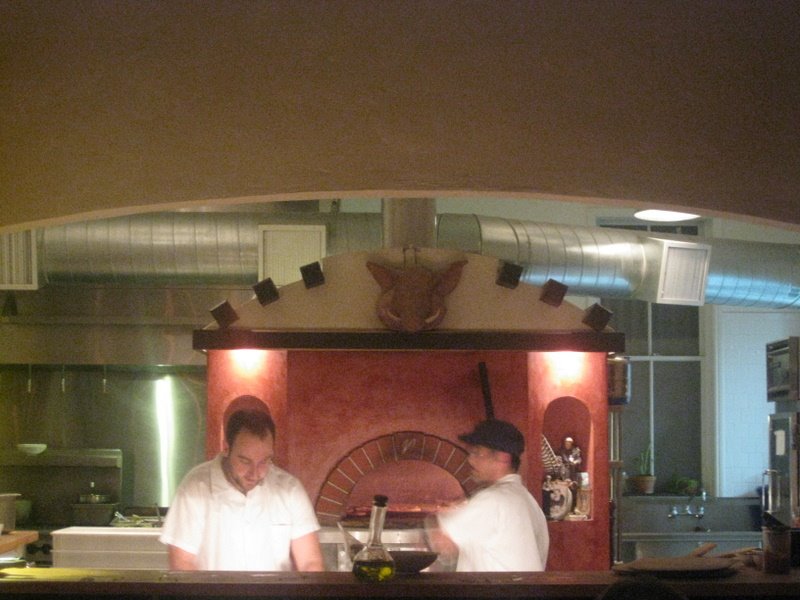 Yesterday, Matt and I took the first of numerous trips to Sonoma County to check out wedding venues. While I was initially dreading starting the wedding planning process, it hit me this weekend that when we made the decision to get married in wine country, we were embarking on a lot of fun. Mainly because, wine country is awesome. From great hiking trails, wine tasting, amazing restaurants and just plain gorgeous drives and views, Sonoma, Napa and the Russian River areas are full of great getaways.
I was really looking forward to some good eats, particularly, Diavola Pizzeria and Salumeria–which I read about in the Tablehopper. Located in a cute little stretch of Geyserville, Diavola is wine country's version of Delfina. Though, I'd argue…perhaps even better. The rustic pizzeria is exactly my kind of place. Prosciutto hangs from the sealing, an old school red lacquered meat slicer and industrially-designed coffee maker serve for utility and decoration. A real wood oven is the centerpiece of the kitchen and exposed brick walls add an authentic feel to the entire place.
We stuck to locally-produced wines and started with a huge portion of mussels. They sure don't skimp here. Our pizza, the 'diavola,' is typically served with house smoked boar, but the restaurant was unfortunately out. The house smoked salame, peppers and roasted cabbage, tomato and mozzarella topping mix didn't disappoint. Our thin crust pizza was brought out with a housemade chili oil. The pizza had the perfect kick and an ideal crust. For dessert, we got a chocolate hazelnut tart with a scoop of gelato. It was a bit different from what I expected–the crust reminded me of a hard lemon cookie and the hazelnut was incorporated only in the form of crushed nuts on top. Regardless, it was interesting, different and pretty decadent.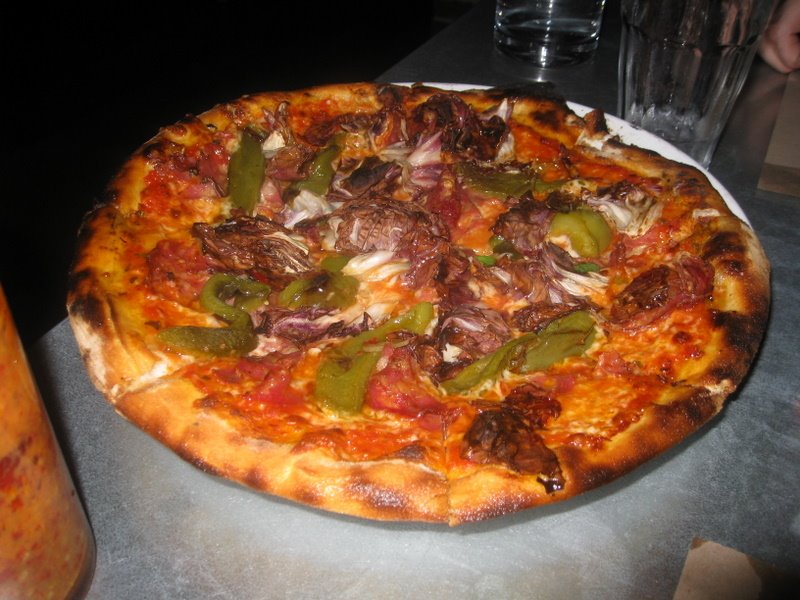 In talking with the general manager, Colin, and the bartender whose name I unfortunately can't recall, we found out that the restaurant has been open since July (and has certainly managed to solidify a following). The owner smokes all of his meat in house (you can also find his meats at Bar Bambino in San Francisco). What can I say? I'm a sucker for Italian food, solid thin crust pizzas and smoked meats.
If you don't find yourself in Geyservilla, check out Diavola's site for some great recipes, including one for their prosciutto and mascarpone pizza, called the Sonja (I imagine they change these up).
I'm looking forward to my next visit…and more.