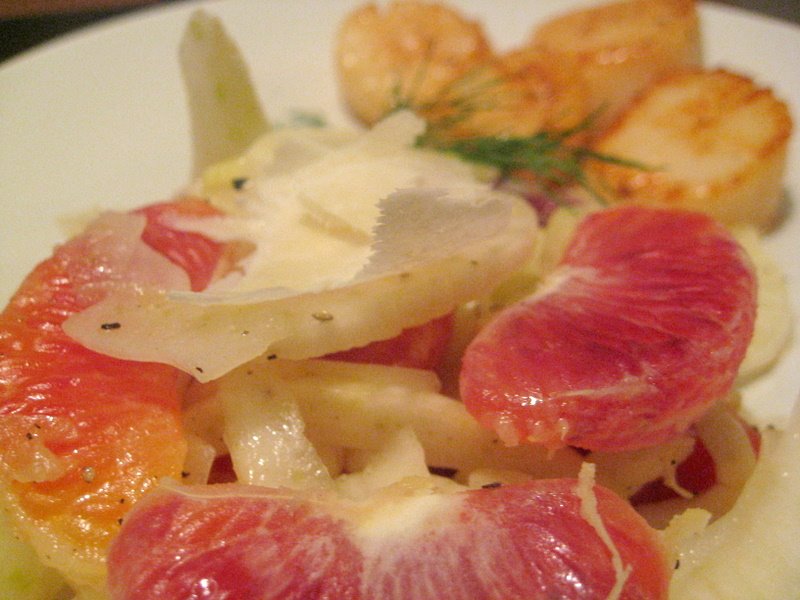 Ever since my visit to La Ciccia and those amazing saffron poached prawns, I've been thinking about how, sometimes, I'm wrong. Let me elaborate–I'm a pretty stubborn person. I don't like cauliflower. Period. I refuse to watch Lord of the Rings. I will not read Harry Potter. Until recently, I was pretty sure: I don't like fennel. It's too anise-y, reminds me of black licorice and just isn't up my alley. But recently, fennel seems to be popping up everywhere.
Sometimes, I look at a menu and the very first thing that jumps out at me (like the aforementioned prawns) urge me to overlook the fennel. So I have. And, surprisingly, it wasn't so bad. In fact, it was pretty darn good! When served fresh, the anise flavor of fennel is actually minute at best and the crisp lightness of this root is actually pretty lovely, especially when paired with citrus. I've seen many variations of this salad, but given that I had some champagne vinegar and in-season blood oranges on hand, I threw this together. The key to this salad is to slice the fennel very, very thinly (think paper-thin, almost). Adjust the vinegar, depending on how much you like. Also, you can certainly use more or less orange slices and can swap out blood oranges for the regular kind. If you have the blood orange ones, though, definitely use those. Their flavor is so much more intense and they're just gorgeous to look at. I served this salad up with some butter seared scallops (attempting poached prawns next time).
Now that I'm open to fennel, and realizing that I could sometimes be mistaken, I'm seeing a slew of opportunities. A few samples: Cooking with Amy's Fennel Shrimp, White on Rice's Braised Fennel with Prosciutto and La Tartine Gourmande's Fennel, Cherry Tomato Tartlets on Balsamic Crust.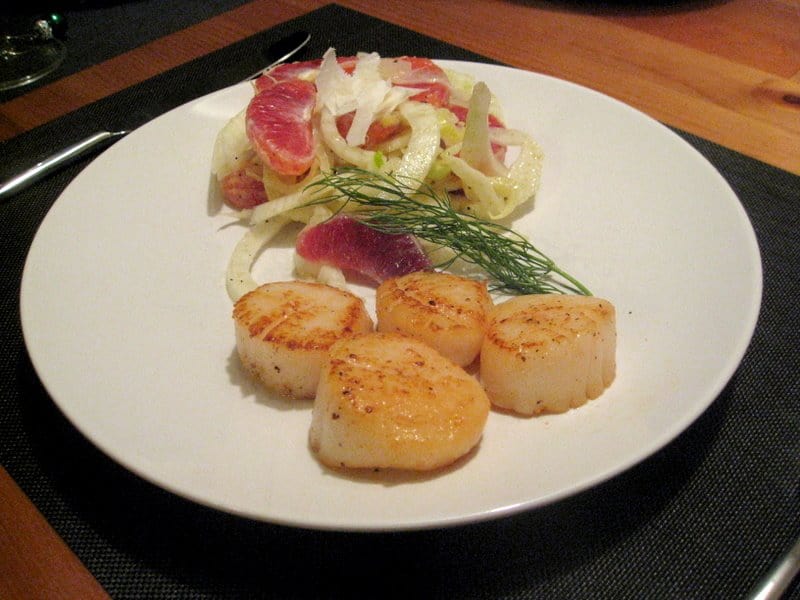 Blood Orange Fennel Salad
*serves 2-3
1 fennel bulb, sliced very thinly
2-3 blood oranges, peeled and separated into slices
2 teaspoons of champagne vinegar
2 teaspoons of olive oil
salt and pepper to taste
Few shavings of Parmesan
1. In a bowl, combine sliced fennel and blood orange slices.
2. Pour in champagne vinegar and olive oil. Toss, salt and pepper to taste. Serve topped with some shaved Parmesan.