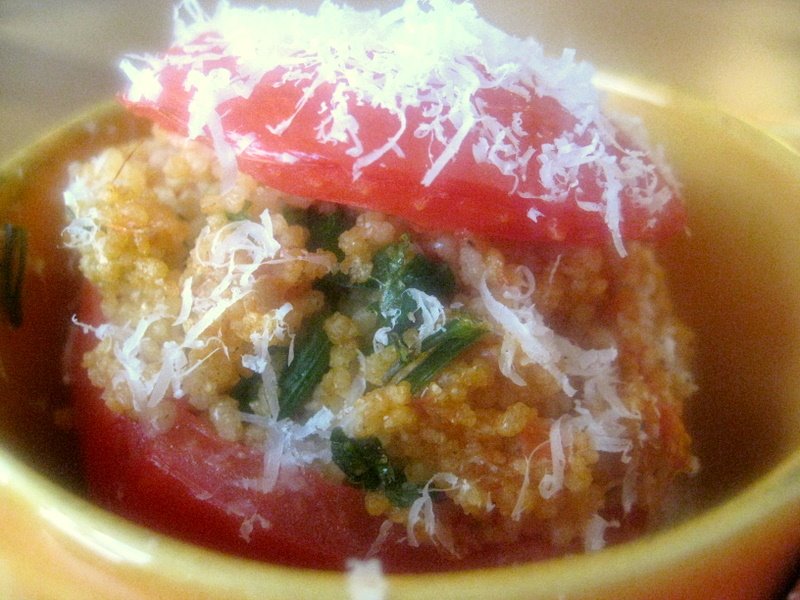 The most delicious recipes, I've found, are often the simplest. Case in point: gooey chocolate pudding posted by the Good Mood Food Blog. On Sunday afternoons, when I find myself home for lunch, I look forward to using some of the fresh ingredients I've picked up on Saturday morning to whip up something creative. I've ogled over The Wednesday Chef's tomatoes stuffed with rice many a time and felt the itch of inspiration this past weekend..
I didn't feel like rice, specifically–I wanted something lighter on a warm afternoon, so I turned to another pantry favorite: whole wheat couscous. This recipe is definitely fly-by-the-seat-of-your-pants. You can sub in any number of herbs and spices. I like Parmesan cheese on practically everything–especially tomatoes and grains–so I always prefer to give whatever I happen to be cooking a healthy dose of cheese.
Parmesan is one of the best things you could keep your fridge. First, it lasts forever (or at least a good month or so). Second, it's low in calories, but yet extremely flavorful. I like to add it to stir fried brussels sprouts, any range of pastas and grains with a healthy dose of veggies, grated over roasted eggplant, and shaved over scrambled eggs. I am one of those people who ask waiters at Italian restaurants to leave the Parmesan (one spoonful is never enough!).
Lunch on a laid back Sunday always just feels different from lunch on any other day. There is something inherently restful about not having to rush. So this Sunday, if you're around and at home and it's sunny (or rainy, snowy) take a little extra time to daydream. Go ahead, play around.
Couscous Stuffed Tomatoes
*serves 1–double, triple, quadruple the recipe, depending on how many you're cooking for
2 large on-the-vine tomatoes
1/3 cup of whole wheat couscous
1 tablespoon of finely chopped flat leaf parsley
few pinches of Hungarian paprika (or any paprika you have on hand)
2 teaspoons of olive oil
salt and pepper to taste
Parmesan cheese, to your liking.
1. Pre-heat oven to 350 degrees F. Slice the tops off of the tomatoes and scoop out the insides. Reserve about 1/2 of the inside meat of the tomatoes (this will keep the couscous from over drying in the oven and add a delicious aroma).
2. Cook the couscous according to instructions, but add in the reserved tomato filling, chopped parsley, 1 teaspoon of olive oil, and a few pinches of salt, pepper and paprika into the mix. Stir, cover, take off the burner and let sit for 5 minutes.
3. Once the couscous is done, scoop it into the tomatoes. Shave Parmesan to your liking, then top with a cap. I cooked my tomatoes in individual ramekins, so if you have extra couscous, feel free to throw it into the ramekin. Once the tomatoes are topped, drizzle them with a bit of extra oil and grate some more Parmesan on top and throw into the oven.
4. You can bake these to your liking: I let them sit in the oven for about 15 minutes, but you can certainly up the time to 20-25 minutes. Once the tomatoes begin to shrivel, you can assume they're done.
5. Before serving, I always sprinkle even more cheese on top. Because I like cheese.