There are few times that I can think of when I have had such polar opposite dining experiences on two consecutive nights. Last weekend, though (more specifically, Friday and Saturday nights), was just that. While the company on Friday was splendid and the sleek, red light-accentuated decor spurred a fantastic evening of conversation, the food at Specchio–a new Italian restaurant in the Mission–was far, far from it. I make a point of not giving bad reviews to restaurants here, so I'll skip the details. But, unless you're eating the pumpkin ravioli and carpaccio or solely drinking wine, the decor at this place is the only thing that left a positive impression on me.
The next evening, we headed down to my parents' house to celebrate my dad's birthday. My mom, savvy researcher that she is (and a pretty well-versed foodie herself!) made reservations at a Brazilian restaurant called Pampas, in Palo Alto. She said that she had visited it on one occasion and was pretty impressed. To say that I was looking forward to going is an understatement–especially after such a disappointing meal the previous night.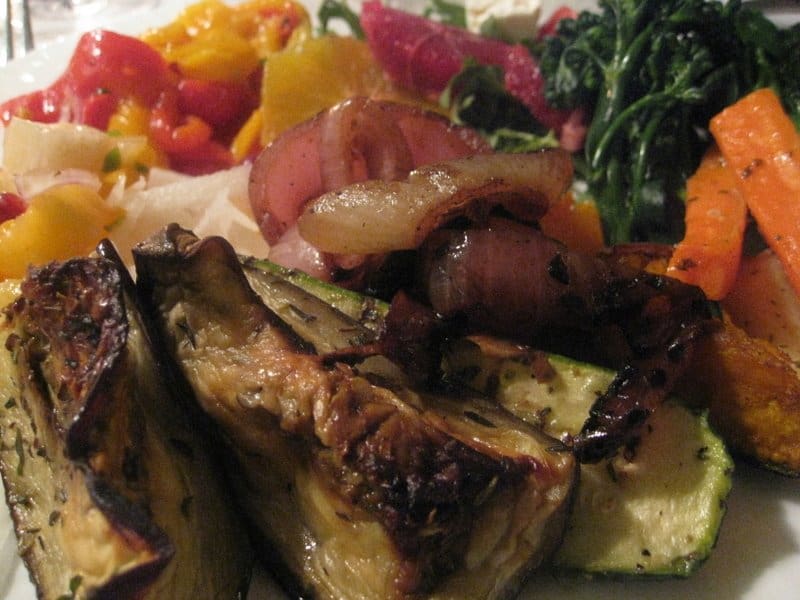 We arrived right on time and were promptly seated. First impression: this place was slick! And massive. Two floors, with an overhanging terrace of sorts (all under one roof), a bar, a jazz band, and some nice touches of open glass, wine bottles and great lighting. If you've ever had trouble reading the menu at your dinner table, the individual table lamps here would surely address any problems.
Unsurprisingly, the restaurant is known for meat. Rodizio, to be exact–an unlimited selection of meats ranging from top sirloin to lamb chops, pork sausage to skirt steak, and a curious roasted pineapple. They also have several entrees (such as duck and pork), appetizers and dessert. For those who dare to take on the Rodizio challenge, $44 gets you an unlimited supply of meat (in the form of waiters who visit your table with skewered meat and giant machete-like knives ready to serve you a slice) as well as unlimited visits to their salad bar.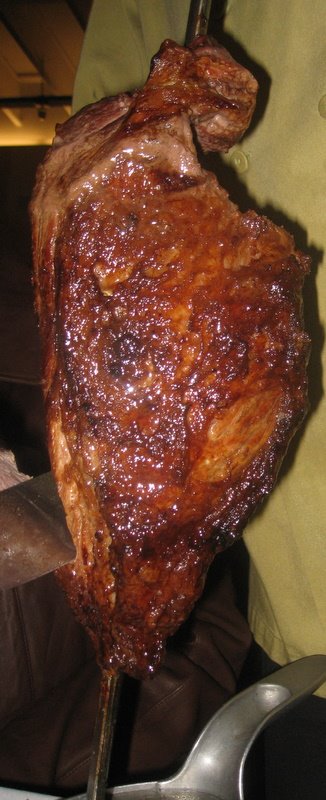 Of course, we all got the Rodizio, aside from my grandpa, who had the duck–which he proclaimed (and he is one picky eater) was perfectly prepared. I was shocked to watch him gather up the last bits of the dried cherry barley risotto. At Pampas, saying no, apparently, is not an option–at least not as long as the green sign is on. Each table comes with a round little tablet –one side red, one side green. When you're ready to fall out of your chair, you flip red. When it's green, be prepared for someone to stop by your table every five minutes with a new selection of meat. Should I call this an experience? I'm hesitant to bring up memories of Medieval Times for you, but hell yeah it's an experience! And a tasty one, at that.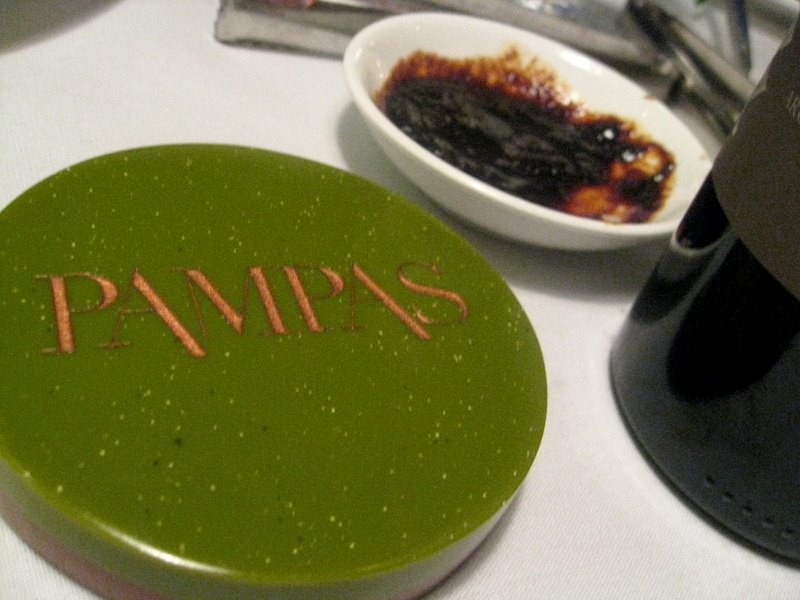 I can say that before we finished two bottles of Malbec, everything was delicious (and continued to be after). The Mamiha (tri-tip roasted and seasoned with rock salt and olive oil) was a slam dunk. I also loved the house made meat sauce that was brought to our table–perfectly spicy and aromatic. The house made spicy pork sausage was also delicious, as was the sirloin steak. By special order, most of my table (save me) tried the chicken hearts–I told you Mom was adventurous–which resulted in a lot of excitement. Not to downplay the salad bar: the roasted veggies, fresh salads and carbs were all fantastic. Have I mentioned the bread yet? Cheesy gougeres, polenta rectangles, fried bananas…The roasted pineapple had me at hello.
Lastly, when you go to a restaurant like Pampas, you presume that dessert is going to be 'eh.' But, with former Top Chef contestant Marissa Churchill overseeing the pastry selections, the chocolate torte served with caramel ice cream, crème fraiche sauce, bacon Brazil nut toffee, and smoked sea salt was…ridiculously good. I mean ridiculous.
If any of my friends and family were to try to lure me out of the city for a night, any night, they can feel free to invite me to dinner here and I'll gladly come running. With an empty stomach.