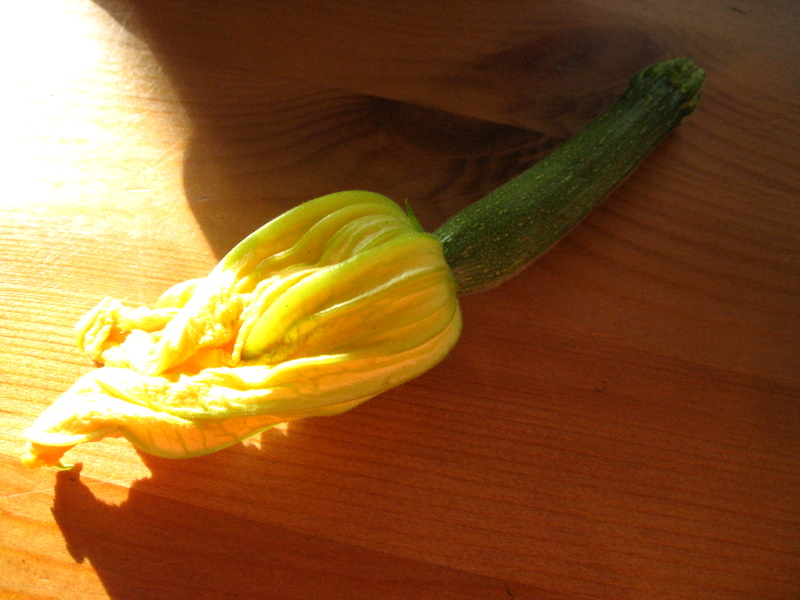 These past few days, I've had to double check my calendar to remind myself that it is, in fact, the middle of November. You wouldn't know it by the temperatures outside, or the breezy summer clothes on the streets. I'm pretty sure that ice cream places around here made a killing this weekend. I had a pretty jam-packed couple of days (in a good way).
On Saturday, after taking the Caltrain down to San Jose, we headed over to Big Basin for a mild 4 mile hike among the Redwoods. After spending the evening grilling some chicken kabobs with my grandpa and grabbing some beers at a friend's place, we had to reroute back to San Francisco. As usual, I plotted. Knowing that the Mountain View Farmer's Market takes place every Sunday morning at the very station I catch my train, I suggested we leave a bit earlier and check out the goodies.
Unlike the Ferry Building Market, the MV market is a diamond–and not even in the rough. Booths upon booths line the Caltrain parking lot that specialize in everything under the sun: from Los Gatos honey, piroshki, flowers, fish, bread, French pastries and of course, a myriad of produce. Surprisingly, prices aren't that steep, either. I should have really given myself more than 20 minutes to browse. In the end, we came away with a bagful of delectable goodies: a box of squash blossoms, three delicata squashes, a bag of fingerling potatoes, a few Asian pears, some grapes and a small jar of raspberry honey.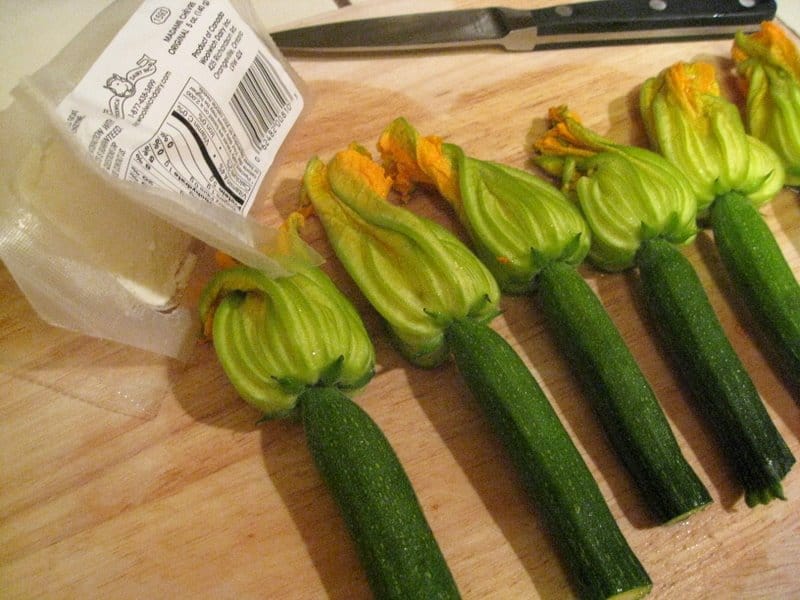 I didn't know what to try first! I'd been wanting to try the delicacy that is a squash blossom for some time now and couldn't forgo the $3 box of gold. So, the squash blossoms went down first. The man who sold us the blossoms recommended two ways of preparation: stuffed with goat cheese and fried or oven roasted. Matt will argue with me about what constitutes something being 'fried.' Maybe it's the health nut in me, but I say that sauteing in LOTS of olive oil can suffice for frying. And so, I won in the kitchen. I didn't really look for many recipes. So we winged it, though The Amateur Gourmet offers a pretty similar take here. We paired the blossoms with seared scallops, so I'll go ahead and include both recipes for you. This makes for a great light dinner, or alternatively, a pretty simple party appetizer.
Stir Fried, Stuffed Squash Blossoms
* Serves 2 for dinner, along with the below scallops
8 squash blossoms, inspected for any bugs, wiped down (with pistons removed*)
fresh goat cheese
1 egg
1/4 cup olive oil
salt and pepper
flour for dredging

1. Once you have successfully cleaned the blossoms, carefully open up the flowers and stuff about a teaspoon of goat cheese into each one.
2. Twist the flower closed.
3. Once finished stuffing, whisk 1 egg in a flat-ish bowl.
4. Sprinkle flour into a separate bowl.
5. Dunk each squash blossom into the egg wash and then dredge in flour. Sprinkle with salt and pepper.
6. Pour olive oil into a nonstick pan and wait until it gets really hot. Put all squash blossoms into the pan and reduce the heat slightly.
7. Turn the blossoms occasionally so that they develop a light golden crust.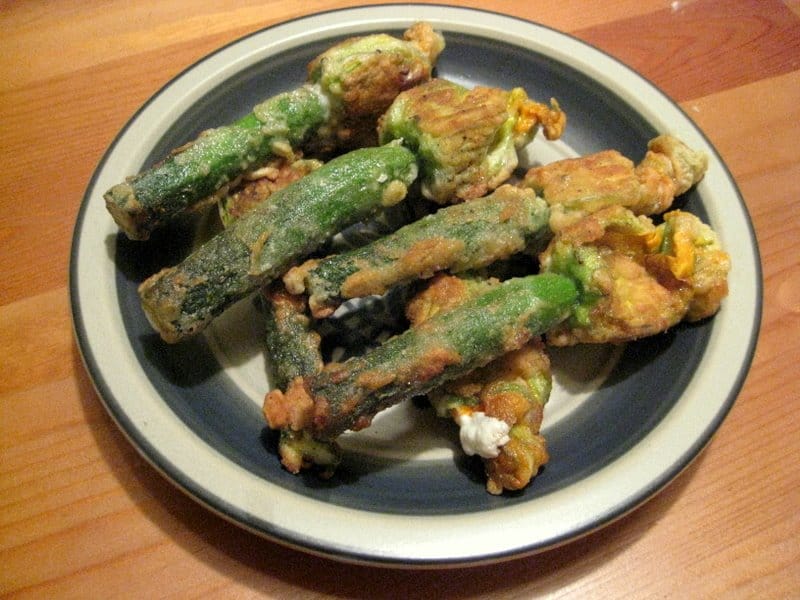 Seared Brown Butter Scallops
8-10 scallops, fresh or defrosted
2 tablespoons of butter
salt and pepper
1. Heat the butter in a separate nonstick pan. Melt it all the way down.
2. Salt and pepper the scallops.
3. Add them to the pan and cook for about 2-3 minutes on each side. You may flip several times, until the scallop develops a lightly brown crisp, firm feel on the outside, but is still tender inside. The scallops are done once they are white. Be careful flipping, as scallops are very delicate.
*At some point, after stuffing several squash blossoms, I realized they had pistons. And I wondered whether I should eat them. A quick Internet search revealed: break them off carefully and throw them out.
Today, I used the remaining few blossoms I had to make the alternate version of the original recipe. I jazzed it up a bit, too (I like jazz). Here it is:
Roasted Squash Blossoms with Garlic and Herb Goat Cheese
Pre-heat the oven to 375 degrees F
1. Same deal as before, except you can add 1 minced garlic clove and a teaspoon of finely chopped parsley along with salt and pepper to the cheese.
2. Mash together and stuff the blossoms.
3. Brush lightly with olive oil and roast for about 10-12 minutes on a foiled baking sheet.
Grammar lesson for me (and maybe you too?): apparently the plural of squash really is 'squashes.' Had no idea. Thought I sounded silly saying 'squashes.' Now I know. The beauty of Wikipedia.