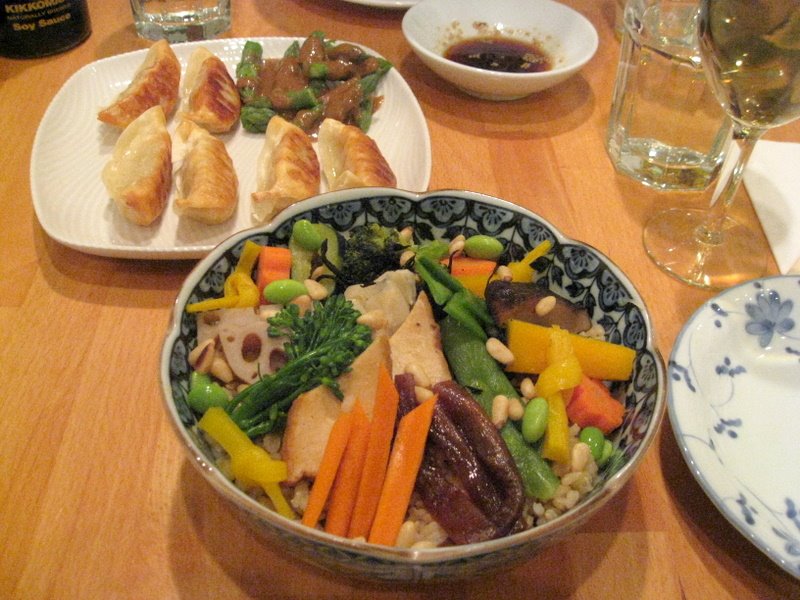 When you've got a friend that is a vegetarian, you probably fit into one of two categories of people: those who who are open-minded, veggie-loving meat eaters or those who are the give-me-a-break meat eaters. Me–I'm the first kind. No way will I ever be a vegetarian. I love meat and seafood entirely to much. But, my diet probably consists of roughly 70% produce (I will admit, I love fruit more than veggies). As such, I take my herbivorous state quite literally.
One of my best friends from high school has been a vegetarian for almost the entirety of our friendship and a few years ago, we finally found ourselves living in the same city again and planning dinner meet ups. Going to dinner with him is a different kind of excitement for me than going out to dinner with other friends (those both are equally welcomed experiences). While he is often happy to go to establishments that serve meat and fish, I usually use the opportunity to explore veggie-only restaurants that my other meat-eating friends rarely relish.
I had been meaning to take him to Cha-Ya, a vegetarian Japanese restaurant since I first tried it out roughly two years ago. I love Japanese food and rarely imagine a Japanese meal that does not involve fish, but Cha-Ya proved me wrong. The restaurant's extensive menu features a range of appetizers, a-la-carte menu items, veggie sushi, noodle bowls, rice bowls and even vegetarian and vegan desserts. Every time I've been here (this was the third), I've always found myself stumped and indecisive. In the past, I've opted for soba noodle bowls served with shaved nori, buckwheat sushi and the vegan chocolate cake, all of which were delicious. The portions are hearty and huge. For a while, they offered a delicious special appetizer that consisted of some sort of squash dipped in chopped almonds, fried and stacked in a tower with a chunky sweet sauce poured over it.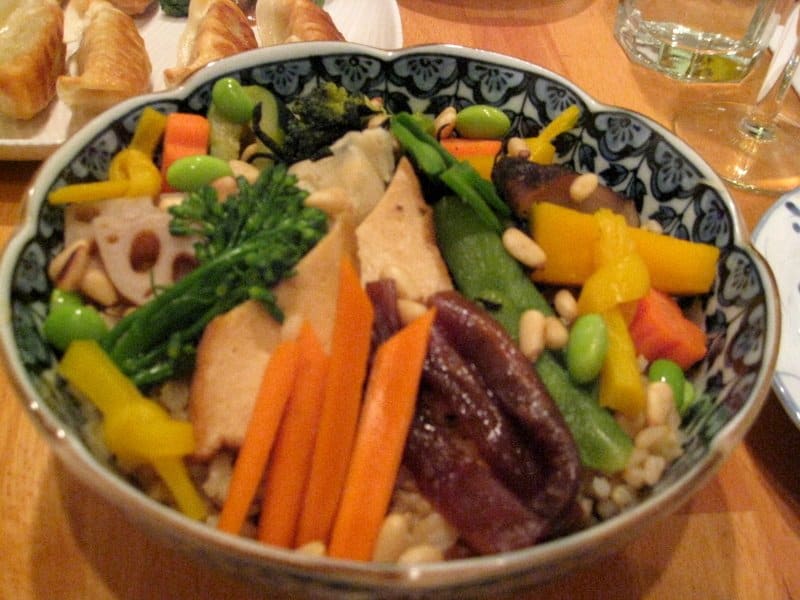 To my dismay, the tower was gone from the menu, but our options hadn't dwindled. We went for the dumplings and I for a seasoned rice bowl. My friend got the tofu pocket soba noodle bowl. We pondered ordering more food but in the end, decided that we had gotten enough (which definitely proved to be true at the end of the meal).
I think we were both quite pleased with our meals. Sadly, I perhaps, a little more so than he. You see, there is a notion that vegetarians are super into health food. But I kind of don't think that's necessarily always the case. My friend, for one, I could tell regretted not getting something fried. I saw the look in his eyes as he glanced around the surrounding tables, digging into deep fried tofu and tempura sushi rolls. I could tell he missed the crunch. Despite that, I think that our food came out fresh, simple and hearty. I think it's massively impressive to have a vegetarian restaurant offer such inventive dishes in the realm of such a broad menu.
While it's true that I do love my meat, I have to say that it feels good to go out to dinner once in a while and feel like you're eating something really clean from the Earth that is nourishing, nutritious and generally, quite good.
*If you live in the East Bay, you can also check out Cha-Ya in the Gourmet Ghetto section of Berkeley.