Hello, again. I know it's been a while since we've visited. How was your Thanksgiving? Mine was swell. After several very stressful weeks, I felt like I slept like a rock on my parents' hard futon. It was truthfully some of the best sleep I've gotten in a while. The weather was kind of Thanksgiving-y. It rained on Wednesday night and there was a nice after-the-rain cloud cover and chill the following day.
I bought a new vacuum cleaner and some really cute little snowman baggies to give away baked goodies to friends in this holiday season. I also got a gingerbread man cookie cutter and am excited to give it a go.
My Thanksgiving was full of delicious recipes, some of which I will be sharing with you over the course of this week. To kick things off, I'm going to follow up Wednesday's fingerling potato recipe with another, more festive version. This one makes a very dressy holiday side dish that is simple to prepare and gets to the table in roughly 30 minutes. It comes from the New York Times and is adapted from a recipe by Daniel Humm of Eleven Madison Park and, in turn, adapted by me.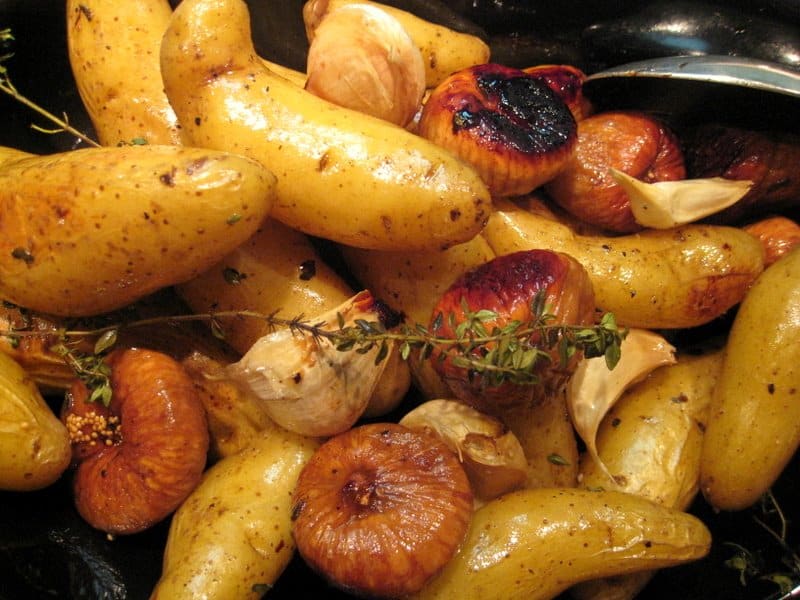 Roasted Fingerling Potatoes with Dried Figs and Thyme
* serves 4-6 as a side dish
8-10 dried figs of any kind (I used large kalamata)
Brewed black tea (enough to cover the figs)
about 2 pounds of fingerling potatoes
1 head garlic
5 sprigs of fresh thyme (use dried if you have to)
about a 1/3 cup of extra virgin olive oil
kosher salt and fresh pepper to taste
1. Put figs in a deep bowl and cover with hot tea. Stick in the refrigerator for several hours.
2. Heat oven to 400 degrees F. Wash the potatoes and place them in a large bowl. Separate the garlic into cloves, without removing the skin and add to potatoes in the bowl.
3. Drain the figs and add to the bowl. Season with salt and pepper, pour in the olive oil and toss.
4. Cover a roasting pan with the tossed potatoes and bake for about 30-40 minutes (until the potatoes can be pierced with a fork). Feel free to brush with a little extra olive oil if the potatoes get too dry during the baking process.
5. Serve all together and offer with some baguette for spreading the garlic. This dish is great for leftovers, too. Just throw the ingredients into a skillet for several minutes to reheat and develop a slight crust.