Thanksgiving is by far my favorite holiday. As a kid, I felt a special bond to my most significant American holiday because it was the one tradition my family embraced right off the bat. We'd roast the turkey, I'd make the cranberry sauce and we'd go around the table saying what we were all thankful for. And, of course, we added a little bit of our own Russian traditions into the mix. We didn't eat pumpkin pie or sweet potatoes. We feasted on herring and pickled mushrooms. My mom's famous lobbio. A bevy of sweets.
To my family, Thanksgiving has and always will be a time when we get together with family and friends and feast. Everyone usually dresses up after spending a day in their sweats cooking and cleaning. I can recall one Thanksgiving when my parents persevered in using the extra days off from work to take a vacation. We went to Los Angeles and ate at a restaurant in Santa Monica. The first and last time I will ever spend a Thanksgiving not at home.
This year, I'll be heading down to my mom and dad's house and as usual, I'll be making the cranberry sauce (actually, it's already made). I tested out a new recipe for a cranberry chutney that I'll share. I'll also be bringing dessert (stay tuned for the recipe, pending success). To get the party started, I'll share with you a side dish I made a few days ago that I think would make a great addition to your Thanksgiving–or any other festive day. It's adapted from a recipe by Ina Garten–better known as the Barefoot Contessa–and is aimed at bringing the seasonal flavor of fingerling potatoes front and center.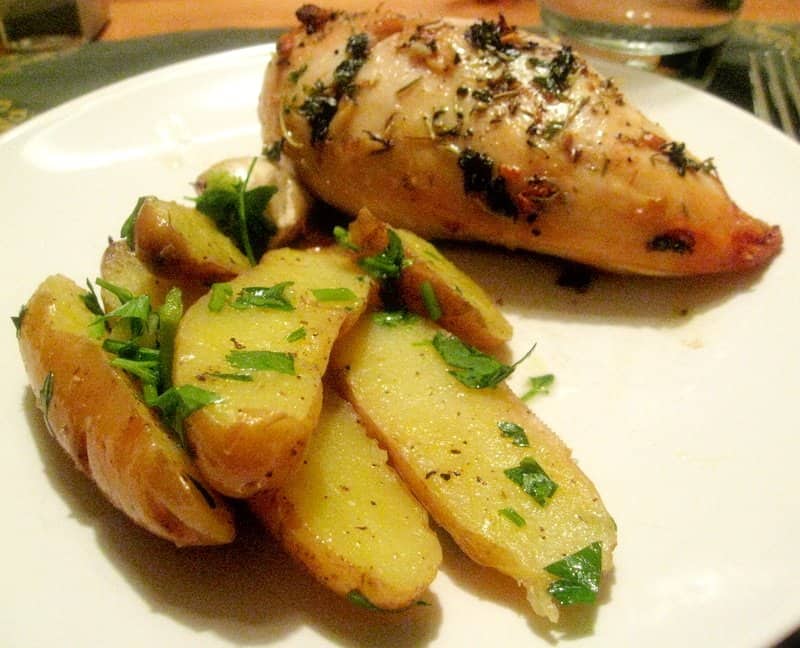 Fingerling potatoes are small and cook very quickly compared to other potatoes. They've also got an extremely creamy texture that pairs well with roasted meats. Ina's original recipe calls for only the barest of ingredients: potatoes, salt, pepper, oil. I added in some chopped herbs, which I thought gave them a nice bit of flavor, but you can certainly feel free to omit these. Give 'em a try!
Fingerling Potatoes
c/o The Barefoot Contessa, tweaked by moi
1-2 pounds of potatoes, unpeeled
kosher salt to taste
fresh pepper to taste
3 teaspoons of extra virgin olive oil
chopped parsley, dill or other fresh herb of your choice
1. Rinse the potatoes and put them into a large pan. Cover with cold water, add about half a tablespoon of salt and bring to a boil.
2. Simmer, uncovered for about 15-20 minutes until the potatoes are tender.
3. Drain the potatoes in a colander and cover them with a kitchen towel (thus steaming them for about 5-10 minutes).
4. Cut the potatoes in half, lengthwise and toss in a bowl with olive oil, chopped herbs and some additional salt and pepper to taste.
Happy Thanksgiving, everyone!