I'm happy to report that today was a much more stimulating day. I think all I really needed was a good night's rest to knock some energy back into the system. Since I generally do most of my reading on the train to and from work, I rarely sit down with my book at home. But last night, I picked up my copy of Reading Lolita in Tehran and curled up in bed with it. I think it really was the prelude to a fantastic night's sleep. I'm heading to Connecticut next Tuesday to visit my best friend and I'm frantically trying to finish this book. Don't get me wrong, it's actually a fantastic read–I just know that many, many hours of flight and layovers await me and I need at least a good 300-400 page book to get going on.
We're also getting ready to host some house guests this weekend, so anticipate a lot of eating out and over-indulgence. I'm excited to take my friends to one of my favorites (can you guess?) and also to some unexplored territory (Spork, specifically). In the meantime, we've been keeping dinner pretty simple..and spicy, apparently.
Back in my pre-cooking days, I used to make a lot of stir frys. I considered them to be fancy culinary masterpieces. In conversations with my mom, I'd proudly declare, "I cooked dinner!" It wasn't a pot roast or a roast chicken I'd be making. It was green bell peppers, broccoli and thin strips of beef tossed with pre-made teriyake sauce.
I may have mentioned, we've got several delicious cheeses in our fridge and have been trying to incorporate them into meals (ie, eat them on the side before dinner). That said, our meals have been what we like to call 'hodge podge.' Here's a hodge podge recipe that has some serious kick, comes together in about 15 minutes and is actually quite good!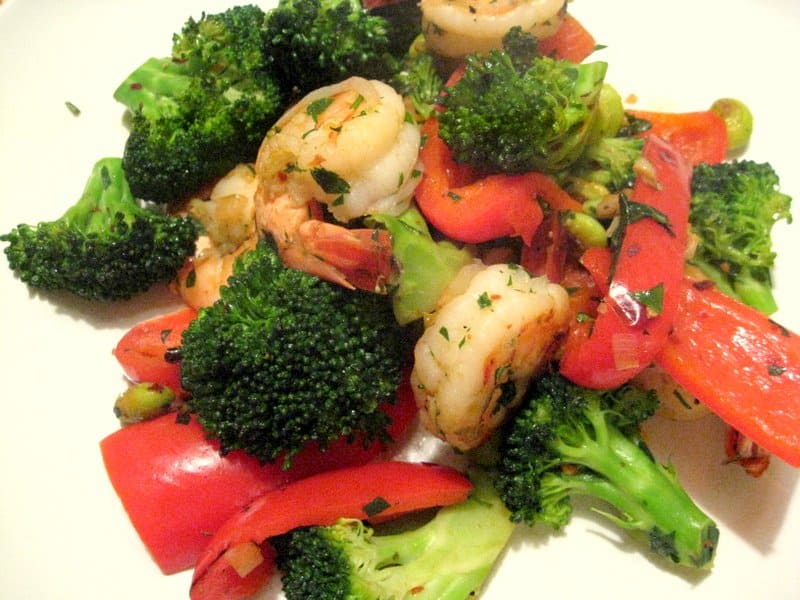 Spicy Shrimp Stirfry
*serves 2
about 16 shrimp
1/2 red bell pepper, cut into strips and then halved
1/4 cup of peeled, frozen edamame
2 small heads broccoli
1 tbs. of fresh basil and flat leaf parsley
few pinches of hot Hungarian paprika
few sprinkles of red chili flakes
salt/pepper to taste
2-3 cloves of garlic, minced
1-2 tablespoons olive oil
1. Prep the shrimp: peel, de-vein and shell them. Set aside.
2. Chop all of the veggies and flash boil the frozen edamame
3. Toss shrimp with half of the garlic, parsley, basil, salt & pepper, a sprinkling of paprika and 1 tablespoon olive oil.
4. Heat 1 tablespoon of olive oil in a non-stick pan and toss in all of the veggies. Add the spices and cook for a few minutes, tossing them around with a wooden stick.
5. Add the shrimp along with the marinade and toss together with the veggies. Cover and cook for a minute or two. Uncover and toss until the shrimp have cooked through and the veggies are slightly tender.
We ate this alone, served with some crackers and cheese and good olives. I imagine you can also serve this over brown rice or couscous.