My family's place in San Jose is home to a variety of fruit trees–from apricots to oranges, lemons to apples–we always seem to end up with a surplus of something at any given season. With it being October and apple season, my parents' yard is currently overrun with over-ripe apples. My parents do their best to eat them and spread the love by bringing basket fulls to friends, but the apples never seem to be fully consumed. We've never quite figured out what kinds of apples we grow. They're dense in texture and somewhat mealy. More sweet than Granny Smiths, but a little less so than Jonagolds and Braeburns.
Last time they came to the city, my parents brought us a bag of 20-some apples and I kept thinking: what am I going to do with these all? During lunch with my friend Steph, I discussed my excitement about checking out the Fall foliage of Vermont in a few days (!). When I mentioned the over-abundance of apples at my house, she offered a very viable solution: rustic applesauce. I'd never made applesauce before and always thought it was some sort of laborious task–like churning butter or pounding out a three layer cake.
But, I was pleasantly surprised that Steph's recipe for rustic applesauce was even better than expected. After lunch, I looked up some recipes to get a rough idea of what was out there, but ultimately, stuck to Steph's suggestions, with a few changes. The final result was eaten day of and now, I wish I had more of my parents' apples!
Our family heirlooms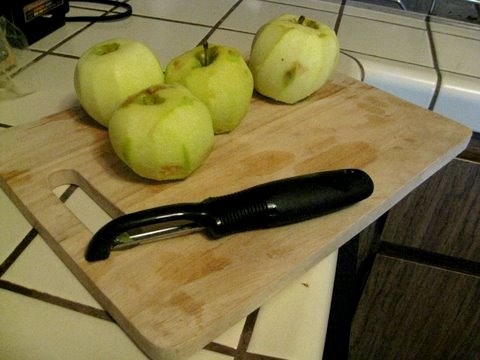 Rustic Applesauce
*makes about 1 pint of applesauce (double or triple this recipe, depending on how many apples you're working with)
about 8-9 apples, peeled, cored and chopped into roughly 1/8ths
2-3 tablespoons sugar
1 cinnamon stick
1/2- 3/4 cup water
1. Combine apple pieces with water, sugar and cinnamon stick in a large pot. Bring to a boil, then cover and cook for about 10-15 minutes.
2. Uncover and continue cooking for another 15 minutes or so, occasionally mashing the apples with a wooden spoon. The apples should begin to fall apart. Continue mashing and cooking them until the water is absorbed and you have a chunky mash. Take out the cinnamon stick.
3. For a creamier applesauce, transfer to a blender of food processor and process until you have the desired texture.
Serve warm by the spoonful for 'oohs' and 'ahhs.' Refrigerate and serve over oatmeal, pancakes, crepes or savory dishes like pork chops (I haven't tried this, but Steph says it's amazing).