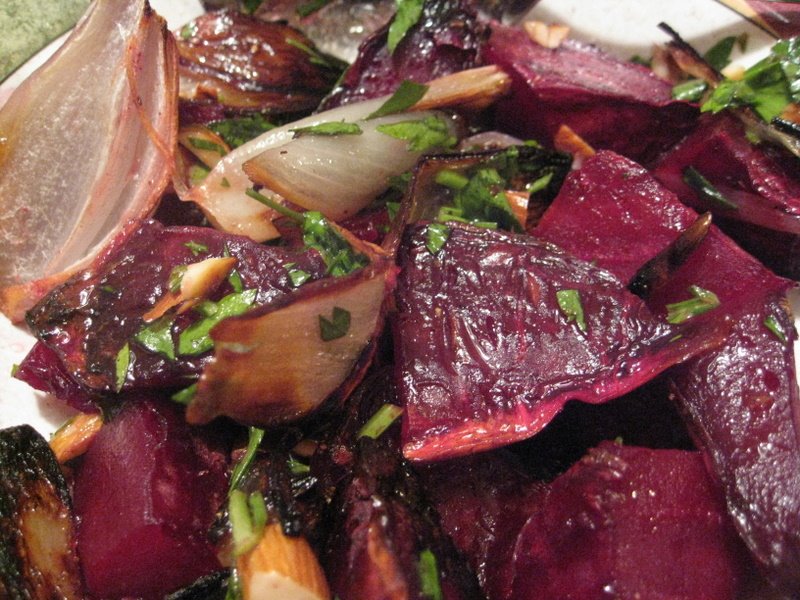 Since I was a child, I've had a pretty antagonistic approach to beets. Coming from a Russian family, I was forced to eat a lot of Borscht–hot, chilled, with sour cream, with cucumber, with sliced eggs. I've developed a certain disdain for it and stopped eating it a few years ago entirely. But, a visit to one of my favorite restaurants and a beautifully multi-colored beet salad later, I had a resurgent desire to love beets. My first attempt was in the form of a marinated beet salad from my Alice Waters Simple Food cookbook.
My second and extremely delicious rendition was another take–a roasted beet salad with roasted shallots, toasted almonds, parsley and a honey-olive oil dressing. With foodblogsearch.com as a my source, I came upon a lovely blog by a woman named Warda called 64 Sq Ft Kitchen. I must say that now that I have tried roasting beets, I'm not sure I'll go back to any other way. By roasting the beets with a little olive oil, S&P and cumin, side by side with some sliced shallots, I found an amazing new texture to this vegetable. Part roasted potato, part sweet potato, part pumpkin. The beets themselves were almost dessert-like in nature. The dressing, shallots and toasted almonds came together beautifully and I devoured almost an entire bowl of it all by myself (I have but 4 little pieces of beet left to toss with some heirloom tomatoes for lunch tomorrow).
I made a few changes to Warda's recipe. Most prominently, I did not have Meyer Lemon nor oranges, so used regular lemon. I also omitted the orange rind and tossed my beets with cumin powder, not seeds. I also used Italian flat leaf parsley for the dressing as well as Kosher salt and fresh ground pepper. Since I was cooking for myself, I used 1 whole beet, 1 tablespoon of olive oil, 1 tablespoon of honey and 1 large shallot in the recipe. I eyeballed the salt, pepper, cumin powder and parsley (use more or less, depending on how much you like). Also, I only had whole almonds at hand, so I roughly chopped them and threw them briefly on the skillet to toast them up.
While Alice's recipe was fresh and simple, Warda's took beets to a whole other level. I envision many variations of this salad–with goat cheese, as she suggests, served over toasted Israeli couscous, alongside meatballs in tomato sauce…
As much as I want to keep going on and on about how good this recipe was, I must get off to packing. I'm headed down to San Diego for a weekend of beach, beach cruisers, my most favorite breakfast spots and most importantly, some of the loveliest girls I know!