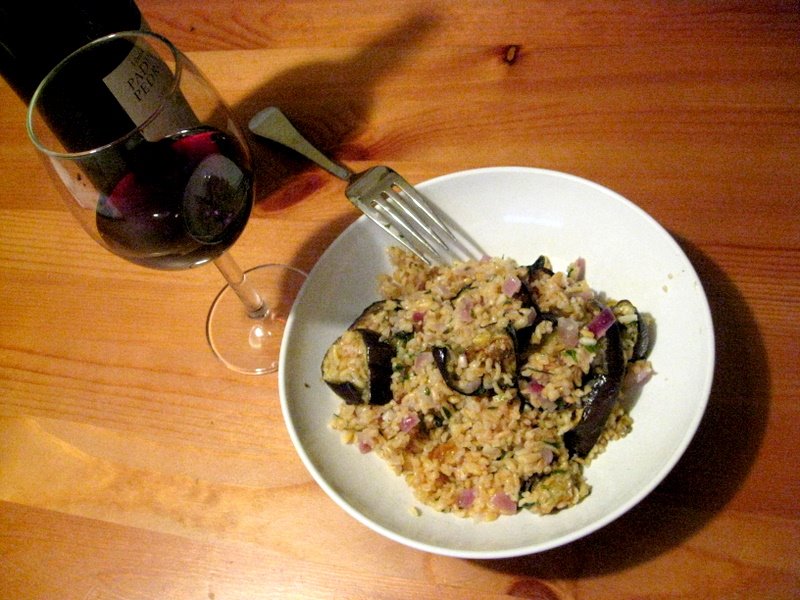 I've recently been really into bulgur–a grain that is popular in Middle Eastern dishes, most prominent of which is tabbouleh salad. I love making big bowls of grains with tons of roasted veggies, herbs, spices and a variety of meats (depending on if I want to go veggie or not). I often take cues from Heidi Swanson of 101Cookbooks.
Bulgur is a whole grain that's high in fiber, low in fat and relatively low in calories (compared to, say, brown rice). I've been using it a ton of different ways, but my current favorite is a variation of pilaf. Whenever I make dishes like this, I tend to improvise, so I'll try to wrap up this last concoction in the form of a recipe. I love the heartiness, tenderness and subtle flavor of eggplant and my favorite way to prepare it is to roast it with some olive oil, salt and pepper, garlic and herbs. Once done (depending on the size of the pieces this takes between 25-25 minutes in a 375 degree oven), it can be incorporated into grain dishes, sandwiches and salads.
Bulgur Pilaf with Roasted Eggplant and Raisins
**serves 2
1-2 small Italian eggplants
small bunch of flat leaf parsley and cilantro, chopped finely
1/2 cup of bulgur
roughly 3/4 cup water
half red onion, diced
2-3 cloves of garlic, minced
salt, pepper to taste
1/4 cup golden raisins
Spices: eyeball a variety–cayenne pepper, smoked paprika (you can also add a pinch of cinnamon and cumin, depending on how crafty you are!)
1.5 tablespoons olive oil
To roast the eggplant:
Turn oven to 375 degrees. Line baking sheet with foil and cut eggplant into 1/2 inch half rounds. Brush with olive oil, salt and pepper and sprinkle with 1-2 teaspoons minced garlic and 1-2 teaspoons chopped herbs. Set timer to 25-30 minutes. Check after 20 minutes. You'll know the eggplant is done once a fork easily slides into it and it has a tender consistency.
In the meantime, pour olive oil into pot and saute the red onion with 1 clove of minced garlic until tender. Add 3/4 cup of water and bring to a boil. Pour in bulgur (I used a medium sized grain, though bulgur also comes in finer and larger sizes), add the rest of the herbs, raisins and spices. Lower heat and cover the pot. The bulgur should take about 10-15 minutes to fully cook (once the water is absorbed and the grains have the same consistency as cooked rice).You may want to use a wooden spoon to stir it around once in a while and add a bit more water if it's starting to look too dry.
To complete the dish, add the roasted eggplant to the pot and toss together with about a teaspoon of olive oil. Serve warm. For variations: try adding turkey or roasted chicken; you can also sprinkle with some goat cheese, toasted almonds, chorizo..I'm pretty sure the possibilities are endless. If you don't like the sweet note of the golden raisins, omit them entirely.
P.S. While this recipe technically serves two, on the above-pictured night, it served one (with some delicious lunch leftovers). And, I'll report that I did enjoy that glass of wine over some reruns of Project Runway.
On a sidenote:
Some of you may remember my delicious trip to L'Ardoise. Well, I went back–with a camera! Check out that barramundi!