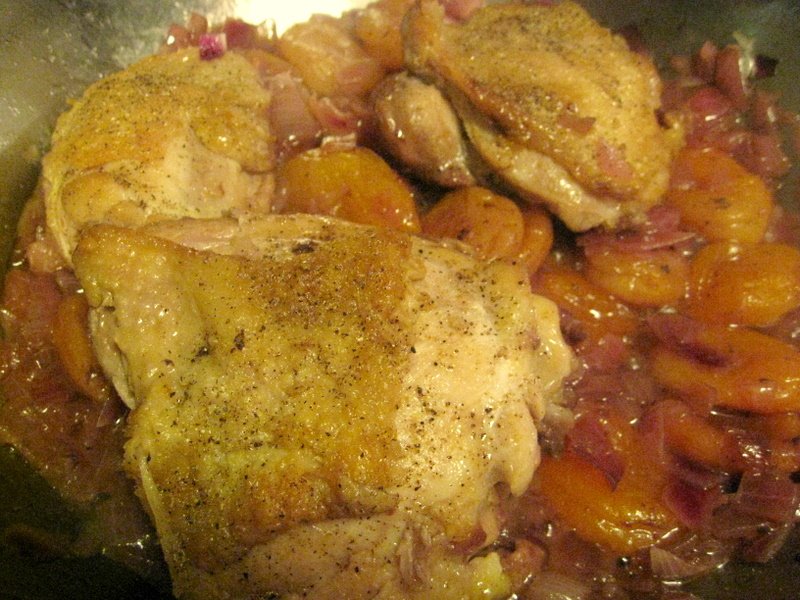 I swear I don't just eat chicken. It's just that, lately, I've been on this kick of trying to do new things with it. And every time I try something different, I get excited by the fact that you can make chicken pretty diverse. I love love love me some Moroccan food. Typically, I feel that this cuisine is able to seamlessly blend together sweet, spicy and savory flavors to create really complex tastes. I'm a huge fan of mixing sweet and savory, but I think it takes a very precise mix of seasonings and ingredients to do this right. Since I don't have a tagine, making a chicken tagine seemed a little too timely and complicated on a weeknight, so I deferred to a recipe by the New York Times' Mark Bittman for Chicken with Apricots.
I was excited by the simple list of ingredients and Mark's promise that this recipe would yield a firm and 'not-too-sweet' sauce. I was somewhat surprised by the lack of oil and butter in the recipe. I tend to find that whenever I cook meat in a skillet–even a nonstick one–I still have to use something. So, I went ahead and used an olive oil spray from Trader Joe's that I think actually contributed a major grease factor to the dish. If I had to do it over again, I'd probably use a small amount of butter to keep the chicken skin from sticking to the skillet.
Mark's recipe was for a whole chicken, but I decided to recreate my tagine idea and stick to thighs (a pretty cost-effective option!). Chicken thighs tend to be a little less healthy than breasts, but often quite flavorful and still relatively lean compared to other protein choices. I otherwise generally followed Mark's directions to a tee (aside from using red onion instead of the plain) and served the chicken over a bed of baked brown rice with herbs and raisins. I have to say, the end result was pretty impressive. I generally find that chicken breasts create a rather bland appearance, but take a thigh, with skin on and you're playing a whole other ballgame! The next day, I reheated the leftovers and found the chicken to be just as tender and flavorful as the night before and the sauce to still be luxuriously sticky.
It goes quite well with a full-bodied glass of red wine, too…I'm obsessed with Douro Valley wines of Portugal. Ever since my trip to Lisbon and Porto, I've been on a major kick. Sadly, it's often hard to find Portuguese wines in normal grocery stores and even wine shops tend to have a limited selection. My Portuguese friends informed me that it's not extremely cost-effective for Portuguese vinters to export wine. That said, check out BevMo–they generally stock at least 1-2 options of red and my other favorite, Vihno Verde. (I'll have to write a separate post about this another time!)