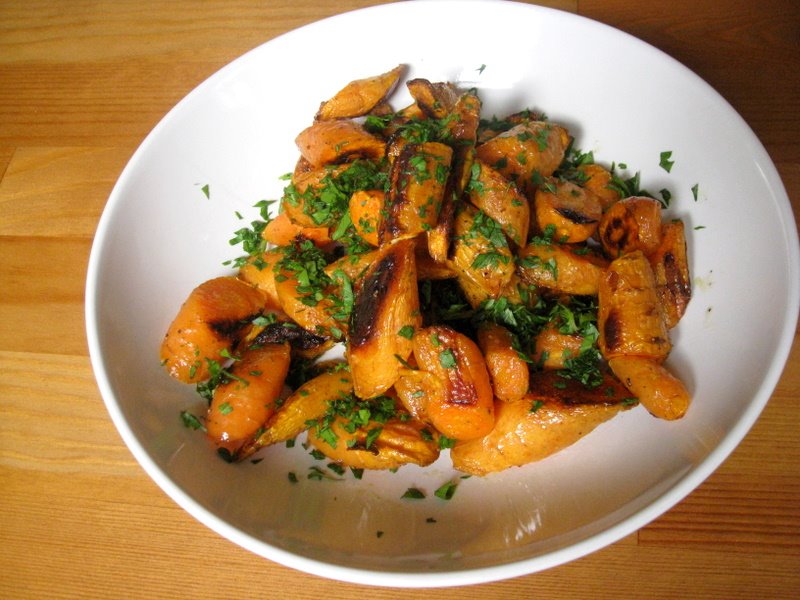 It's a rare occasion in San Francisco when you're sweating during the day and able to walk around in the evening with nothing on but a little dress. This past week has been nothing short of amazing and inspired me to venture beyond my usual farmer's market to the famed Ferry Plaza Market. On Friday I read the afore-linked article about how lucky us San Franciscans are to have the most amazing produce in our backyards. While the Embarcadero is still a good 40 minute trip for me on the lovely N-Judah, it was well worth the commute on one of the most gorgeous Saturdays in recent memory.
The market was packed and overflowing with deliciousness–donut peaches, just ripe cherries, squash, a selection of dried dates, oranges and pomegranates, apricots,strawberries, fresh bread and the like. Having spent the afternoon tasting every possible piece of fruit as part of an extended 'lunch,' we ended up with a bag full of goodies and an exciting evening of cooking ahead.
One of our purchases was a glorious bundle of organic carrots that I couldn't wait to do something with. Luckily, leafing through the Barefoot Contessa's cookbook, I found a fabulous recipe for the task at hand. As you can tell from the picture, it was THAT good–sweet, slightly browned on the outside, moist and luscious on the inside and flecked with some flat-leaf parsley.
Can't wait for my next outing to the market (and more hot days…It's already foggy in the Sunset :().
Recipe for Roasted Carrots (c/o the fabulous Barefoot Contessa, slightly modified by yours truly)
8-12 carrots
3 tablespoons good olive oil
1 1/4 teaspoons kosher salt
1/2 teaspoons freshly ground black pepper
2 tablespoons flat-leaf Italian parsley
Preheat the oven to 400 degrees F.
If the carrots are thick, cut them in half lengthwise; if not, leave whole. Slice the carrots diagonally in 1 1/2-inch-thick slices. (The carrots will shrink while cooking so make the slices big.) Brush the carrots with olive oil, sprinkle with salt, and pepper. Transfer to a cookie sheet and roast in the oven for 20 minutes (until you can tell they're starting to brown and look a bit shriveled).
Toss carrots chopped parsley and serve warm.