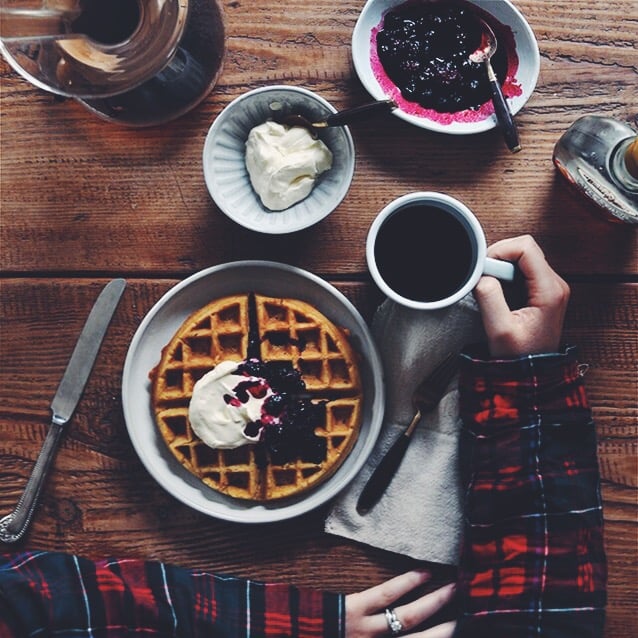 Despite the very limited space in my kitchen, I'm particularly fond of my breakfast vessels and gadgets because I am particularly fond of breakfast. If I were to choose my last meal, it would very likely be breakfast. If push came to shove, it would always be sweet (though not cloyingly so), but I'd throw in a side of runny eggs and cured salmon for good measure.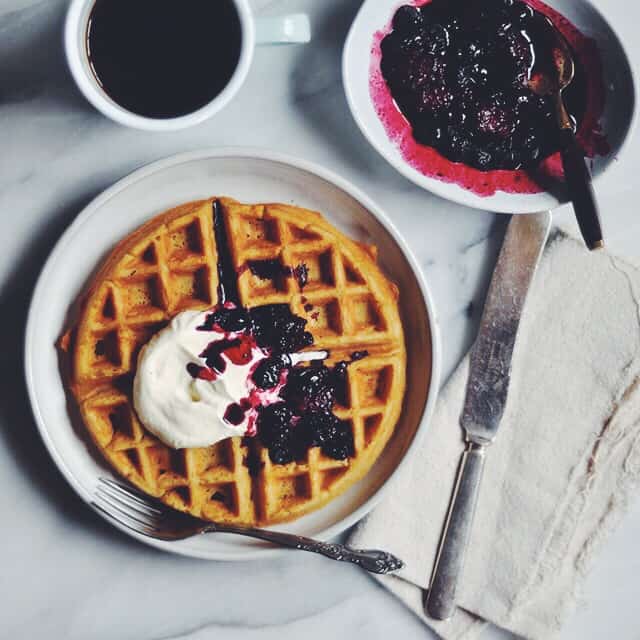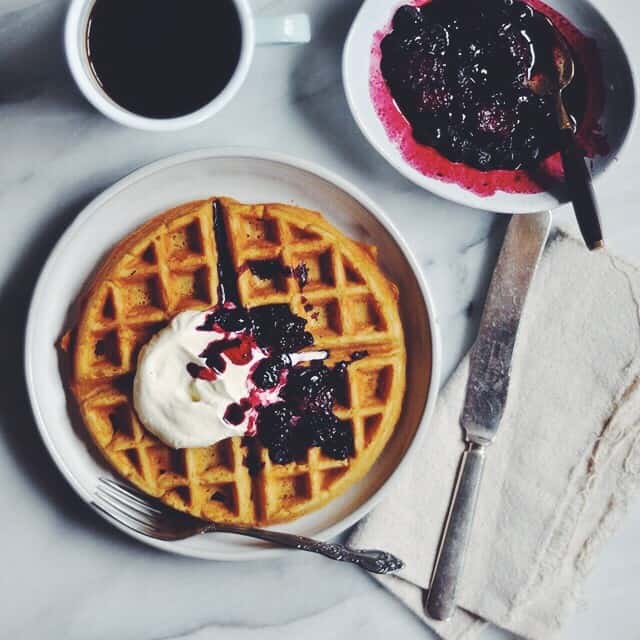 At home, I indulge myself and my family in baked treats regularly because I can substitute in healthy flours and reduce the sugars and I have to be honest, when I'm away from home, breakfast is the meal I miss most. But it's more than just the food.
Opportunity abounds at breakfast. The older I get, the more rigid I am about breakfast. Pancakes or waffles on Saturdays. Eggs and toast on Sundays. It is a routine that keeps me grounded, even when nothing else in life feels that way.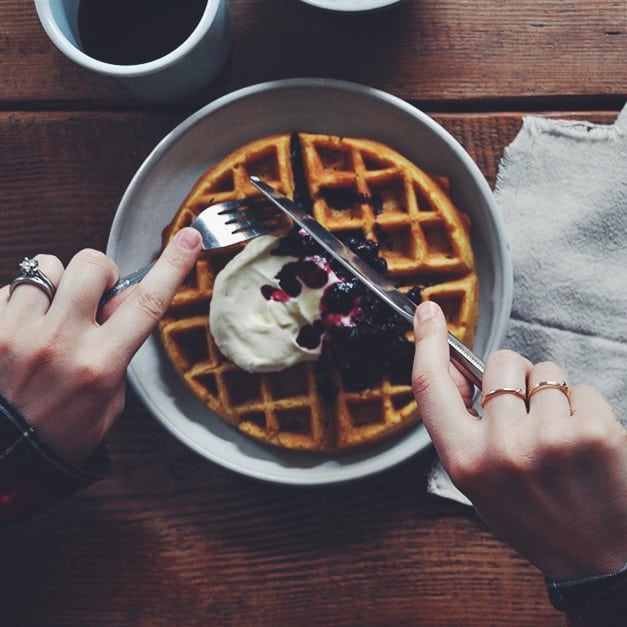 To me, breakfast is love — for the people you share it with and for your body to power through whatever hurdles lie ahead. I am slightly less sleepy these days than I was when Neko was first born, and while she arguably requires more of my attention, I'm more relaxed on those weekend mornings. Less concerned about the messes or dare I say, the perfection involved in trying to create the perfect plate. I'm no longer embarrassed to supplement my breakfast with treats from the bakery. So long as there's a spread, even if it's only for 3.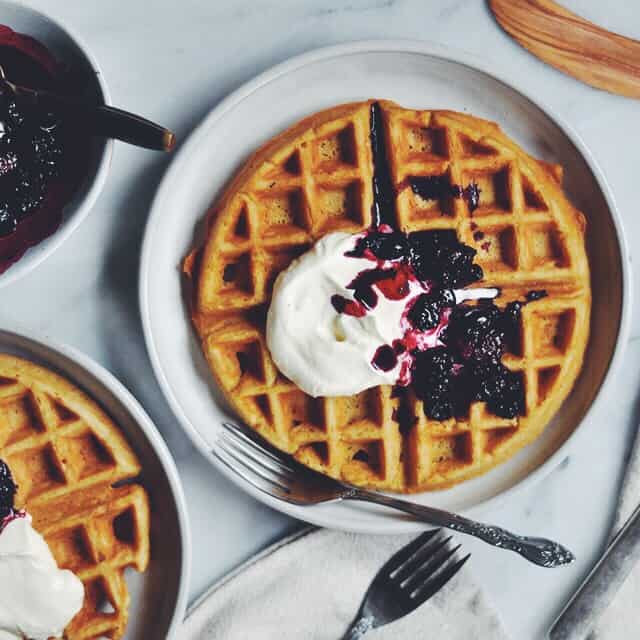 I like a breakfast that can be mixed together in a bowl. I like it warm and doughy. I like it with a topping of fruit — fresh or cooked. And I like it accompanied by something on the turntable and a hot cup of black coffee. I like to eat it in my pajamas, not knowing what the day might bring. We are on the cusp of some big life changes and while the very near future feels unknown, I feel confident that waffles will always be on the table.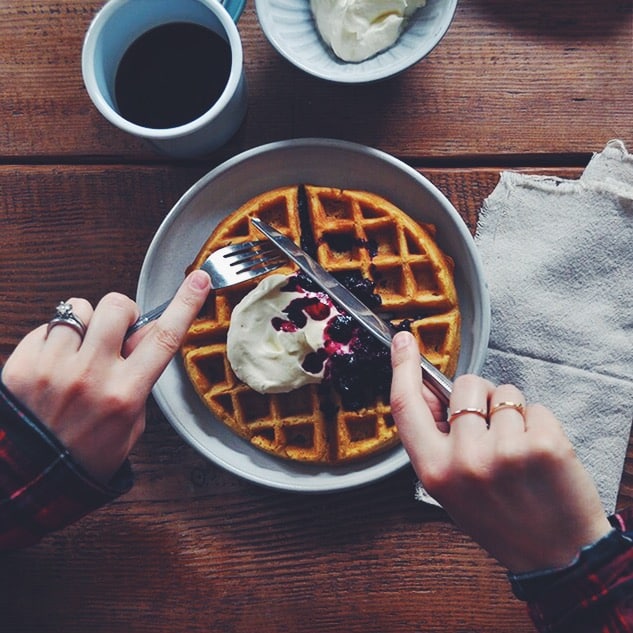 P.S. If you like breakfast as much as me (combined with music and coffee), check out our Breakfast Box. It makes for a lovely gift.
Whole Wheat Belgian Waffles with Warm Berries and Whipped Cream
waffle recipe adapted from Taste of Home
For the waffles:
2 cups of whole wheat pastry flour
1/4 cup of coconut palm sugar
1/4 cup of sugar
3 teaspoons of baking powder
2 eggs, separated
1 1/2 cups of almond milk
1/2 cup of butter, melted
1 teaspoon of pure vanilla extract
For the berries:
1 cup of frozen berries
2 tablespoons of sugar
whipped cream, for serving
Note: I'm relatively new to coconut palm sugar, but I like the unique flavor profile it adds here. You could use brown sugar in a pinch.
1. Combine the flour, coconut sugar, sugar, and baking powder in a large bowl. Add the egg yolks to a medium bowl and lightly beat. Next, add the almond milk, melted butter, and vanilla. Mix well. Stir the wet mixture into the dry ingredients, without over-mixing.
2. Add the egg whites to the bowl of a stand mixer fitted with a whisk attachment. Beat until stiff peaks form.
3. Gently fold the egg whites into the batter and set aside while you prepare the berries.
4. Combine frozen berries, 1/4 cup water, and sugar in a small saucepan. Bring the mixture to a boil, then dial down to a simmer, stirring occasionally, until the mixture is thickened.
4. Pour 1/3- 1/2 cup of batter into a greased (with butter or cooking oil), preheated waffle iron. Cook according to the manufacturer's instructions (I cook for about 3 minutes, then gently try to lift the top of the waffle iron; if it lifts easily and the waffles are golden brown, they're done).
5. Continue cooking the waffles, re-greasing, as needed, until you've used up all the batter. To serve waffles: divide among plates, top with homemade whipped cream and cooked berries. You could also drizzle them with maple syrup.