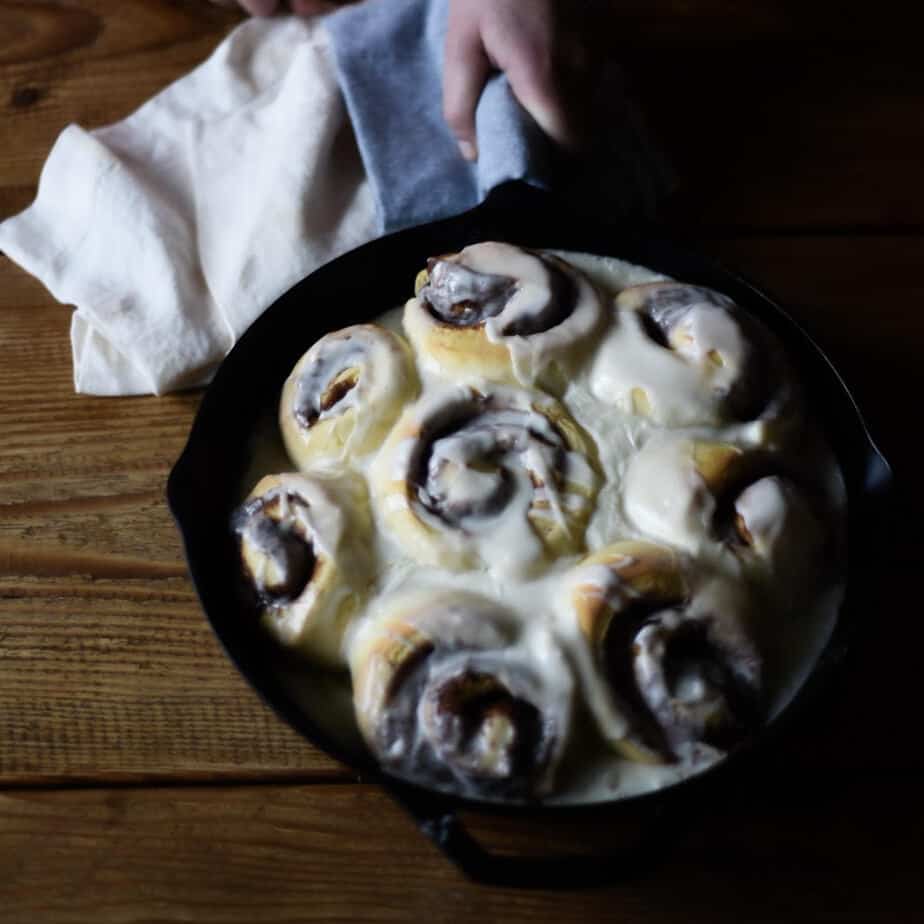 Some people think that eating in is not nearly as exciting as eating out. Well, I'm here today to prove all of those people wrong. They haven't been over to my house for breakfast. Sure, the Crepevine has those amazing Swedish Oatmeal pancakes. But I bring you overnight cinnamon rolls. Better than any you've ever had before. Convinced yet? I thought I'd leave you with a little treat for the weekend. I still have 2 days of eating in ahead of me, but I'm proud to say that I have eaten every single meal this week in.
I made yogurt (which I'll be writing about soon), homemade granola, baked potatoes, spicy shrimp, mahi mahi, and my usual spinach/goat cheese/fig/berry/walnut salad for lunch. I'm also really proud of  Matt for partaking in the challenge with me. He's been really good. He even resisted chowing down on some free snacks at the startup party we stopped by. He really is my partner in every way. I don't usually gush too much here, but I just can't help it today–I've got it good.
Which brings us to cinnamon rolls. There are lots of recipes out there, the most popular of which seem to be for cinnamon rolls with cream cheese. But I was looking for something simpler. I'm a bread person, so the focus of these rolls is definitely the dough. It's tender and fluffy, and pulls apart easily with your fingers or a fork.
The glaze is sweet. Super sweet. So be mindful of the sugar rush you're going to experience for the rest of the morning. The filling has a ton of cinnamon in it, which, given that this is a cinnamon roll, feels quite appropriate. The best thing about these cinnamon rolls, though? While the dough does have to rise–as all yeasted doughs do–you can actually make the rolls the night before, stick them in the fridge, and have them on the table in less than an hour after you wake up in the morning. HUGE. Because, really, who wants to wait for these? Just looking at them raw makes me hungry.
I'm not kidding when I say that this is the best cinnamon roll I have ever had. On Christmas morning, Matt ate two. He probably would have eaten 3, if we weren't trying to make sure that everyone in the family got one. When I say that I made cinnamon rolls, what I really mean to say is that 'we' made cinnamon rolls. Matt did some serious kneading, rolling and glazing. If there's one thing that rocks about rainy and/or snowy, dreary days, it's the fact that you and I have an excuse to make cinnamon rolls.
This recipe makes 12, so go ahead, invite some friends over and throw on some Morning Benders to get you going…and straight to that mid-afternoon Sunday nap. These buns are for you, honey.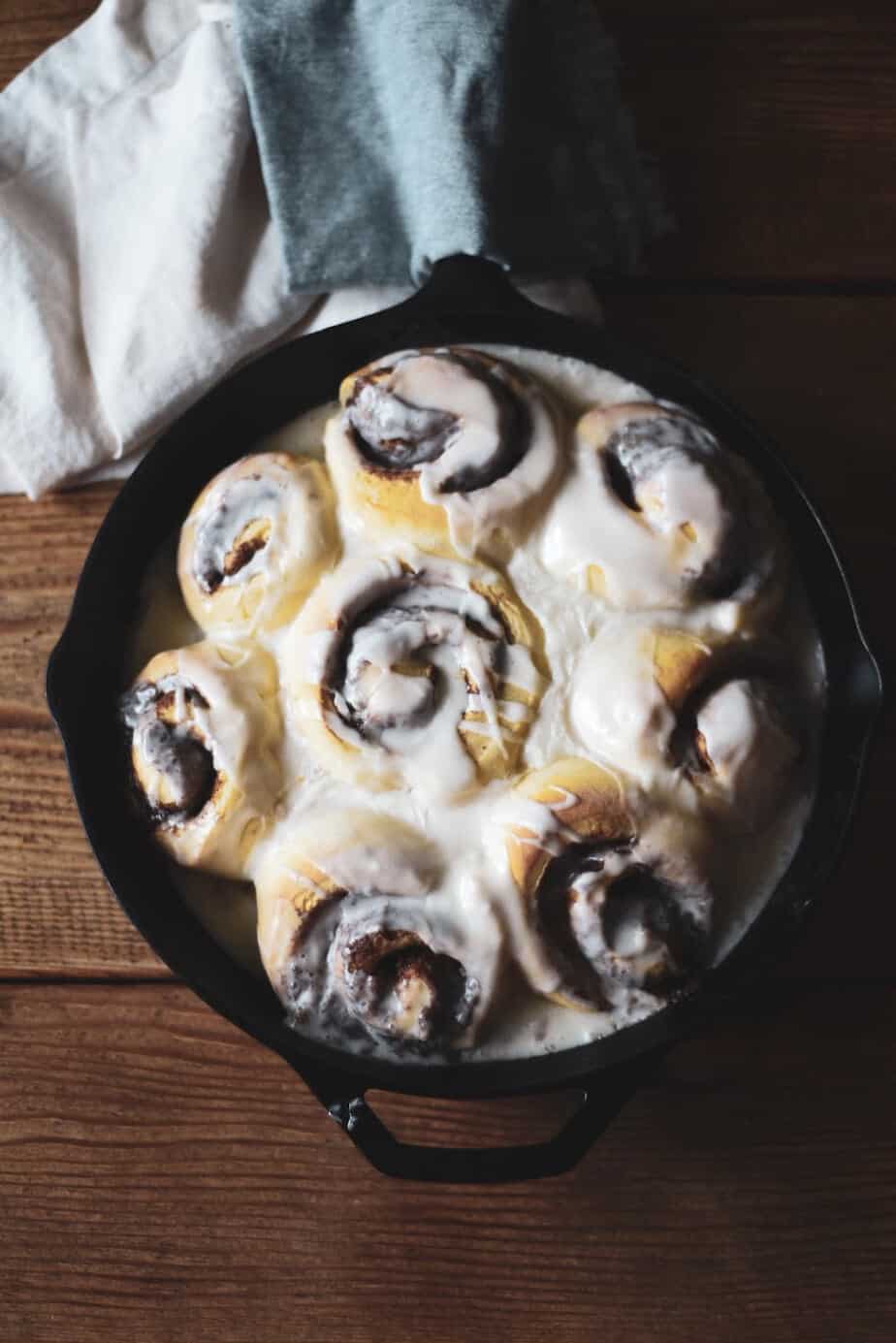 Amazing Overnight Cinnamon Rolls
*yields 12 cinnamon rolls
For the dough:
1 cup of milk (2% is fine)
1/3 cup of butter
.25 ounces of active dry yeast
1/2 cup of sugar
4 1/2 cups of all-purpose flour
1 teaspoon of salt
3 large eggs
For the filling:
1 1/3 cups of brown sugar
2 1/2 tablespoons of ground cinnamon
3 tablespoons of flour
7 tablespoons of butter at room temperature
For the sugar glaze
1 1/2 cups of powdered sugar
1/2 cup of white sugar
1/4 cup of unsalted butter, melted
2 tablespoons of milk
1 teaspoon of vanilla extract
1/8 teaspoon of salt
1. Start by making the dough. Heat milk in a small pot until it just starts to bubble. Remove the pot from the heat and stir in the butter until it is melted. Set aside and let cool.
2. Combine half of the flour, yeast, sugar and salt in a large bowl (or the bowl of a stand mixer), mixing well. Add in the lukewarm milk/butter mixture and eggs, beating well. Add in 1/2 cup of flour, stirring well. Continue adding the flour, 1/2 cup at a time, mixing well each time.
3. Once the dough has just come together, transfer it to a lightly flour surface and knead it for about 5 minutes, until smooth. Add flour as needed (this could also be done with a dough-hook in a stand mixer).
4. Cover the dough with a tea towel and let it rest for 10 minutes.
5. While the dough is resting, mix the filling ingredients in a medium bowl. Use your fingers to create small crumbs and make sure that the cinnamon and brown sugar are well-mixed with the butter.
6. Roll out the dough into a roughly 9×12 inch rectangle. Spread the filling over the dough and roll from the long end. Seal the roll by pinching and twisting the dough along the edges.
7. Prepare a 9×12 inch baking pan. Cut the dough log into 12 rolls, placing them cut side up in the pan. Cover the pan with cellophane and refrigerate for approximately 8-12 hours.
8. Remove the pan from the refrigerator and let it sit out in a draft-free place for about 30 minutes.
9. Preheat the oven to 375 degrees F. Bake the cinnamon rolls for about 20 minutes, until lightly browned.
10. While the rolls are baking, prepare the glaze by whisking together all of the glaze ingredients. Thin out with more milk, if needed.
11. Pour the glaze evenly over the hot cinnamon rolls and eat warm.
Musical Pairings: The Morning Benders – Big Echo + "Overnight" Glazed Cinnamon Rolls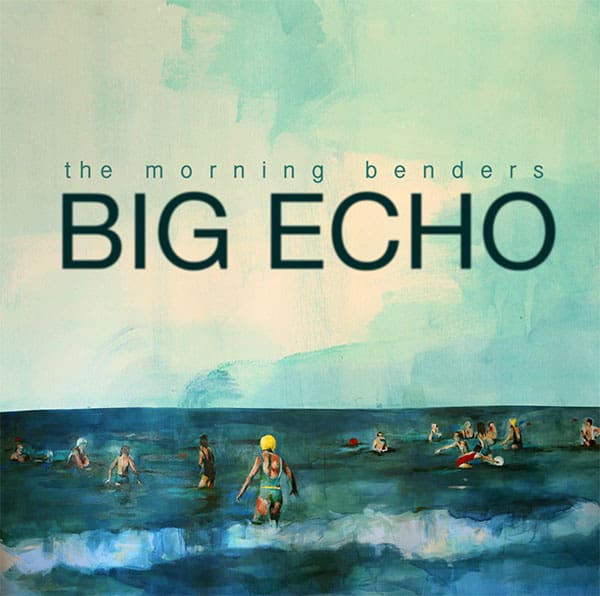 I'm about to drop some knowledge on you dear reader, so listen up. First, the overnight cinnamon roll recipe on eating/sf? "Amazing." Kasey's word, not mine. Personally, I'd probably have gone with "awe-inspiring" or "worthy of intense devotion." These cinnamon rolls will knock your socks off. Literally. Er, actually maybe not literally, but you get the idea. They are sweet, delicious, and that icing with cinnamon combination? In a word: harmonious. This is breakfast food at its best. This is your new morning bender. Er, actually that is today's Musical Pairing. The Morning Benders. And what a great pairing this is. And that brings me to my second piece of info. The Morning Bender's forthcoming album, Big Echo, is sweet, harmonious and in a word: "amazing." My new favorite album of 2010. Read more over at Musical Pairings' home. –Matthew