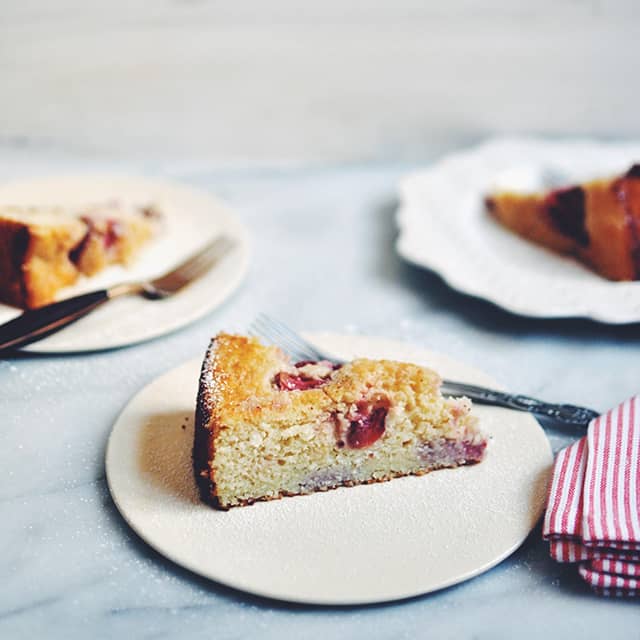 "You can't go back," Matt said to me while we were enjoying what could quite possibly be one of our few last evenings out just the two of us before these babies come.
We were sitting in a restaurant on Market Street, which runs from the Embarcadero (the Ferry Building), through downtown and the Castro, reminiscing about how much San Francisco has changed in the years since both of us moved here — most dramatically and noticeably in the last couple of years. The stretch where we were dining used to be quite dingy, punctuated by a few classic establishments including Zuni Cafe, Cafe du Nord (a music venue closed and re-opened as a bar and restaurant), and the Swedish American Music Hall.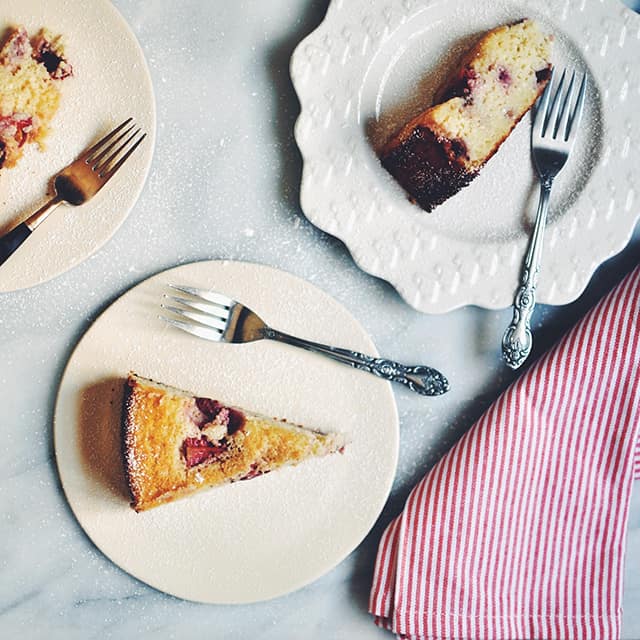 Today, there are multi-unit condo buildings that have taken the place of empty parking lots and gas stations. After dinner, we popped downstairs into Cafe Du Nord. The evening was still somewhat young and the bar was empty save for a few other couples. We recalled seeing Spoon play there at a 'secret' show. Now, I was drinking a virgin mojito knowing that my dad was waiting at our house, putting Neko to bed.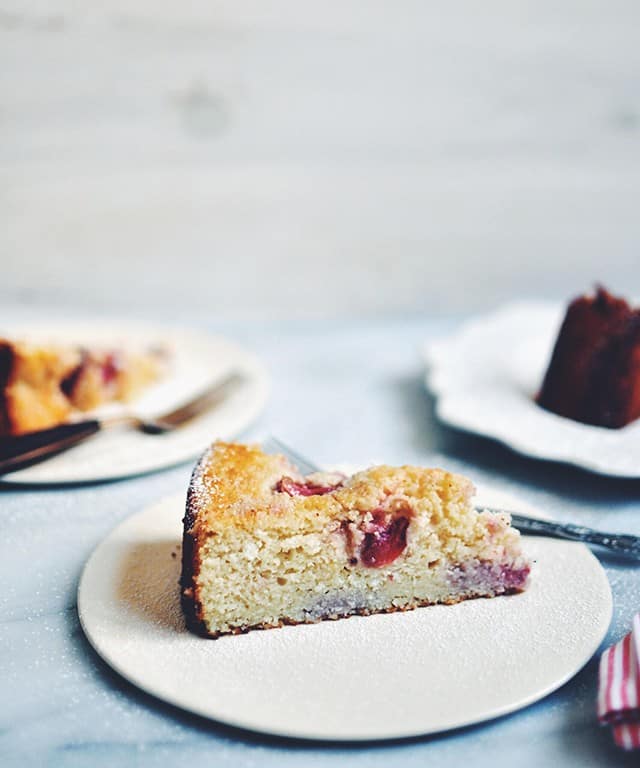 I felt a wave of nostalgia overcome me. Not for parts of the city that I felt like I'd lost somehow but for time, constantly moving forward. I had undiagnosed postpartum depression after I had Neko. It hit me hard and it hit me fast. My life felt like it was at a standstill and I desperately tried to reconnect with my 'old' self. I consoled myself with almond cookies from a nearby bakery and walks in Golden Gate Park. And I wrote. And I cooked, too.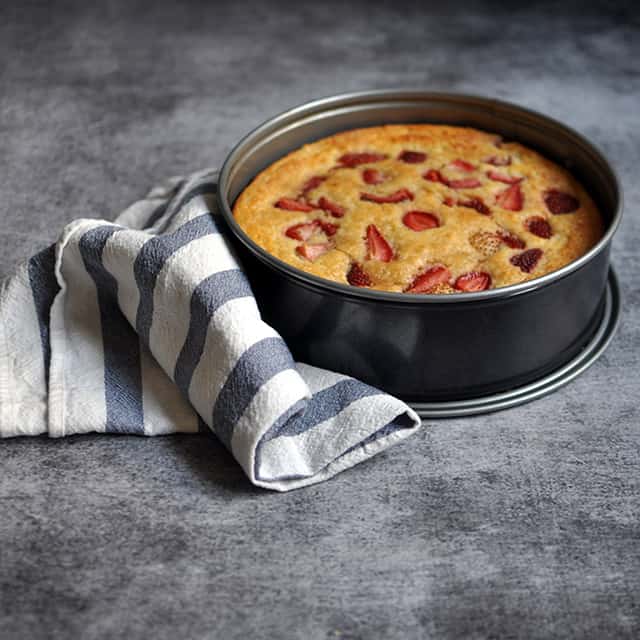 I hold a deep worry that those feelings may resurface again once the twins arrive and I keep telling myself now that the future is bright, and what lies ahead is inevitably just as exciting (if not more) than what lies behind.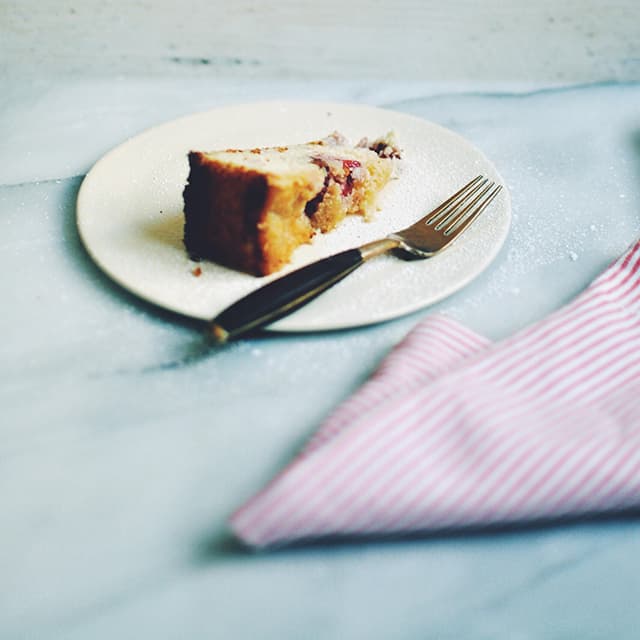 I can't deny that there's a part of me that will occasionally miss that 'old' life and my 'old' city. Not the one that I live in now. But I know that Matt is right: you can't go back. So the best way is forward. That doesn't mean we're not allowed to walk down memory lane and revisit old haunts, or to freeze some of our summer strawberries for cake come deep winter. There's always an opportunity to peek into the past.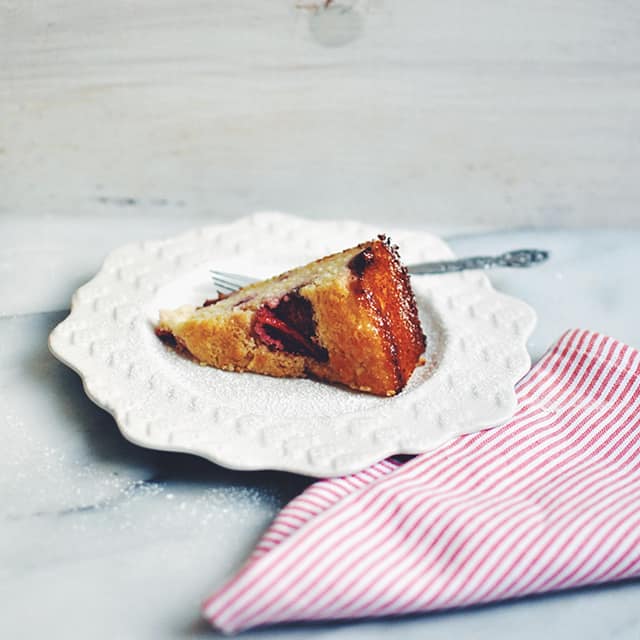 Lucky for us, California strawberries are almost always in season but you can also make this cake with any variety of berries — fresh or frozen. It's the perfect afternoon pick-me-up.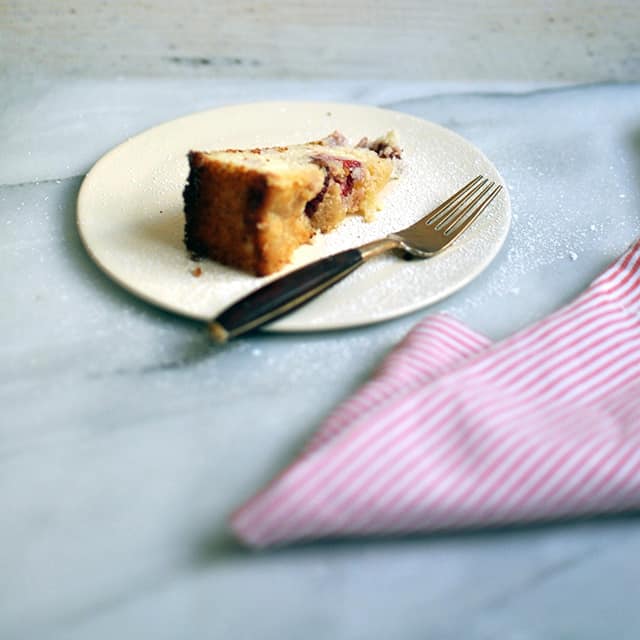 Strawberry Ricotta Cake
adapted from Bon Appetit
Nonstick vegetable oil or spray
1 cup of all-purpose flour
1/2 cup of almond meal
2/3 cup of sugar
2 teaspoons of baking powder
3/4 teaspoon of kosher salt
3 large eggs
1 1/2 cups of ricotta
1 teaspoon of lemon zest
1 teaspoon of real vanilla extract
1 stick (1/2 cup) of unsalted butter, melted and cooled
1 cup of sliced strawberries (or other berries, fresh or frozen)
turbinado sugar, for sprinkling
1. Preheat your oven to 350 degrees F. Generously oil a 9″ round cake pan (preferably the kind with a removable bottom).
2. Add the almond meal, flour, sugar, baking powder, and salt to a large bowl and whisk to combine.
3. In another bowl, whisk together the eggs, ricotta, lemon zest, and vanilla extract.
4. Stir the wet mixture into the dry ingredients until just blended. Then fold in the butter and 3/4 cup of the sliced strawberries.
5. Pour the batter into the cake pan, smoothing the top. Arrange the remaining strawberries on top and generously sprinkle with turbinado sugar. Bake until a toothpick inserted into the center of the cake comes out clean (about 50-60 minutes).
6. Let the cake cool before removing (I recommend running a knife around the cake before snapping it open and transferring to a cake stand or plate).