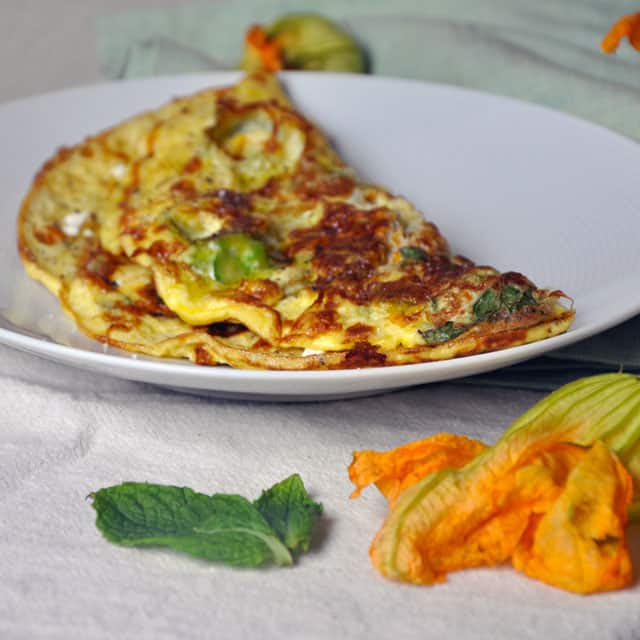 There's a roll of film that has been sitting in my night table for seven years now. No reason, really. I haven't developed it. In a way, I kind of like knowing that there are 24 images on film of people I might still be friends with, or I've lost touch with, that I have never seen. They have never been posted on Facebook, or shared via an email. They're not saved on a computer. And there's something kind of beautiful about that, don't you think? The longer I wait to develop it, the more nervous I get about it, in a weird way. There's something about knowing that time stands still in those photos.
There is an intense speed to life these days. The kind of speed that I'm starting to recognize lately. I remember summers that used to drag on forever, when I'd already start itching to go back to school. Those summers are a thing of the past now. One minute it's May and I'm celebrating yet another birthday, and the next it's September, and we're back to back-to-school sales and sweaters. I must say that for all that technology has provided us with in the last ten years, there are some things that it has taken away.
High school reunions? You already know who's married, has kids, got hotter or fatter. Bad photos? They hardly exist anymore; we delete them before they ever make print (if they ever make print ) and Photoshop the crap out of them. Mail? Who gets it anymore? Tuesday night television? The ritual can be moved to any night thanks to on-demand. Presidential and gubernatorial announcements? You heard it on Twitter first. Disconnecting from work after 5? You've got your BlackBerry attached to your vital organs. Sitting at the library and doing physical research? It's all on the Internet.
We're speedify-ing everything from learning to dating (not to mention exercise!). It's a weird world. I'm living it, but once in a while I step back and think about just how much we live in powerdrive. We do more. We accomplish more. We learn more. Is the exchange rate a good one? What I always come back to is this: writing. Whether you read something in a newspaper, a book, a blog, on a mobile device or your laptop: the message does not rely on the medium. While I crave simplicity once in a while, get overwhelmed, and freak out about the number of gray hairs I'm finding on my head as life seems to continually move faster and faster, I don't think I'd want it any other way.
I hope all of you lovely readers had a wonderful weekend and whether your week is busy or slow, try not to live for that next weekend but find a little joy in your routine day. For those of you who work at home, you can try this omelet as a lunch option. For those of you who have time to linger in the morning this week or weekend, give this a go for breakfast. Squash blossoms are not only beautiful but delicious, too. And completely edible! Chop them up roughly and add them to this refreshing mint-studded and goat cheese-filled omelet.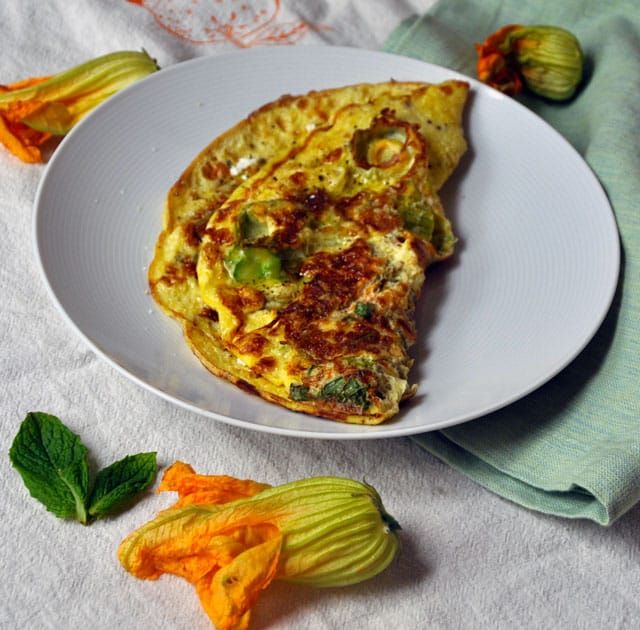 Squash Blossom and Mint Omelet
*serves one
2 eggs
4-5 small squash blossoms, cleaned and roughly chopped into bite-sized pieces
1 tablespoon of fresh mint, chopped finely
salt and pepper, to taste
milk
goat cheese, to taste
olive oil
1. In a medium bowl, whisk the eggs with a splash or two of milk.
2. Add salt, pepper, chopped squash blossoms and mint. Stir to combine.
3. Heat some olive oil in a small skillet over medium-high heat, and pour in the egg mixture.
4. Lower heat to medium and cook until the sides are firm, then carefully flip the omlet.
5. Cook the omelet until the egg is completely cooked through. Sprinkle the omlet with goat cheese, fold in half (creating a half-circle), and cook over medium-low for another 30-45 seconds.
6. Transfer the omelet to a plate, drizzle with some olive oil, season with salt and pepper (to taste) and serve.
Musical Pairings: The Shins – Oh, Inverted World + Squash Blossom and Mint Omelet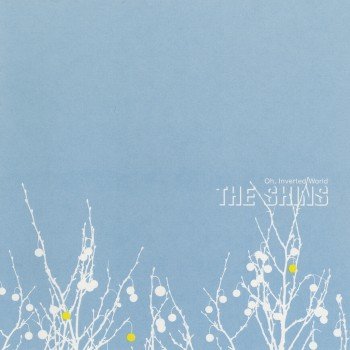 More on the Turntable.