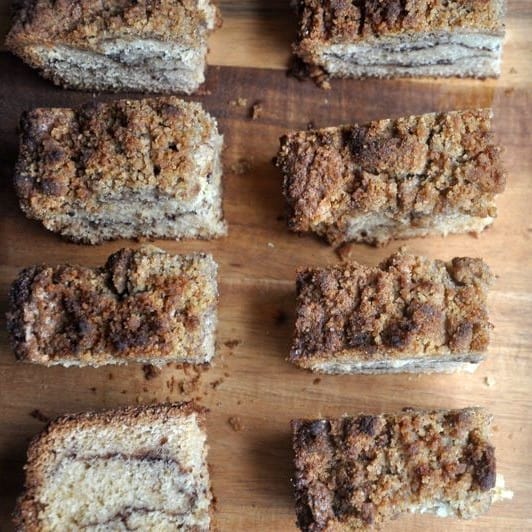 A good day should always start with coffee cake. Preferably one with an out-of-this-world pecan crust and a beckoning chocolate-cinnamon swirl. Ok, maybe not EVERY day, but you know what I mean. When I was younger, I was what my dad would call a night owl–I stayed up late and I woke up late. I wasn't interested in silly things like morning runs or trips to the farmer's market. Those things were for those 'morning people.'
Alas, time has passed and I have become one of those morning people. It's hardly difficult for me to fall asleep by 10 pm and hard as I try (even after an unusually late night out), I cannot sleep past 8 am. These days, 9 am is a remarkably 'late' morning. On weekends when I am visiting my parents, the hours between 7 am and 9:30 am are almost middle-of-the-night quiet. On weekends, my folks relish the opportunity to sleep in and I try to keep myself busy. I'll run to Target, go for a morning swim, read, write a blog post, snack (because I am inevitably dying of starvation) and cook.
This past weekend, I cooked up a storm: whiskey peach hand pies and buttermilk pancakes with caramelized bananas. They (my family, that is) marvel at my enjoyment of cooking, commenting every time: when DID you start to take up this hobby? My mom asked, "you really do actually enjoy this, don't you?" It's a funny thing, liking something that was, until recently, considered a chore. I only wish I liked others–laundry, dish-washing, home repairs–as much as I truly love to cook and bake. As much as I enjoy eating, admiring my creations and sharing them might just be one of my favorite things about cooking. Being an only child, one might think I don't like to share. But it's far from the truth.
Today, I'm sharing some coffee cake with you. Cakes, in fact, as I present them here. Were you to have been at my house a few weeks ago for my brunch, you might have tried a piece. Gosh that would have been lovely. You might have listened to some Wilco. You might have met some of my lovely friends, some of whom can bake a mean strata and whip up a delicious Heidi Swanson-esque salad. But, since you weren't there, I'll tell you about it, and I'll share the recipe, which I dare say is the best coffee cake I've made. Rich and gooey, chocolaty, cinnamony, nutty, crumbly in the tenderest of ways. This recipe, adapted only slightly from one of my most ogle-worthy baking books–Baked–is best served to a hungry crowd. To please mine, I cut it up into small appetizer-sized squares. But you can certainly do as you wish. And, ahem, save the last few big pieces for yourself (for later of course).
Sour Cream Pecan Crumb Coffee Cakes
adapted from Baked: New Frontiers in Baking
*serves a crowd
The cake:
3 1/2 cups of flour
1 teaspoon of baking powder
1 1/2 teaspoons of baking soda
1/2 teaspoon of salt
2 sticks of butter, cut into 1 inch pieces
2 1/4 cups of sugar
1 16-ounce package of sour cream
4 large eggs
1 1/2 teaspoons of vanilla extract
The chocolate cinnamon swirl:
1/2 cup of sugar
1 teaspoon of unsweetened cocoa powder
1 teaspoon of cinnamon
The pecan crumb:
3/4 cup of flour
3/4 cup of brown sugar
1/2 teaspoon of salt
3/4 cup of roughly chopped, toasted pecans
6 tablespoons of cold butter (unsalted), diced into small cubes
1. Start by making the pecan crumb topping by putting all of the ingredients, save the butter, into a food processor and pulse until the mixture resembles coarse cornmeal. Add the butter, pulsing until fully incorporated. Chill in the refrigerator while you make the cake.
2. Whisk the sugar, cocoa powder and cinnamon in a small bowl to combine to make the swirl.
3. Preheat the oven to 350 degrees F and butter a 9 x 13 inch baking pan.
4. Combine the flour, baking soda, baking powder and salt in a bowl.
5. In the bowl of a stand mixer, cream together the butter until smooth and light. Add the sugar and beat until fluffy.
6. Add the eggs, one at a time, making sure to beat well after each addition and scraping down the sides of the bowl to make sure all of the ingredients are mixed.
7. Beat in the sour cream and vanilla. Next, beat in the dry mix in three additions (don't over mix the batter).
8. Pour about 1/3 of the cake batter into the pan, spreading it evenly. Top with half of the chocolate-cinnamon swirl mixture.
9. Pour another third of the batter and top with the rest of the chocolate-cinnamon swirl mixture.
10. Pour in the rest of the batter, smoothing it evenly. Sprinkle with the crumb topping.
11. Bake for about 1 hour, until a toothpick inserted into the center comes out clean.
12. Once cool, cut into crowd-serving-sized squares or rectangles.
*Note: if you are using a smaller pan, you should keep in mind that the cake will take much longer to cook (up to an hour and forty five minutes). To make sure you don't burn the crumb topping, make a foil tent and cover the pan while you bake.
Musical Pairings: Wilco – Yankee Hotel Foxtrot + Sour Cream Pecan Crumb Coffee Cakes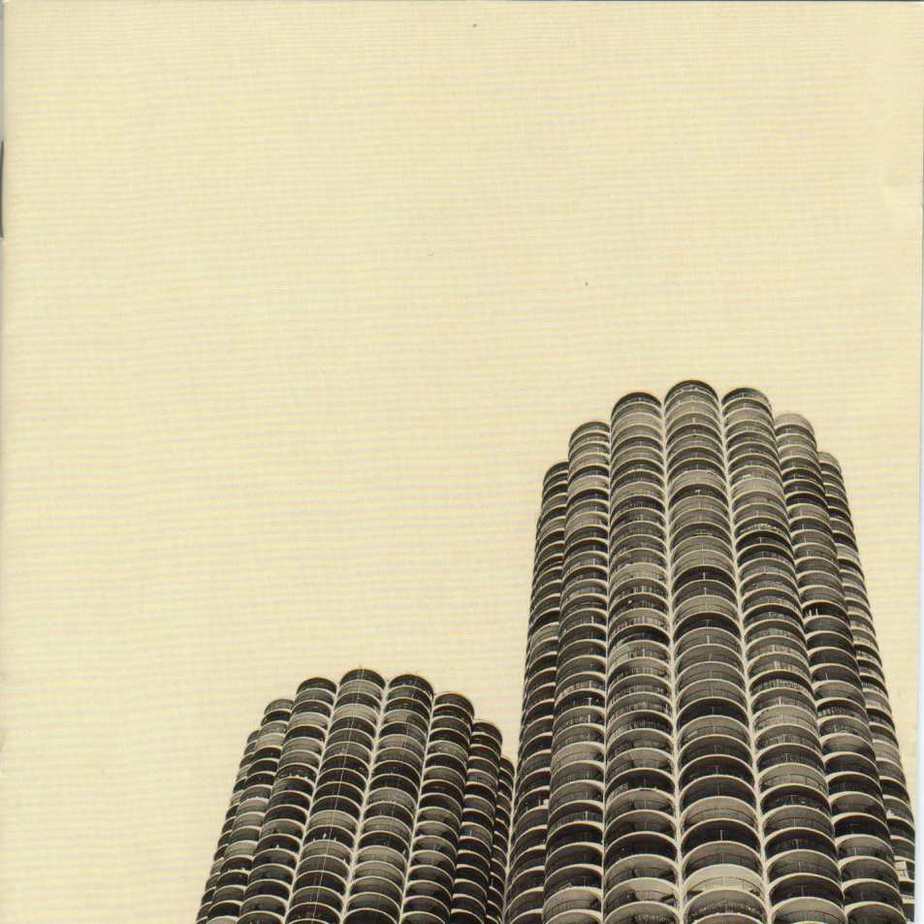 Wilco's Yankee Hotel Foxtrot is probably one of my all-time favorite albums, so it says a little about the Sour Cream Pecan Coffee Cakes that Kasey is featuring today on eating/sf that I chose this album for a pairing. Specifically, it decidedly indicates that this coffee cake recipe is fantastically delicious, sure-fire, somewhat rustic and features an upbeat and not-too-sweet flavor profile. Put another way: this isn't some corner-store cellophane-wrapped coffee cake: this is another homemade home run. Similarly, Yankee Hotel Foxtrot is famously Wilco's most DIY, hard-earned success. It is a beautifully lush, genre-spanning, painstakingly layered masterpiece that married avant garde experimentation to pop music. Without any question, Yankee Hotel Foxtrot is to alt-country what Radiohead's Kid A was to rock. More at Musical Pairings. –Matthew